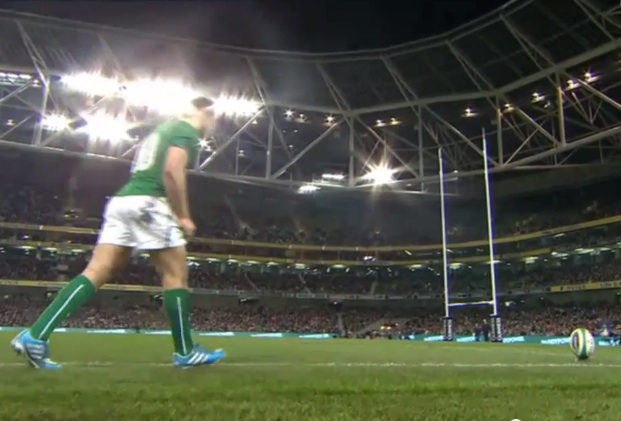 I'll be at this weekend's Test between the Wallabies and Ireland – here are a few thoughts on it.
Australia's pre-match planning
I'll never forget the bewildered faces of Will Genia and Kurtley Beale after the World Cup meeting of these two sides in Auckland. Both players recalled the Irish players going for the choke tackle at every opportunity and looked genuinely shocked at the Irish tactics. Their pre-match team meetings may have had a similar tone to Kearnsy's thoughts:
Now it was the only clear play in Ireland's tactics as it was all that they had been trying to do for a year in defence. It showed a clear lack of Wallaby respect for their opponents and called into question what exactly they had been doing during game week.
This week, what will the Wallabies see if they do a bit of time in the video room? One of the things they could take advantage of is Ireland's narrow defence out wide; if Quade Cooper has one of his better days he can use his outstanding passing ability to put the likes of Izzy Folau, the Honey Badger and Ashley-Cooper into space.
They'll also see that there are more than a few Ireland players who seek out contact even when in open space. The Wallabies can be sure if Fergus McFadden, Robert Kearney or Jamie Heaslip (amongst others) get the ball they tend to put the head down and go to ground. This would allow the Wallabies to commit more men to the tackle area in this situation to slow down Irish ball.
Michael Hooper will note that Peter O'Mahony carries the ball tucked under his left elbow and is ripe for a pilfering when he goes to the deck. The Wallabies under Deans clearly didn't show enough respect to prepare as if it was the All Blacks, but the one-per-centers could make the difference between two evenly matched teams.
The aerial battle
This could be the first time in Israel Folau's short career in rugby that he doesn't have things all his own way in the air. In fact it is probably the safest two guys in international footy under a high ball going up against each other. His direct opponent Rob Kearney played Gaelic Football to an inter county standard at junior level and is often the focal point of any Irish kicking plans. He is frequently used for short kick-offs and is Irelands main jumper when challenging short kick-offs. It is going to be a real treat watching Folau and Kearney in the air against each other.
If Tommy Bowe is fit, which is doubtful at this stage, Ireland will have two accomplished Gaelic Footballers in their back three so Cooper would be advised against over doing any kicking in attack as they are superb under the high ball. Jonny Sexton and Conor Murray will be looking to put up contestable garryowens and box kicks to Cummins' wing as there is a perception up Norf' that he is a liability under the high ball. Off the ball Folau will have to work hard to try and cover this as if Kearney contests against the Badger there will be only one winner.
Irish physicality in midfield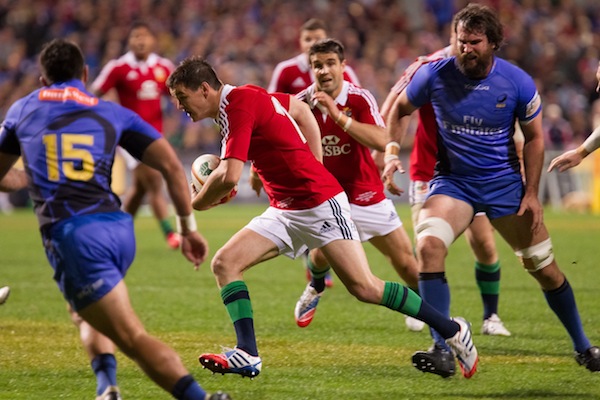 Ireland are expected to go with a 9,10,12 axis of Murray, Sexton, Marshall. Wallaby fans will be familiar with the first two but won't have seen a lot of Luke Marshall who is a physically imposing No.12, who started life as a number five-eighth – which has given him a decent kicking game and lovely hands.
This means Ireland will have three guys in the midfield who are over six foot with physiques to match. To put it bluntly Australia will get no change going through the middle. All three are top defenders and the Wallabies will need to be smart with any midfield ball which they have.
Similarly in attack Ireland will looking to target Cooper and Tevita Kuridrani with Murray and Sexton looping around a hard running Marshall. If Cooper can get the runner down and combine with the back row to slow down Ireland ball they'll have gone a long way to stopping the Irish attacking plans. In recent seasons if you can stop Ireland scoring after three phases the likelihood of them scoring plummets as they look a bit clueless in attack.
Outside of Marshall, Ireland's defence looks a bit shaky, Brian O'Driscoll  has looked suspect in his limited game time this season and the wingers defended very narrowly against Samoa. As I mentioned before the Wallabies have enough passing ability to bypass Irelands big three and try and expose some weaknesses out wide.
Back row battle
The last time these teams met the Irish trio dominated their Australian counterparts who where decimated by injury. Ireland's back row won't be as physical this time as they have lost the outstanding Stephen Ferris to long term injury and replaced him with a more athletic back rower in the mould of England's Tom Croft; Peter O'Mahony.
Sean O'Brien is Ireland's best player, in fact probably the only one to trouble the World XV selectors, and is key to them winning the game. He is improving at the breakdown and is now one of the top operators there in the Northern Hemisphere. However his real strength is with ball in hand; he'll be aiming to steam roll Quade Cooper as often as possible and retains most of the responsibility of getting Ireland onto the front foot. If he is carrying in close he struggles with the chop tackle, and tends to hold onto the ball once he breaks rather than look to offload.
If the Australians can limit his impact with ball in hand this mini battle and the match will be tipped into their favour. Michael Hooper will look to take advantage of some soft shoulders and immobile front row forwards to get the Aussies moving. He hasn't seen a lot of the Irish team but he'll fancy his chances against the likes of Ross, O'Connell and McCarthy with ball in hand.
Ben Mowen will relish attacking the Irish set piece out of touch. No doubt his Brumbies team mates will have reminded them how they picked apart Rory Best during their historic win in Canberra during the Lions tour. Mowen is the kind of mobile 'light weight' jumper that Best and O'Connell are prone to struggling against in the lineout. As O'Connell has aged his ability to get up ahead of springier forwards has diminished rapidly.
The BOD factor
O'Driscoll will feel like he has unfinished business against this Wallaby team as they helped to finish his Lions career and not in the note which he would have wanted. Every game this season is part of an extended swansong for him and he has to be careful about trying to be the hero in every game.
There were a few times against Samoa when he went for the big play or the big hit when he needed to take the more sensible option. Australia can exploit his rushing out of the defensive line with quick hands, and may see some turnover ball if he tries the miracle offload as he did once or twice on Saturday.
As special as this season will be for BOD each No.13 he faces gets the chance to be the last bloke to get one over him. Ireland can not underestimate how massive this is and Tevita Kuridrani will be licking his lips at the chance to be the man to finish BOD. There is no doubt class left in the man, but can the body keep up with the mind?
It should be a cracking game on Saturday, and with the current injuries that the Wallabies have, both sides are evenly matched. Ireland will look at attack the Wallaby scrum at every opportunity but with fine weather predicated there may not be many chances to do this.
Australia have the more talented backs from numbers 11 to 15 but Ireland have the better five-eighth. If Jonny Sexton can bring his top form into the game I see Ireland winning by three, though my heart might be ruling my head in this prediction.
Either way we are in for a cracking game, and I can't wait to see Folau and Kearney contest the first high ball!