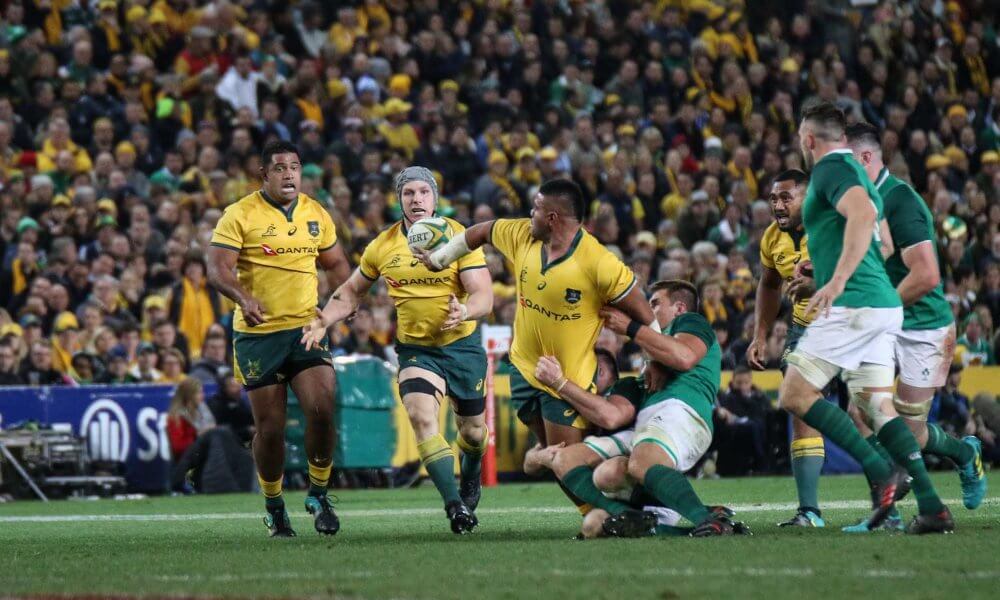 Why has Tolu Latu been selected in the Wallabies to travel to South Africa?
I'm confused at this for a number of reasons. Why is Latu selected when he starts from the bench every game behind the preferred hooker for the Waratahs? What has Latu achieved at Super Rugby and Test level that makes him a player that warrants selection? How can a player that is suspended for 6 weeks for foul play and then caught hiding the fact he was charged with mid-level drink driving still selected in the Wallabies team?
Let's start with the team Latu plays in, The Waratahs. Damien Fitzpatrick has started every game throughout the Super Rugby Season. Fitzpatrick is consistent but for me his biggest challenge is getting across the gain line with the ball after contact. All other facets of his game including throwing, scrumming, tackling, work rate and attitude would warrant a look into the extended Wallaby squad. Unfortunately there is substantial depth this year within the Australian conference but I am still taken aback that the reserve hooker gets the gig over Fitzpatrick. This is a kick in the guts for Fitzpatrick and or a questionable selection by Daryl Gibson for selecting Fitzpatrick over Latu.
Latu hasn't had time to find form this year playing only 6 games for the Waratahs. Plus he's only been capped by the Wallabies a total of 12 times. Hardly the match fitness and test experience that would warrant a call up in a World Cup year. His discipline on the field this year resulted in a 6 week suspension for shoulder charging into a ruck. He is a liability at ruck time when he tries to pilfer for the ball resulting in unwanted penalties.
Then the drink driving charge that saw him miss further games until he was sentenced. This last one came at a challenging time for the Waratahs and Australian Rugby with the Folau headlines smacking us in the face at every opportunity. Adding fuel to the fire for every sports journalists primed ready with pen in hand for the next incident seems irresponsible and another opportunity for Rugby Australia to draw a line in the sand but no, we'll reward him with selection.
This is not Latu's fault for being selected. I'm sure he does everything possible to play his best rugby for the team but I feel for the competing players that have missed an opportunity who were in form this season. It's nonsense to select Latu as an experienced player warranting his selection in the Wallabies. Unless you are a 50 plus test player and are a true leader within the team my preference would be to select in form. Enthusiastic players that can earn their stripes in the Rugby Championship leading into the World Cup.
Brendon Paenga-Amosa was amongst the Wallaby set-up last year playing 2 tests and is considered a reliable tough hooker but was outplayed by Alex Mafi throughout the year. Thorne rewarded Mafi by starting him for the Reds and in my opinion was one of the inform hookers in the Australian conference. Mafi carries the ball well, tackles with aggression; his throwing is accurate at lineout time and has the energy that young Rugby players display when they are given an opportunity. Surely Mafi's form earned him an opportunity at getting amongst the Wallaby set-up?
The Rebels had impressive depth with their hookers consisting of Anaru Rangi, Robbie Abel, Hugh Roach and Jordan Uelese all getting a run in 2019. Rangi has a slighter build than other hookers but you can't argue with his aggression into the tackle and the ability to time his runs onto the ball. Rangi's throwing into the lineouts has also improved as well as spearheading a consistent scrum this year. Roach was also reliable when he managed game time and given some extra minutes could challenge any hooker within the Australian conference but what do these players need to do to get an opportunity to be selected in the extended squad? Not play? Jordon Uelese is a promising player but only played a couple of games returning from injury and no doubt has a big future but again, what has he achieved a test level that warrants his selection into the Wallabies? It would be frustrating from a player's point of view to give your all and the player that hasn't played all year gets selected for higher honours.
The same goes for Tom Robertson. I believe he is a good front rower that has test experience but has hardly found form this year in a scrum that was performing better with Harry Johnson-Holmes and Chris Talakai. Why does he warrant selection over a Tetera Faulkner or a Harry Johnson-Holmes? When the Rebels were flogged by the Crusaders a number of weeks back, it was the scrum that stood up to the test not giving an inch even when the backline forgot they needed to tackle. Doesn't Faulkner as a past Wallaby, Johnson-Holmes or Sam Talakai deserve an opportunity over Robertson who has returned from injury and been turned inside out every game played this year.
I'm positive the players selected will give everything to represent the jersey well and I support them regardless but I'm confused at the selection of players that have spent more time on the sideline than on the field. Players that warrant an opportunity to gain being in the Wallaby set-up and have started ahead of the mentioned have been kicked in the guts. Why wouldn't you look to play overseas with a selection policy such as this? The players selected are not a David Pocock that could walk back in to the test team due to his experience or number of tests played. The players selected with limited tests should not have been included over the in-form, enthusiastic youngsters coming through and this doesn't reflect well on the new selectors.