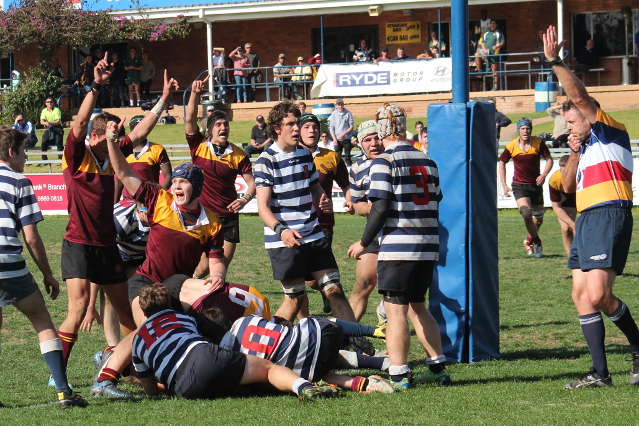 It was noticeably more peaceful in the second semi-final because the cheering squads had left.
St. Augustines and Hills obviously didn't let any non-footie players out of school for the match !!
St. Augustines College v. Hills Sports High School
First half
After play settled down it became clear that Hills didn't have the same experience of playing together that the Auggies' boys had in their ISA competition.
They were willing enough and played a hard game, but they had problems in set plays and particularly in the scrums. Auggies were getting the push in the scrum, and maybe too early according to the Hills' connections—and I think they had a point sometimes.
St. Augustines of Brookvale looked comfortable with ball in hand and after 15 Ben Fontaine had a good run, 12 Luke Lough made further progress before the ball was switched wide. Strong 13 Sione Afu ran over the top of the last defender with ease to score the first try of the match after seven minutes. Lough converted.
The Brookie boys came back again with 4 Siaosi Halaifonua making a few good runs and Lough bursting into the clear. The ball went right and by the time it came back left Lough was ready to take it and dive over. 10 Josh Thornton converted for a 14-0 scoreline 13 minutes in.
It looked like one way traffic when 11 Jordan Thomas scored an overlap try to make the score 19-0.
But with seven minutes to go in the half the boys from Seven Hills got into the act after some hard running by 12 Leighton Mildwater and 3 Epalahanfe Tale. When the ball went wide fullback Daniel Brown was able to tip-toe down the touchline, spin around and score in a tackle near the corner post. This effort was capped by an equally impressive conversion by winger Kenny Mildwater.
The Hills boys would have got some confidence out of that, even though the score at half time was St. Augustines 19 – Hills 7.
Second half
Hills were the first to score after oranges when they caught St. Augustines defending too narrowly, and reserve back Daniel Ryan got the inside pass from the outside runner and smoked the defenders to score between the posts. Only three minutes into the half the Auggies' lead was only 19-14.  Game on !!
Hills were hitting their straps and had another promising raid but they turned the ball over and Auggies got in the Hills 22 with a long penalty kick. Afu was too strong for defenders again and barged his way over for his second try, and a 24-14 scoreline.
Worse was to follow because Lough charged down a kick about 6o metres out, regathered and huffed and puffed to score a fine individual try. Neither try was converted but St. Augustines looked safe at 29-14 with twelve minutes to go in the match.
They felt even more comfortable when 19 Mila Hingano scored a dodgy-looking try from a broken-up scrum.
After attempting their fourth unsuccessful conversion of the day the final score was 34-14 to St. Augustines
The teams
Hills showed that they would be formidable had they played more rugby, especially more together.  Amongst some other things mentioned they also offered too many jagged defensive lines which were easy for the Brookvale boys to breech.
St. Augustines had some magic moments of play which dazzled the Hills' defenders but they seemed caught up in scoring easy tries when they should have worked more on applying pressure. Their goal kicking was sub-standard and they will have to improve markedly before the final.
The players
Hills
3. Leighton Mildwater (12) – was difficult to stop, and not easy to get on the ground when he was.
2. Epalahane Tali (3) – was a brutal ball runner and tackler who could be a fine THP with more scrum training.
1. Zach Haniotis (5) – worked hard the whole game.
St. Augustines
3. Luke Lough (12) – the NSW Is player was the man of the match. He was hard to contain and read the game well.
2. Siaosi Halaifonua (4) – made several bruising runs, often to set up try-scoring moves.
1. Jack Nettleton (2) – always on the ball and worked well with his props; stepped up in pack leadership in absence of skipper James Lough.
The wrap-up
It wasn't the clinical performance for St. Augustines that it might have been but six tries to two was an emphatic statement going into the final in two weeks' time.
The scoring
St. Augustines 34 (S. Afu 2, J. Thomas, M. Hingano tries; L. Lough 2 tries, con; J. Thornton con) def. Hills 14 (D. Brown, D. Ryan tries; K. Mildwater 2 cons)
Photos by Lee Grant
.
Pages: 1 2