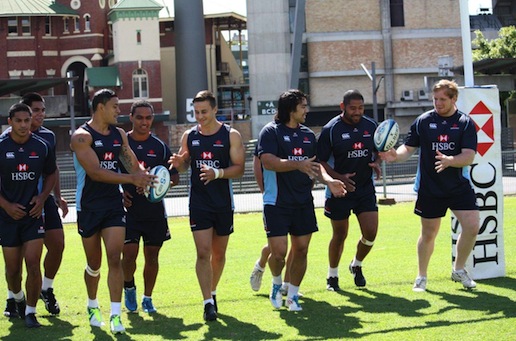 For those who want a professional rugby career it can be disheartening to be overlooked and it is hard to keep the dream alive. There are others just starting out in senior rugby hoping to get a call against odds. For ten uncontracted players the call came when they were invited by Michael Cheika to train with the Waratahs squad until the start of the 2013 Super Rugby season.
When he got back to Sydney after head coaching stints at Leinster and Stade Français, Waratahs' head coach Michael Cheika didn't know the current Sydney players, except from watching recordings; so he met with a lot of the club coaches in Sydney. They were fellows he knew before he went overseas and had stepped up to coaching roles since. He had been where they are now and had to respect their opinion. 'If I can't take a guy like Scott Fava's advice on a back-rower,' he said, 'Then whose advice am I going to take?'
He appreciated the efforts of the players to offer themselves for training and making sacrifices.
'But in return they're going to get an opportunity or two in the trial matches, without a doubt. We'll be looking at trying to give our Wallaby players as long a time as possible to recover and fuel up for the coming season. So trial one and two [against the Rebels and Blues] are going to be opportunities for these guys, as well as the contracted players, to force their way into the reckoning for a position in the team.'
No doubt thinking of the long season and possible injuries in the squad Cheika said:
I want to find another player or two who can be at that level — I want players to know that if they play well in their clubs, whether in Colts or Grade, that they're a chance to be sighted and brought into the system.
---
AJ Gilbert
The players in the photo to the right are at opposite ends of the spectrum of aspiring players.
On the left is 25-year-old AJ Gilbert who is literally, a journeyman. When he was 17 the Dorrigo lad had to decide between rugby and league. He chose rugby and went to Sydney to play for the Warringah Rats. In 2006 he was in the Australian Under-19 team that won the IRB Championship in Dubai. Later that year he was playing in London and Paris for the Australian Sevens team.
On the strength of that he earned a rookie Super 14 contract for the Queensland Reds in 2007 and got on the park once for them. That was not converted into a full contract for 2008 so he went back to playing bush rugby league. Then got a call from the Ipswich Jets to play semi-pro league, but was soon back in Sydney playing rugby union again, for North Sydney.
In the last two seasons he has been one of the form players of the Shute Shield and went within a whisker of being the Player of the Year in 2011. He was chosen for NSW Country versus Sydney this year and is the current North Sydney captain.
With a young family and juggling a job he appreciates the chance that Cheika has given him. 'Cheika is a straight up and down kind of guy and it's great that he's given these opportunities to the club guys,' he says.
Sydney Shute Shield is the best competition in Australia so it's really great to be able to have these opportunities. I can't pass these opportunities up; at the end of the day this is what I want to do.
With opensider Pat McCutcheon's availability delayed by recent corrective surgery coach Cheika is likely to keep AJ's phone number handy. He is a specialist No. 8 but has the attributes to play 7 and could be a handy standby for Michael Hooper.
---
David Horwitz
Fly-half David Horwitz, who turned 18 just at the end of September and recently completed his HSC exams, represented Australian Schools in 2011 and 2012. He was a strong organiser and defender at the schools level and launched his Scots College backline in some brilliant raids this year. He recalls:
Check actually called my dad just before my last exams. My dad was a bit tight-lipped so I wondered what was up with him, and as soon as I finished my last exam, about 5.30, he called me and said Cheika will call you tonight. I got the call and I was a bit dumbfounded.
That evening he had to watch his mates have a few beers because he had to get up early in the morning to go to Waratahs' training.
See more on page 2 including picture gallery….
---
Pages: 1 2