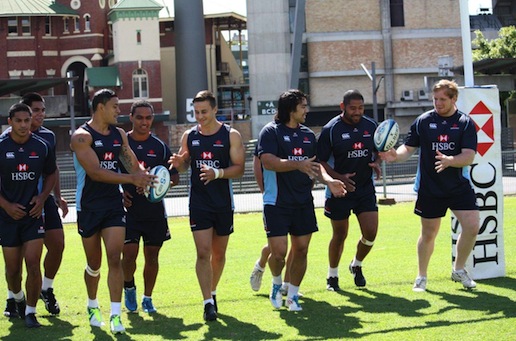 Elijah Niko is a convert from the rugby league code. He was in the Warriors TYC team in 2010 and was recruited by the Mebourne Storm in 2011. Cameron Smith did him no favours by comparing him to Israel Folau and indeed, he spent a lot of time commuting to Brisbane to play for the Storm's East Tigers feeder team.
He switched to rugby union this year and was selected for the National Academy. He played for a Junior Tahs team against Tonga A early in the season and made his debut in First Grade in Round 12 of the Shute Shield for Eastern Suburbs wearing the 13 jersey. The big 22-year-old is strong in the tackle and has a good vertical game for restarts and cross-kicks.
---
Peter Samu
A devastating runner in the 2012 Shute Shield and was in good form when a young Randwick team made it to the semi-final of the Singapore Sevens in November (only to go down to the eventual winners).
A new arrival in Sydney, the 20-year-old former Schools and Colts rep from Victoria cleaned up at the Galloping Green's end-of-season awards night getting the Best Newcomer and Best Back-rower awards, as well being voted the Randwick Most Valuable Player of 2012.
---
Kotoni Ale
NSW Schools player of the year in 2008 and a try-scorer in a memorable win for Australian Schools over NZ Schools in Auckland.
He was chosen for the Waratahs Academy in 2009 but had an injury-riddled year. Though fit again in 2010, he found himself behind England Test player Michael Lipman and future Wallaby Beau Robinson at the Warringah club. After being selected in the Tonga Under-20 squad that year he moved to the Manly club in 2011 and relished the opportunity to start regularly in the Shute Shield.
Now 22 years old he is ready for the big step up. He is another to consider as a standby for Michael Hooper.
---
Richard Aho
The 25-year-old THP represented Sydney versus Country in 2011 and 2012 and was a non-travelling reserve for Tonga for their PNC squad this year.
He was the Penrith captain last season but will appear for Randwick in 2013.
---
Wayne Borzak
The Waratahs have also invited two promising 21-year-old props to train with the squad.
A rugby product of Knox Grammar School, THP Wayne Borzak represented CAS II Schools and NSW II Schools in 2009. He partnered LHP Scott Sio, now of the Brumbies, in both teams and will hope to emulate his old team mate by getting on the field in Super Rugby. He made his Shute Shield debut in 2012 after being a standout for the Warringah Rats Colts team in 2011.
---
Michael Ala'alatoa
An up-and-coming LHP who was adjudged the most-improved grade player at the West Harbour Pirates club last season.
In 2011 he played for the Samoa Under-20 team in the IRB Junior Rugby Championship. At 125 kilograms (at least) he is looking agile and menacing at training.
---
Will Skelton and Jack Littlejohn
20-year-old Will Skelton from the National Academy and 21-year-old Jack Littlejohn were added to the invited players group last week.
At 203 centimetres and 136 kilograms Will is yet to make his mark in club rugby, though he was in the same Samoa Under-20 team in 2011 as Mike Ala'alatoa.
Jack, from Wagga Wagga, is from the Roosters rugby league stable, where he was considered to be a promising goal-kicking five-eighth who could also play centre or fullback.
---
Pages: 1 2