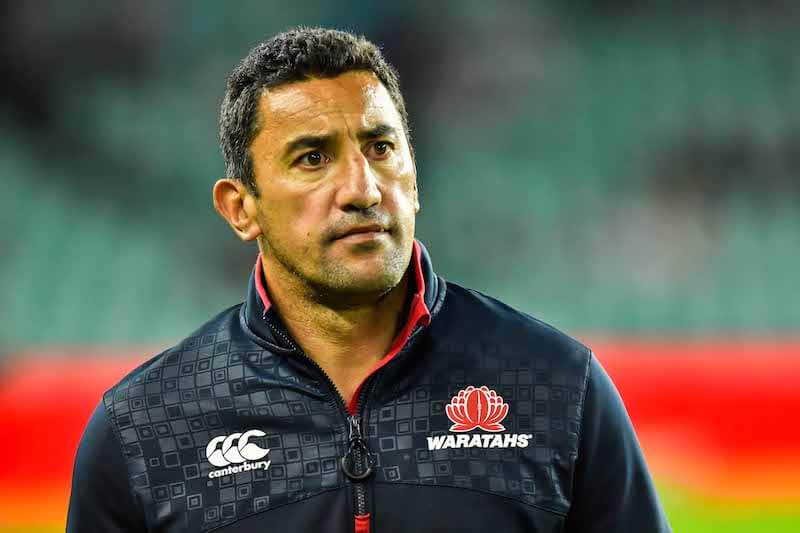 It is with a heavy heart that I begin to put pen to paper (dinosaur, I know) to review the Waratahs 2017 season. Long time Waratah supporters will remember some pretty awful seasons. Remember in the 70's and early 80's when Shaw and Loane only had to turn up and we went to water? Those with shorter memories will remember 2012 and the Foley experience, which followed the Hickey years. But those pains have reduced to a dull ache. This year's pain is still raw and relentless. Watching the Brumbies come up short yet again to a NZ team in the quarter final just opened old wounds. Why, with all our resources, weren't we there instead of a team of discards from other franchises?
IT STARTS WITH SQUAD SELECTION:
The pack was hugely unbalanced. The worst of it was in the second row, but it extended to the whole forward pack. Some will laugh when I say this, but only Skelton and Kepu in the pack were capable of physically dominating their opponent. All the rest were powderpuff workhorses. Now you need a few of those, but our whole pack fell into that category (cf. any of the five NZ teams). In the modern game, you stop the other team's attacking momentum by laying on a dominant tackle. If you can't stop that momentum you just get carted down the field, two or three  metres at a time. And that's what happened. Other teams got on the front foot and just beat us down then released the backline once the holes appeared. Towards the end of the season we were starting with five backrowers – Hooper, Dempsey, Wells, Hanigan and Mumm were our selected back five. None of them should be selected anywhere other than the backrow.
Not only was the pack unbalanced, it had far too many young heads and not enough hardened oldies. Robertson, Hanigan, Dempsey and Wells should all be bench players, they have been brought through far too soon. (Cheika, incidentally, is making the same mistake). They are going to be ruined because they are not yet fully developed. All four of those players should have spent half the season in the gym, not starting Super and making Wallaby squads. Add in Wilkin, who got a bad injury pre-season and Holloway, who is not the same player after his injury last year, and you have a group who are way too inexperienced and too light for this level of Rugby. They lack the required power to compete at this level, which will come after a couple more years of growth and development. This continues to be perpetuated. McCauley, just 20 years old and 110kg, has a full squad place next year! He's just not ready; it shows in his stats and his play in U-20's. But, good luck to him – he's one of the golden boys, annointed for greatness before he has actually delivered.
There was only one outside centre in the squad (Horne) and as soon as the grand Folau experiment failed we were stuffed. But, we had plenty of wingers – Jones, who I wanted to see more of, got no real chance at all and is now off to Sevens. Clark, Robinson, Kellaway, Naiyaravoro, Hegarty(!) all filled the spots without distinction. Clark, who seems to be Gibson's poster boy, didn't make one clean break all season that I saw, though he received very poor service.
Look for comparison to the Force squad. It is by no means perfect, but that squad is so much more balanced than the Waratah squad with far fewer resources. They chose from the leftovers basically. What would I have given to have Naisarani in the Waratah squad? Dempsey, Wilkin and Wells together as a package probably. Naisarani has the raw power an 8 must have that no one in the Tahs squad has.
Clearly there is a lack of ability in the coaching staff to sit down with a piece of paper and first work out what the composition of the squad should be, what characteristics are required for each position and then to match players to those requirements. Its my contention that if that had been done then at least six players would still be in the EPS and there'd be at least six different players with full squad contracts.
To illustrate what I mean, here is Hawko's 2017 squad (starters first). To those who would suggest I have perfect hindsight, I can only say I have had these views all season, and some judgements go back two or three years. I would have fought and paid to keep Alaalatoa, Lousi and Tui in the squad when they went because they are precisely the type of players we lack. Why we bought Wells instead of a big powerful 8 will remain a mystery to me forever:
Front row: Michael Alaalatoa, Latu, Kepu, Ryan, Fitzpatrick, Robertson. EPS: Matt Sandell, ANO, David Lolohea
Second Row: Sam Lousi, ANO hardman, McDuling, Skelton, Lukhan Tui. EPS:  ANO hardman not less than 23 y.o.
Backrow:  Mumm, Hooper, ANO big hardman,  Hanigan, ANO fetcher, Holloway. EPS: Brad Wilkin, Dempsey
Halfback:  Gordon, Lucas  EPS:  ANO
Five-eighth:  Foley, Hegarty.  EPS: Mack Mason
Centres: ANO 12, Horne, Horwitz, ANO 13. EPS: Irae Simone.
Winger/Fullback:  Folau, Naiyaravoro, ANO speedster, Kellaway, Clark. EPS: Harry Jones
IT CONTINUED WITH CONDITIONING AND SKILLS:
The NRC seems to have truncated the preseason conditioning programs and Chieka's insistence on giving some up-and-comers a paid holiday on the EOYT made the problem worse; but prima facie the squad conditioning and skills program this season was a disaster. The direction of the conditioning program, with its lack of emphasis on raw power and explosive strength, meant even Chieka reckoned the Tahs came into Wallaby camp underdone and spent half his training time on conditioning. As a result of being under-conditioned, the Waratahs would go missing in games for long periods, usually in the first 40, because they weren't physically and mentally tough enough. Phipps' recent comments about physical condition improving mental toughness in the SMH are instructive here.
There was something strange happening though. The only player to be directly criticised for his physical condition by Chieka was Tolu Latu and I and most other judges thought he was our best forward by a mile in the first half of the competition, managing to get over the ball and pilfer while all around him were yards behind. He became the backrow fetcher we didn't have.
Our whole backline lacked the ability to pass under pressure in front of the man. Either they didn't have any ability to start with (unlikely) or the skills training just didn't enhance them. Support players regularly over-ran the ball because they were poorly positioned, if indeed they were fit enough to get into position at all.
HOW CAN A TEAM AVERAGE 24 POINTS PER GAME AND ONLY WIN FOUR TIMES?
Only four times did the Waratahs score less than 20 points in 15 games. How then did they lose so often? By leaking too many points at the other end. This was both structural and attitudinal. Structural, because the Nathan Grey defensive structures left huge gaps on the outside with a lack of effective cover. All you had to do to score was get the ball wide quickly and run like hell. Added to that, shooters were used (like Hooper) who frequently missed their targets. Shooters are only useful if you don't miss your mark. [Are shooters a deliberate tactic or just real triers in a lazy defensive line? Discuss]
It was also attitudinal because the missed tackle count was horribly high. It was not uncommon for players to have 50% tackle completion rates, particularly in the backrow and midfield. And that doesn't count at all the "I didn't get near the play so I couldn't miss" scenarios that arose with lazy forwards and otherwise brilliant backs. Folau is a brilliant attacking player but his cover defence is poor, and he was not alone. If you use up-and-in umbrella defence systems you'd better have some really good cover defenders. No one missed Phipps passing skills but we sure missed his wide cover this year.
IT ENDED WITH LACK OF ACCOUNTABILITY:
As I thought my way through the squad list, I asked myself which players were held accountable for their poor performances. My list would have had Toleafoa, Holloway, Robinson, Kellaway, Simone and Phipps as players who were replaced/dropped/demoted at various times for poor performance. (The curious case of Latu's dropping is not included because it was quite bizarre and I don't think the full story has come out yet.) In a year of very poor performance that list looks pretty short. Stiles got criticised for dropping and sanctioning highly experienced individuals but he, at least, was demanding high standards and dropping players who did not meet them. The Reds will be better off for that next year. The same accountability standards would have had a number of supposedly key players dropped and yes, we would have had to troll through Shute to find some replacements, but I would argue that they would have done no worse.
At half time in the Jaguares game Gibson said "We knew we were light in the forwards". The implications of that statement are breathtaking. Translation: "I knew I was selecting the wrong team but I did it anyway." What was he thinking? You select the team based on the capabilities of the players and their recent form. That leads directly to making them accountable for their performance. But how can you criticise a player's performance when you know they weren't capable to start with?
IN SUMMARY:
There is absolutely nowhere to hide for the coaching and playing team. Standards have dropped so far from 2014 that we are now saved from the wooden spoon by only the Sunwolves and the Rebels. Sugar coat it how you like, the Waratahs were awful this year and no one's reputation was enhanced over the season. Looking through the squad, only Latu, Kepu, Hooper and Foley lived up to expectations, Folau was good towards the end. I've tried in Part One to figure out as an outsider why that happened. In Part Two I will look at and rate individual performances and suggest where to from here.