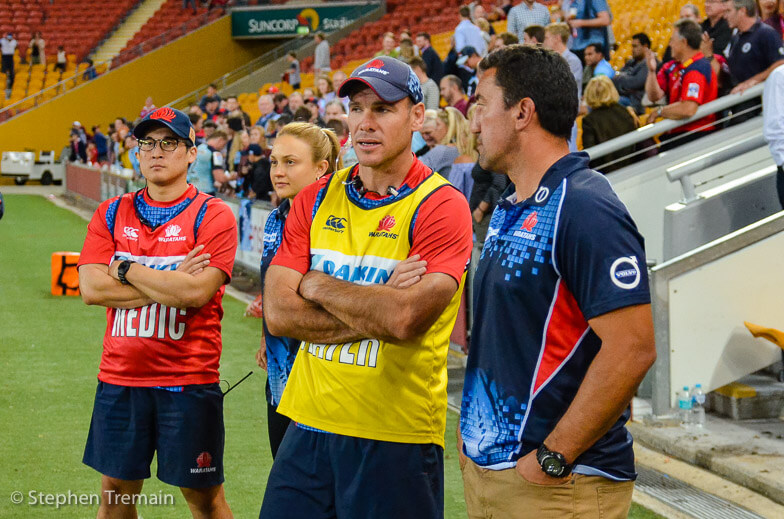 COACH AND PLAYER RATINGS
HEAD COACH:
There's an old management saying, known as the Peter Principle, that holds a germ of truth – that everyone gets promoted till they find their level of incompetency. So how was it that a very good Assistant Coach, liked and respected by all, was promoted to Head Coach and performed so poorly? Maybe the Peter Principle in practice. People still talk about Gibson with respect and say he is still the man to lead NSW next year. But I really don't see how he can survive this year's results. He's in his second year, the team missed the finals last year and appears to be steadily going backwards. He had all the resources and selection freedom that Wessels in WA didn't have with more current Wallabies than anyone else and yet his team has been comprehensively beaten by almost everyone.
Rating: 1
ASSISTANT COACHES:
Cameron Blades: Already sacked as the fall-guy for the forward's performance, (or he had to make way for Cron the new broom); he seemed to do OK with the set piece given the talent he had to work with.
Rating: 5
Nathan Grey: Another coach whose performance has dropped year-on-year since 2014. The defence was awful this year and the systems were so porous that it was perplexing no one could see it.
Rating: 2
Chris Malone: Brought in this season as attack coach, when the Waratahs attacked well they were pretty lethal. Backline skills were less than good but they still scored a lot of tries.
Rating: 6
Jordan Troester and John Dams: Between them responsible for Strength and Conditioning and Athletic performance. Didn't deliver.
Rating: 3
FORWARDS:
| | | |
| --- | --- | --- |
| Tom Robertson | Promoted beyond his capabilities. Should not be starting, let alone a Wallaby. Will develop but not yet ready yet and needs another couple of years. Should be the Waratah backup tight head. |  4 |
| Paddy Ryan | Has reached his level of competency and doesn't look like progressing further. A good squaddie though. |  5 |
| Tolu Latu | Played very well in a beaten pack as the fetcher we needed. Copped plenty of attention from Sir as most fetchers did this season.  Strange suspension for missing training in round 16 and supposedly unfit? |  7 |
| Damien Fitzpatrick | Was OK as back-up hooker, but he did not put pressure on for a starting spot. |  5 |
| Hugh Roach | Doesn't lack for courage or enthusiasm but just not physically imposing. |  4 |
| Sekope Kepu | The rock on which the pack depends. Scored a prop's try for the ages. |  7 |
| Angus Ta'avao | Why did we buy him? Has not developed as hoped. |  3 |
| Dean Mumm | Selected out of position at lock for virtually his whole career. Should have been selected at 6 but we had no other loose head locks. Gave away a lot of stupid penalties at the ruck and elsewhere. |  4 |
| Will Skelton | Towards the end of the season when he was uninjured and fit he had several outstanding performances. Just when he has finally developed into the player we had always hoped for, he's off to England. |  8 |
| Dave McDuling | Hard working journeyman who never quite developed to his early potential. Bench player only. |  5 |
| Senio Toleafoa | Tried and found wanting. |  3 |
| Ned Hanigan | Used as a lock, but has not developed the strength required for this position. Promoted beyond his capabilities, his missed tackle count was frequently disastrous. He will be a very good 6 with increased strength and an extra 10kg, but not this year. |  4 |
| Michael Wells | Fought his way to starting 8, but just does not have the ability to impose himself on the game. Sad, because the attitude is right but he lacks the core requirements. Needs 10kg and explosive power to develop. |  5 |
| Jed Holloway | Huge disappointment. Came back from injury not the same player he was last year. Needs more raw power and to work better in the tight. |  3 |
| Michael Hooper | An enigma. He bleeds for the Tahs, his efforts each week are an example to all. His lack of ability to impose himself always means that others have to take up the slack over the ball. Tries to lead by example but doesn't have enough respect from the other players to impose discipline. Manages referees poorly as captain. |  7 |
| Jack Dempsey | Injured for part of the season, but yet another Energiser Bunny who lacks the bulk and strength to impose himself on the opposition. Will come good in time but needs to develop power and size. |  4 |
BACKS:
| | | |
| --- | --- | --- |
| Jake Gordon | After a stellar NRC he ended up the number one choice halfback with Phipps' drop in form and subsequent injury. Primarily a running halfback, he presents as the opposite of Phipps – passing reasonable but slower to the breakdown and negligible cover defence. Good breakout season but needs to work on his speed, fitness, passing and field coverage. |  7 |
| Nick Phipps | Despite his inherent likeability, he had a bad season. Supplanted by Gordon, he was injured in the second half. He will bounce back – I expect him to be the bench half for the Wallabies, but he has to do more work on his passing. |  4 |
| Matt Lucas | Probably the most balanced half in the team, and certainly the best leader/talker, he was sometimes off the pace in his finisher appearances. Off to the Brumbies where I predict he will thrive. |  6 |
| Bernard Foley | Once he was fully match fit after the pre-season injury, he was his usual stellar self. As a running 10 he needs another playmaker beside him and some of Horwitz's games looked like him being that playmaker but Foley will view the season in hindsight only as good preparation for the RC and EOYT. |  7 |
| Bryce Hegarty | The utility, when he was at 10 he did some great things and some no-so-great. Enjoyed more space at 15 till Folau reverted there, but never really nailed a spot down. One of those "almost" players. |  5 |
| Mack Mason | Had a couple of games when Foley went down and looked pretty assured. Sensibly, Gibson left him out when Foley returned as he is very inexperienced as a 10 despite his promise. One for the future. |  7 |
| David Horwitz | Turned my opinion around with his play at 12, and had a couple of stellar games. His last two games were forgettable, it looked like he was already off to the Rebels mentally. Not a great defender. |  6 |
| Irae Simone | Touted as the saviour at 12 after a stellar 2016 season in Shute and NRC, he found the jump in class too great when he came up against centres as big and powerful as himself. Has real potential though and 2018 could be his year. |  4 |
| Rob Horne | Used as the stop-gap winger/centre during the Folau experiment, he never really nailed a good performance. His trademark defence disappeared this year as his missed tackle stats skyrocketed. Off to England. |  4 |
| Reece Robinson | Selected early on after some excellent trials form, that form declined dramatically. Wasn't seen in the second half of the season. Seemed to want to chip or grubber kick whenever he got a chance, which was almost always the wrong option. |  4 |
| Taqele Naiya-ravoro | Frustrating. One of the few threats to the opposition line but Gibson had no idea how to use him. Could have been a battering ram in the 10/12 channel but wasn't used. Some games he hardly touched the ball – a waste, but not his fault. He has turning speed limitations on defence and can be caught out on the break, so needs the gameplan to be built around his strengths, a bit like NZ do with Savea. |  6 |
| Cam Clark | Touted as a fullback, he played wing in the second half of the season reliably but without distinction. Lacks both pace for a winger and the ability to beat his man. Probably will vie with Kellaway for the vacant 13 position, they seem to be similarly skilled. |  6 |
| Andrew Kellaway | First choice fullback during the Folau 12 experiment, as he was last year, but did not light up the field and had some forgettable performances. Not fast enough to be the flying winger, he probably needs to move to 13 and learn to make that position his. If Clark takes that, it is difficult to see where he adds value. |  5 |
| Israel Folau | Selected at 13 for the first half of the season but when results were poor was sent back to 15. I think that move was just a coach who thought he had to do something, anything. Had some really good games just before the international window. | 7 |
Not rated: Sam Needs, David Lolohea, Andrew Deegan, Brad Wilkin, Ryan McCauley, Harry Jones, Matt Sandell.
WHERE TO FROM HERE?
You would say of the Rebels and the Sunwolves that they are absolutely no hope next year, no matter what they do. The problems in those franchises are so deep-seated that they would need at least three years to rebuild. But that is not the case with the Waratahs. Next year all the younglings will be a year older and hopefully a year stronger. They need to bolster their ranks and change coaching direction, but if that happens they are finals candidates for sure. If this year was 2012, then next year can be 2013/14.
Gibson has to go and I expect the Season Review will accomplish that. It looks like Cron is the next long term senior coach as he appears to be on the pathway, but he needs at least a year as understudy before stepping up. So we need a coach who can step into the breach for a year, someone who can fill the role successfully but be ready to step down again. Perhaps Bob Dwyer, Rod McQueen or some other experienced retired head coach. Once secured, there needs to be a searching examination of the S & C and performance coaches to understand why we thought strength and power was an unnecessary distraction and make the necessary corrections to pre-season training.
I am saying this on the assumption that the Force will survive the cut. If they are to go, then we could do a lot worse than immediately bring in Wessels as head coach. Wouldn't be good for WA rugby, or Australian Rugby for that matter, but with the ARU, who knows and he is clearly the best available Head Coach in Australia.
Then we need to spend some coin to get two power locks and a power 8. I expect the Rebels to get the chop and of their squad only Timani has the necessary qualifications. Taking Simmons, who is a free agent, means we need one more bruiser lock from overseas. He should be a marquee-quality Tight Head Lock. It'll cost, but will pay in the long run.
Hopefully Chiek will see the error of his ways and leave the apprentices at home this year so they can get a proper pre-season.