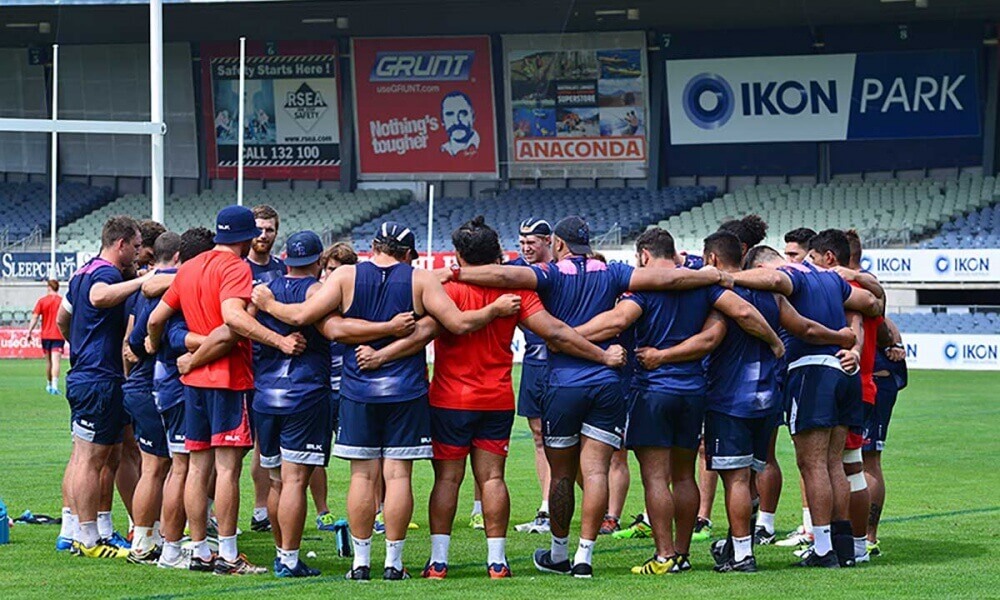 Wednesday's Rugby News has a broadside from Morgan Turunui, Rocky Elsom: angel investor angel, Beale needed for Bledisloe, and Karmichael Hunt chat. Rah!
---
Turinui Terror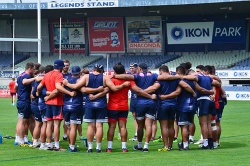 HMAS Morgan Turunui has fired a broadside at the ARU, in a rampacious chat with rugby.com.au.
"Our players are under a lot of stress," said Turunui, the Rebels' backs coach. "It is really starting to wear thin.
"We haven't played well, we haven't won enough games – that's a separate issue.
"But Andrew Cox looked me in the eye, shook my hand and said the Rebels will be here for years to come.
"The exhausting thing is that the rumours continue to circulate. The fear in our team at the moment is that there is some element of truth to the rumour.
"But from what we have been told – from what Andrew Cox has told us – we are probably the most safe club because we have a private owner that will not sell to the ARU."
Turunui's perplexion continued:
"[Rebels owner] Andrew Cox, a bit over a month ago, stood in the middle of the field with all players and staff and said that we are 100 percent safe.
"He said he will never sell this club to have the ARU close it down. On the back of that we beat the Brumbies, and then the rumours came back again. The players have been dealing with these rumours and they're debilitating for them."
And Turunui wasn't done yet – he had RUPA in his sights.
"The issue we've got here is that my players are reading the media and they are being debilitated from a mental health perspective. We have genuine issues and worries with our players.
"We need them to represent the players – that's what RUPA is all about. I was on the board of directors at RUPA so I know exactly what their charter is – to protect the rights and the working conditions of the players and their wellbeing.
"No one cares about a newsletter that RUPA sends out, no one cares about tickets to players that RUPA can provide, they're there to look after the players.
"RUPA need to step up, the way the ARU have handled it is an absolute disgrace."
Between Rocky And A Safe Place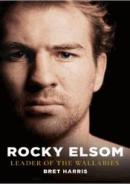 Former Wallaby Rocky Elsom is leading a consortium seeking to buy the Melbourne Rebels, reports the Daily Telegraph.
Elsom and his gang are presumably doing so to save the Rebels for being cut. An advisor to the gang is none other than GAGR friend, Bob Dwyer.
"It is just basically a group of people who want to put up some cash to stop the Rebels going down," Elsom told the Daily Telegraph.
"It's to keep Super Rugby in Melbourne and to make sure the boys there have a place to play and their families have what's been promised to them. It sounds like there has been an offer from the ARU to close it down, which in our view is totally unacceptable."
Elsom has been involved in club ownership before, being part of a consortium that took over French club Narbonne in 2011. The Daily Telegraph says that the Daily Telegraph earlier reported the Rebels' buyout price as being $6m. Any sale would require ARU approval (!) and Elsom has even admitted that the procedure of buying the Rebels' licence "is a bit murky".
"The group is trying to talk to both at the same time," Elsom said. "But the ARU seems pretty adamant they need to cut a team. We totally disagree with that, in the short term and long term.
"That is ludicrous and extremely expensive when you consider they'd lose more private investment as well as investment from the Victorian government, which is well into the eight figures for them.
"It is a very expensive exercise that is not something that meets any of the goals of Australian rugby, or gives any consideration for the families and players who moved down there and made Melbourne their home."
Meanwhile, Victorian Sports Minister John Eren has issued a call to Andrew Cox to speak out on the whole shemozzle.
"Following the meeting between yourself and Peter Sidwell on Wednesday 9 May, I can confirm the government is giving consideration to a form of assistance to secure the future of rugby in Victoria," Mr Eren wrote in a letter, says the Herald Sun, who probably buried this story under a 5-page expose on what a 18-year-old fringe player for St Kilda thinks of Leonard Cohen's 1974 album, 'New Skin For Old Company'.
"We require you to inform us you will not accept any financial offer by the ARU to purchase your licence while we evaluate the need for government support and the method of payment should financial assistance be deemed necessary.
"In order for this occur, a public announcement of your ongoing commitment to keeping the Rebels in Victoria must be made as soon as possible. I require an urgent response to this prior to any meetings with government progressing next week."
Horan Hears A Who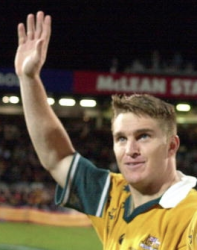 Tim Horan has said a lot of things to the SMH, mainly that the Wallabies can't win the Bledisloe can't win the Bledisloe without Kurtley Beale.
"If we're any chance of winning the Bledisloe Cup and the Rugby Championship, you have to have a fit Kurtley Beale," Horan said.
"If Kurtley Beale doesn't play the Rugby Championship, the Wallabies will not win the Rugby Championship. That's how important he is to the team. You've got to have Kurtley in the team somewhere.
"For the June Test match series, I've got no problem with Kurtley having a break. It's a pretty long series over in the UK and he's got a few more games to go.
"You probably could get him involved in the last Test match in Brisbane against Italy. If I was Michael Cheika … I'd give him a bit of time, let him have some down time to see his friends and family and then slowly ease him back. Do we have to rush him back? No."
As to where Beale will play, Horan reckons he should play at inside centre.
"You're going to have to have Kurtley and Izzy in the team in the back line and I'd like to see Kurtley at 12," Horan said.
"I think he gets more touches on the ball at 12. But then again, you can easily play him at 15 and put Izzy on the wing. I don't like Izzy at 13 and I'm not that comfortable with him there, more so defensively. When you've got a really good player like Samu Kerevi there or [Tevita] Kuridrani, you've got options at 13. If they're injured, yep, Izzy's your next choice."
Horan also reckons that the ARU should do all they can, which let's be honest, isn't much, to keep fellow Queenslandaaaa Sean McMahon.
"Sean McMahon, after Michael Hooper, will captain the Wallabies," Horan said. "He's a very strong leader. He needs to mature off the field more and that will happen over time. If he stays in Australia, he is the next captain after Michael Hooper.
"He's a wonderful player and you've really got to invest in these players who are 21 to 24 [years old] because they're the players that are going to be taking you into the World Cup.
"However, it's a balancing act between trying to compete with what the dollars are on offer offshore and the opportunity to play in the gold jersey. Sometimes you're not going to keep some players because of the difference in the dollar."
Folau Hunted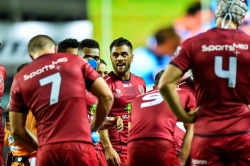 Michael Cheika has told rugby.com.au that Karmichael Hunt is "genuinely" a chance of nabbing the #15 jersey from untouchable Israel Folau, the most lithe man in the world.
"Hunt has improved out of sight this year," Cheika said on Fox Sports' Kick and Chase.
"The energy he's put into the game, just his aggression and his attitude has been quite inspiring for the other fellas who have been playing alongside him and he has really put himself into the frame, more than.
"We had him there or thereabouts just to have a look at him but now he's genuinely in the frame."
Meanwhile not only has Michael Hooper had his say on Hunt/Folau, but so has Quade Cooper. Spoiler alert: they split on party lines.
"I've been impressed by Karmichael's willingness and desire to play hard rugby," Hooper told Fox Sports. "Particularly playing (against) him a couple weeks back, he was wanting to get involved, wanting to get his hands on the ball. I've really been enjoying watching him play because you just want guys who are fronting up and just trying really hard.
"[However] I know Izzy's a very consistent performer and has been one of our best performers in the Wallaby jersey for however long now, so I'm not expecting things to change there."
Quade: "He's got a lot more to give. He's one of those guys if there's a big moment in the game, he'll step up to it.
"You put him in a gold jersey and he's going to find even more in himself," Cooper told AAP (via Fox Sports). "You can see he's starting to play the game a phase ahead. He knows not only where the space is, but where the space is going to be."
** While you're here, Check out GAGR's Wallaby Ladder, where Rugby Reg looks at who should start for the Wallabies.