Wednesday's Rugby News has something about 2019 Rugby World Cup, Kuridrani re-signing, Foley chatting about Beale and Wessels deciding.
---
Nippon Nervous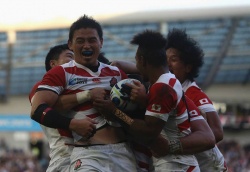 The News Limited sites have this written down as Japan being "nervous" about the Rugby World Cup but there's really no cause for concern. They've just pulled quotes from the World Rugby CEO Alan Gilpin, who was chatting away in Singapore this week.
Gilpin's at something called All That Matters, and it's a conference. Dunno what it's about but here he is.
"It's not just the first World Cup in Asia, it's the first World Cup outside of the traditional rugby strongholds. So that definitely presents some challenges," Gilpin said. If you didn't catch that, Japan is in Asia and the RWC is going there in 2019.
"It creates some nervousness. Will we have sold-out stadiums, will we have the same level of audience engagement, the same engagement we had in previous world cups? The answer is yes, we will."
With North Korea on the burst, and the Japanese PM looking to re-write the country's pacifist constitution, Gilpin hopes to tap into the 'nationalism' – could have just said patriotic pride? – to really get the World Cup going. Japan did beat the former holders of the International Crab Juice Classic Cup, South Africa, two years ago in England but that was two years ago.
"National pride will drive much of the media coverage of the tournament so we will need the media to stay engaged with us for six weeks," Gilpin continued.
"I think they will turn up in their droves not just to watch Japan but to watch the World Cup in their home city. They're great sports fans and great fans of big events."
A year after the RWC, Tokyo will host the 2020 Olympics. There'll be rugby 7s there, so Gilpin will be looking forward to that double whammy.
Re-Tevita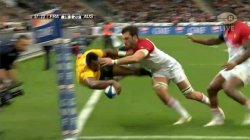 Tevita Kuridrani has avoided a lot more gnashing of teeth by putting quill to parchment with a new the Brumbies and the ARU.
Kuridrani, the bloody idiot, has chosen to stay in Australia rather than ridiculous lucre he could have had overseas. His new deal is believed to be two years long.
Samu Kerevi has been in fierce competition with Kuridrani, with both players see-sawing between the #13 jersey and the Wallabies bench. Kuridrani has told the Canberra Times that being dropped only made him want it more.
"I think I'm in good shape at the moment and I'm really fit, but I'm not quite there yet," Kuridrani said.
"I feel like I'm getting there. But I know I have to improve. I probably have to work a bit more on my attack and that should be OK."
Kuridrani on the weekend earnt his 50th Wallabies cap. Not bad. not bad.
Foley Chats Beale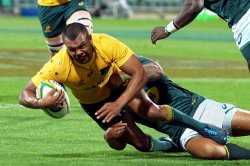 For some weird reason, the Daily Telegraph has an article about Bernard Foley talking about Kurtley Beale becoming better while he was playing for Wasps in England. Why not ask the man himself?
Anyway, Foley says Beale became more 'complete' overseas, which may mean anything. He can kick restarts, and tactically? He can pass the ball to a bloke's chest? Who knows.
"He has spoken about that, how he learned a lot about how they play up there and how they want to build pressure, how they start the game and try to play that territory-style and build it from the start of the game," said Foley while he was practicing how to get his kicks charged down in dangerous areas.
"That has definitely added to his mindset and allowed him to complete himself. He sees the game a bit different. Add that to the way he likes to attack and the whole experience was a real bonus I would say. He has developed a complete package of his game.
"He is defending in the front line, making his tackles, and he is also taking control of the game. Having that experience overseas has allowed him to grow as a player and bring back a well-rounded game. That's exactly what is needed in the heat of the battle."
Hey actually, Foley was asked about his 1/10 abysmal kicking record, and how Beale helps him share the load of Wallabies disappointment.
"​It just allows each of us a little bit more freedom to just assess what's happening in the game and to assess what's needed," Foley said,  as he practiced kicking the ball out on the full.  "It's a nice balance, for sure."
Wessels Vacillates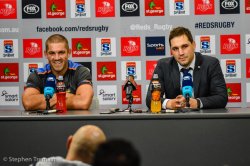 Yesterday the esteemed Green & Gold Rugby News reported that Dave Wessels was a good bet to take over at the Rebels next year.
However, the man himself says "geen", which is Afrikaans for no. He's from South Africa so I thought I'd add that detail in.
"[Howsit?] I'm very flattered that there's some interest in me from different places," Wessels said, according to WA Today. Oh my lord, WA Today! That's from WA!
"Just like the players, I want to make a decision with my family. At the moment, we don't have the complete information in terms of the alternatives."
Wessels, the article says, seems quite settled in Perth with his young family.
"[Ja] I feel very grateful for everyone in Australian rugby who has helped me," Wessels said.
"There's a [lekker] part of me that want to repay some of their faith in me.
"At the same time, I have ambitions that one day I'd like to be among the best coaches in the world [bru], and at the moment I think I'm quite far from that."
Presumably, Wessels could take the Rebels job, as well as coach the Perth Pigs (or whatever they get to be called) in Twiggysloe.
Interestingly, this article also includes the following line: "Teams from Japan, China, New Zealand, Tonga, Fiji, Singapore, and Hong Kong could feature in [Twiggysloe]". Hmm indeed