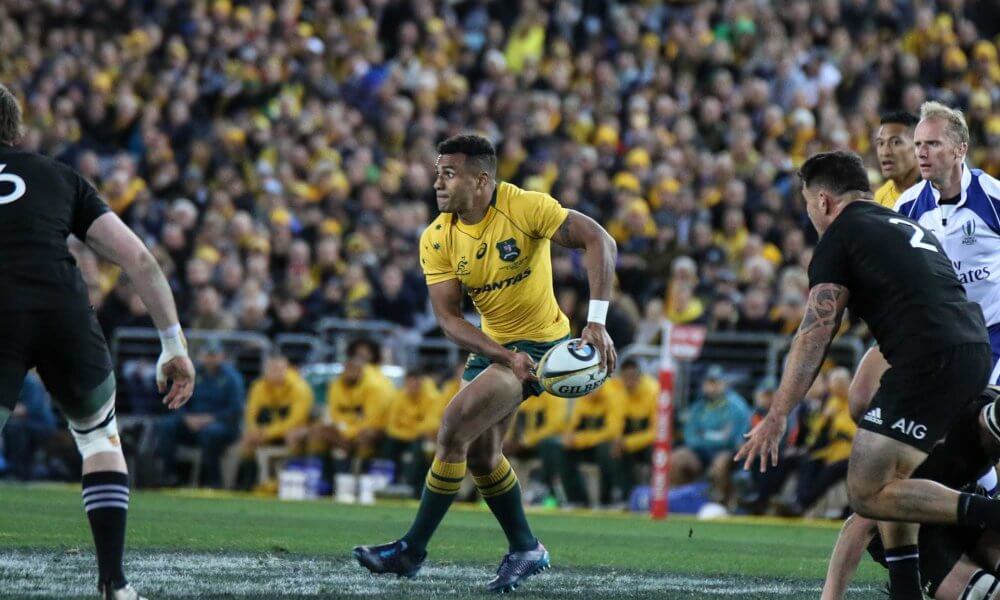 Wednesday's Rugby News has Beale doing what he wants, Danny Care praising Genia, World Cup voting gossip and Ollie le Roux getting himself into a mess.
---
Beale Deale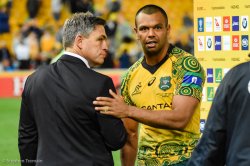 Kurtley Beale is happy to keep doing what he's doing for the Wallabies, which may or may not include taking half-naked photos with the future King.
"It's a bit of a roving role and I'll play wherever the coaches see fit and think I play my best rugby, whatever's the best for the team," Beale said, according to rugby.com.au.
"As a back line we all have a good understanding of what is required in certain positions.
"Sometimes out in the field you might have to fill in for someone else and it's great we have that understanding of each other.
"Whatever makes the team do well I'm happy to do it."
Beale, if you don't know, has taken over fullback duties since Israel Folau decided to take a rest. However, with the Kerevi at 12 experiment not working, and Karmichael Hunt to work in somewhere, Beale may have to move or something.
"With K  he brings a lot of class and lot of energy and a lot of calmness," Beale said.
"He is a great player with a lot of experience in different codes and he certainly has got a good head on his shoulders. He has added a lot to us for sure."
Meanwhile, Eddie Jones has been kissing arse.
"He's the most wonderfully gifted player,"Jones said, also according to rugby.com.au, as he twirled his hair.
"He does things other players don't even dream of. He's got that ability to make that big play.
"His stint at Wasps has aided him, he's become a lot more professional, a lot more consistent.
"He just adds that extra dimension that you don't know where he's going to turn up in attack, you don't know what he's going to do and he does it with skill, he does it with pace and he does it with precision and a smile on his face.
"He's an outstanding player so we're going to have to watch him carefully."
ARU to vote for South Africa 2023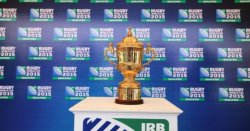 The vote for the host of the 2023 World Cup is expected to take place soon, and the ARU are likely to do the thumbs up for South Africa.
South Africa was chosen by an independent review as the best option for 2023, over fellow contenders Ireland and France. Neither of the contenders are cheery about that. World Rugby expects its full member council to vote as the review says.
As part of the Sanzaar alliance, the ARU is doing its due diligence (NZ is expected that they will too). Before anyone says anything about Super or the Force, South Africa does sort of give the ARU and NZRU a big share TV rights deals and so forth, despite the fact the Saffers bring in most of the money. However, this support could see Australia without hosting right until at least 2035, the Daily Telegraph reports.
"For a few years there has been contemplation about when Australia will next bid for a Rugby World Cup, and the 2027-31 bracket has been mentioned," writes Iain Payten.
"If South Africa win the 2023 World Cup vote, the tradition of alternating roughly between the northern and southern hemispheres would mean Australia would be looking at 2031 as their best chance."
There are two issues at play, however.
One is Japan hosting in 2019. The Europeans won't see that as 'northern', so will get greedy and demand they have it in 2027.
The second is Argentina. The Argies have announced that they want it in 2027. They're not the strongest candidate, but the current vice-president for World Rugby is Agustin Pichot, an Argentine, and probably part bulldog. He got the Pumas a spot in the Rugby Championship, and a team in Super, and a vote in the boardroom. If they can't get it 2027, there's a chance they could get 2031.
Genia Good, WBs Good
England scrumhalf Danny Care has told englandrugby.com that he reckons the Wallabies are all about Will Genia.
"I've always been a massive Genia fan, I think he's a great scrumhalf, one of the best in the world," Care said in an interview, stating facts, on englandrugby.com (via Rugby 365).
"As a fan of his it's great to see him playing so well, but hopefully he doesn't play that well at the weekend.
"He's making the team tick and that's what they want to do, they want to attack you and play with tempo and he's massively key to that.
"He and Bernard Foley will be looking to take the game to us – it's up to us to defensively try and nullify them."
What a good fella. Care also opened up on how he thinks England will approach the game on the weekend.
"We want to get some tempo in the game, we want to play fast, we play on top of teams so it is up to us to win our collisions to get some quick ball, make sure our breakdown is effective and then get the ball to the people who make the magic.
"That's George [Ford], Owen [Farrell], Alex [Lozowski], Henry [Slade] and JJ [Jonathan Joseph], they're the type of guys where we want to get the ball in their hands with quick ruck speed," he added.
"There's always a buzz when you've got Australia, especially at home at Twickenham. I'm sure there will be a few Aussies out there who will create a bit of party in the stands.
"But, our focus is on ourselves. We're there to get the job done and get victories.  Hopefully, with that, we'll play some good rugby and the fans will get excited."
Minefield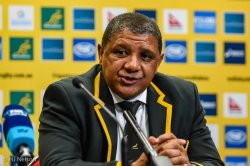 Y'know, this year's been pretty tough doing the rugby news, especially because it's a bit hard on the ol' heart to have to write out the news that would hurt the Force fans more.
So thank the lord Jesus this is Green & Gold Rugby, and not Gold & Green Rugby because thank f*ck this is Australia and not South Africa.
Ollie le Roux, an old fella who played 54 tests for the Boks and now is a chicken farmer near Bloemfontein, had an interview with the Irish Independent. After chatting about a few things, the old Leinster favourite gets to the Springboks. You ready?
"If you look at our national side, there is really some players there who are just not good enough – white players and black players," Le Roux begins. Wait for it
"It's not a colour thing for me, I don't care if they pick a whole black team, just pick the best. What happens is a lot of our players think they're being victimised. If you have a 60/40 chance as a white guy, you're not going to get the chance."
"What does Allister Coetzee know about Springboks?," le Roux continued, after chatting about South African coach Rassie Erasmus. "Nothing. He's got no right to even mention the word Springbok, because he's not a Springbok. He's got no right to even have an opinion about the Springboks.
These comments may on the face of it, seem a bit iffy but maybe not too bad. However – and this is the big however – Coetzee couldn't play for the Springboks because at the time, coloured, Indian and black players couldn't play for the Springboks.
Sedick Crombie, Media and Publicity Secretary for the SARU SACOS Legends (SACOS was a anti-apartheid rugby union body), has therefore written an open letter to le Roux complaining about his comments.
"In stating that Allister is not a Springbok is thus a moot point and something we South Africans over the age of 40 years and ones with a modicum of self-restraint and context of our not too distant past would have been very cautious to blabber about," writes Crombie.
"It is thus a bit perplexing that you would be so glib to go and reminisce over an exclusionary past symbol and history, flouting it in the public domain, let alone the international arena."
"...it is however astonishing to note that another former Springbok coach, Peter de Villiers – another former SARU SACOS player – had an outstanding record," continues Crombie.
"In scrutinising the latter's performance as coach and also taking into account the quality of the opposition he played against you find him to be the last Springbok coach to win against the All Blacks, home and away. And oh yes Peter similarly did not play for the Springboks either, the primary factor you raise against Allister's fitness to coach the national rugby team."
Jake White, who won the World Cup in 2007, also never played internationally. Ooft. Thank the lord none of this crap is going on here.