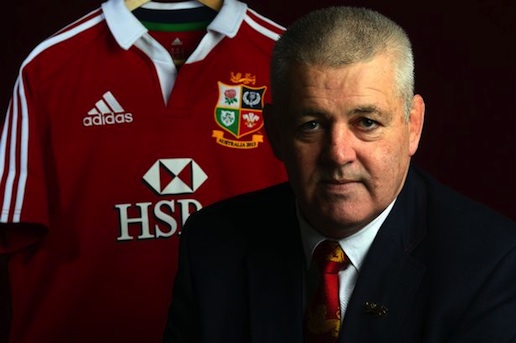 Wednesday's rugby news covers Gatland's departure from the top job with the Welsh, the Rebels sweating on a couple of fitness tests, some more media coverage for premier grade in Queensland and the Waratahs looking to tick on last thing off their to-do list.
---
Wales' New Coach

To go with their shitty weather and occasionally wearing all black kit, Wales have taken another step towards trying to morph themselves into the world's premier rugby team by naming yet another Kiwi at the helm.

Current head coach Warren Gatland will continue to lead the team up to and during next year's world cup, it will be after the tournament that the reins will be handed over to new coach, Wayne Pivac.

Gatland has been in charge of the Welsh team since 2007 and during his tenure the team has thrived.  In that time, they've taken out two Six Nations' titles (sort of three if you count the year Wales won but Gatland wasn't technically coaching due to two broken ankles), a grand slam (again, sorta two) and a trip to the semi-finals in the 2011 World Cup, a match made (in)famous by Sam Warburton's red card after only 19 minutes.

Former police officer Pivac has been directing Scarlets around the pro Euro rugby circuit since 2014 and has guided the team to runner-up in the latest season of the Pro 14 (losing to Leinster in the final) and were also semi-finalists in the 17/18 European Rugby Champions Cup where they again fell to Leinster, the eventual winners.

(side note-this does NOT constitute irony, I'm looking at you Alanis Morissette)

Before his time at Scarlets Pivac also coached the provincial sides Auckland and North Harbour and gained international experience in charge of the Fijian national team.
Rebels Pair a Chance

With a match on the horizon against the Highlanders in Dunedin set to decide their fate, the Rebels are hoping that both Adam Coleman and Will Genia will be lacing up and taking the field.

The pair both succumbed to injury during the June test series against Ireland.  Genia broke his arm (or was it 'had his arm broken'?) during the second test in an off-the-ball collision with Irish prop Cian Healy and Coleman is still on the comeback after a third-test adductor strain. (oooh, right in the third test, that's gotta hurt)

Both players trained with the team on Monday and will be subjected to a fitness test on Wednesday although it wouldn't be too much of a stretch to think that Rebel coach Dave Wessels will give them every opportunity to prove their fitness before Saturday's crunch fixture that may ultimately determine their season.

It's a simple formula for the Rebels, beat Otago, indoors, in Otago and they're through to their first finals appearance since entering the competition in 2011.  Lose however, and they are relying on other results to go their way if they want to play post-season football.

Whilst describing the game as winnable, Rebels coach Wessels is clear about the tall order facing his boys this weekend, "We can beat them for sure but we've got to play our best rugby, our equivalent of 9.9 for 100m".
(whispers) *Triple M* (normal timbre) Team up with Premier Rugby in QLD

Adding to the product rugby has to offer in a cluttered winter sporting landscape, the QRU have announced a partnership with radio station Triple M.

The deal will see one match each week be billed as 'Triple M's Hospital Challenge Cup Match of the Round'.  Quite a mouthful, but another boon for the game after Fox Sports' recent announcement they will be replaying the match of the round (the now-named Triple M's Hospital Challenge Cup Match of the Round) of a Wednesday afternoon.

Southern Cross Austereo's Damon Rielly spoke of the long-standing relationship between the code in Queensland and the media network saying, "Triple M is a big supporter of Rugby Union in Australia at all levels. We are the longest standing corporate partner with the Queensland Rugby Union spanning almost 30 years, we support the Wallabies whenever they come to Brisbane and we are also the Major Sponsor of Norths Rugby Union Club".

And he too, had to get in on the achingly long new moniker for the match (albeit, slightly abridged) by adding, "I'm very proud that Triple M will be the major sponsor of the now Foxtel televised, Triple M Match of the Round. Club rugby is flourishing, and we want to help further the growth at a grass-roots level."

David Hanham, the QRU's current CEO, was also wrapped with the deal, going on record as saying, "We're delighted with this agreement with Triple M, which will enable the Queensland Premier Rugby competition to continue to extend its reach into the local market and engage new fans and existing Rugby supporters. We're excited that the traditional grass-roots rivalries in Queensland Club Rugby are reaching the widest possible audience."

This week's Triple M's Hospital Challenge Cup Match of the Round sees South host GPS in a first vs third blockbuster.

 
Waratahs Aiming for the Sweep

As Super Rugby enters its final round there's still plenty to play for.

Some teams are looking to consolidate home finals, some simply trying to stay in contention and others looking to just get through their match unscathed so they can either a) go on their end of season footy trip or b) start their preseason months early in a bid to put on a better showing next year.  (I'm personally hoping the Reds are leaning toward the latter)

There still remains a unique goal the Waratahs can aim for though.

If they win this weekend they will complete a conference clean sweep.  No other team is close to achieving that.  Even the Sunwolves and Blues don't have a chance of pulling off the opposite, that is, losing every match within their conference.

Standing in their way is Brumbies, who, with a win, can still eke out a finals berth and will surely throw everything they can at NSW this Saturday at Allianz.

And while the QLD-NSW rivalry runs deep (especially at this time of year) the contests between the Waratahs and the Brumbies has their own sordid history, a point not lost on Waratah attack coach, Chris Malone who said, "We know that rivalry against the Brumbies has been a big part of the history of Super Rugby for NSW and NSW people".

He subtly talked up their opponents saying, "You want to go into a quarter-final on the back of a win against a good tough side and that's really important for us." And is wary of the challenge the ponies present, "The Brumbies potentially still have a chance to make the eight, so they've got a lot to play for and it's going to be a great game."

Whatever happens, a final round match between arch-rivals with plenty to play for?  Let's hope it's an absolute cracker.
---