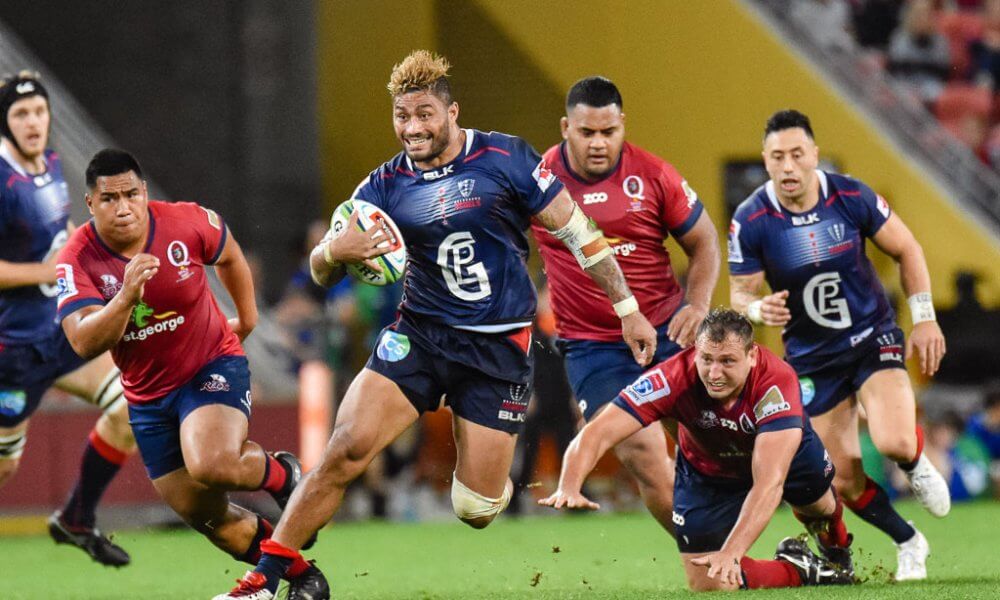 Wednesday's belated rugby news covers the Rebels handing out some fines, Folau's possible switch to the Reds, the officials for the weekend and Beale's message for his teammates.
---
Rebels Pair Cop Fine

Not content with missing out on a maiden trip to the Super Rugby finals being the prominent bad news story from the Rebels' trip to New Zealand on the weekend, Lopeti Timani and Amanaki Mafi decided to make it even worse for the club by getting into an "altercation".

The dust up saw Mafi land in court and Timani, while not requiring hospitalisation, looking worse for wear.

Mafi didn't enter a plea and has been released on bail and his case is scheduled to be heard in August.

Speaking soon after the news broke, Baden Stephenson (Rebels chief executive) said "I am bitterly disappointed that an incident has occurred at the end of a season where we have taken pride in our on and off-field behaviour.  We will respect the process and won't be making further comments until all investigations have taken place."

The club has now spoken (of sorts) in handing the pair $15,000 fines EACH.

The fines handed down are only for the pair ignoring a direction from team management *not* to go out after their game as the team still had a chance of playing finals football.

Stephenson explained the club's decision to fine the player by saying, "…it is only appropriate, given the seriousness of the incident, to sanction both players with a significant fine".

And added, "The actions of these two players is totally contrary to our club's values and has tarnished the excellent work of so many in the club, both on and off the field this season", which goes someway to explaining the steep fines handed out.

In keeping with the times, Stephenson has also looked at a way for all involved to learn from this, "I only hope that both Amanaki and Lopeti genuinely reflect on and learn from this very troubling incident.  The club has supported both players over recent days and will continue to ensure their well-being now and into the future."

It's fair to expect Rugby Australia will add further punishment to this once the criminal matters have been dealt with.
Beale Backing Blues*

(*yes, I'm aware they aren't actually the blues, but their jumpers are so just go with it, ok? For me?  Thanks fam.)

The Waratahs go into their do-or-die match against the Highlanders after a tough loss to fellow Aussie team, the Brumbies.

The last things they need to do, according to live-wire inside centre Kurtley Beale is retreat into their shells when their more enterprising style has reaped benefits for them this season.

Speaking to rugger.com.au yesterday Beale talked of the important of backing themselves in the clash, "What got us here in the first place is just our style of play and backing and believing in the structures both in the attack and the defence," he said.

Beale also fobbed off last week's loss as a bit of anomaly given their success this year and looked to focus on the good parts of it as they prepare to take on the Otagoites at home.

"I think that's what we've been doing very well over the last few weeks, disappointing we didn't get that result last week but we took a lot of positives out of that and hopefully with a really good attitude going into this week we were able to get the right result we want.

"It's anyone's game, it's a total different beast playing in finals footy and a lot of our senior guys are certainly getting around a lot of the young guys to get them prepared for a big match against the Highlanders."

Off-contract fullback Folau added to Beale's comments on last week's loss by adding "I think we were probably just sitting back on our heels and waiting for a result to come, so a bit of a wake-up call for us".

In summing up, we'll leave you with this from Beale,

"We're aware we need to pick up our game from last week's game and we're fully recovered now and a lot of guys are pretty determined to get stuck into training and start the week off really well".

Do it for the Aussies will you?
Officials Announced for Quarter Finals

The refs, touchies, the telly officials have been announced for the first week of finals.

Kicking things off for Friday night football is the 'Canes hosting the Chiefs in Wello.

Glen "Sorry Miss" Jackson is the man in the middle with the whistle and he will joined on the sides by Nick "Brain" Briant and Paul "Will.I.Am" Williams while Glenn "Newman" Newman will be watching the game on TV.

The Saturday New Zealand match 'tween the 'Saders and the Shorkies in Christchurch will be looked after by Mike "the Island" Fraser and flag wavers Ben "Kerry" O'Keefe and Brendon "Peppers" Pickerill.  Taking my dream job of being a professional rugby viewer is Shane "Cricket*" McDermott.  (*too many to choose from, Warne, Watson, Craig, well, I guess that's it)

Saturday also sees the 'Tahs host the Highlanders.  Angus (see above) Gardner will be in control with Nic "we went to school together" Berry on one side and Will "we have a problem" Houston on the other.  George "couldn't think of anything" Ayoub will be man with the screen.

The last match for the weekend is the Lions at home to the Jags in Joberg. Jaco "Cuts" Peyper cuts will be doing what he does, Marius van der Westhuizen* and Egon "Buster" Seconds run the lines and Marius "the Joker" Jonker is the TMO.

Let's hope we don't have a follow-up article on the officials next week…..fingers crossed.
 Folau Not Thinking About The Reds, Yet

After finishing his high schooling in Brisbane, playing two seasons of NRL for the Broncos and pulling on the maroon jersey for five state of origin matches Israel Folau has got strong ties to the greatest state in Australia.

Folau himself even threw his hat in the ring saying "being a Queenslander, I don't feel like it's right if I put on that blue jersey," when a possible state of origin style rugby match was mooted earlier this year.

But when it comes to be a possible switch for super rugby the high-flying outside back was less keen to put his hand up and demand a maroon jersey, "I know there's rumours going around, but not from my end in the sense of my management taking control of that," describing the whole situation as white noise.

"It's a bit of white noise in the background but nothing to worry about from my end."

Quite how Folau was able to use the phrase "white noise" without immediately breaking out the double base and impersonating Australia's favourite rockabilly band remains a mystery.

Reds coach (and another former Bronco) Brad Thorn is hoping that Izzy returns to the sunshine state, saying recently, "I guess it's one of those things where you have those dreams at night and some people see sheep jumping, I see Izzy in a Queensland jersey" but at the same time is careful not to pressure the 62-test Wallaby. "Izzy is playing his footy and his manager is running that stuff and we aren't hassling him or anything.

Folau nor his management have set a date when they will announce any decision, but with finals footy looming for the 'Tahs it's reasonable to expect we won't hear this week.
Want to play against the Western Force? No, you are not reading that wrong!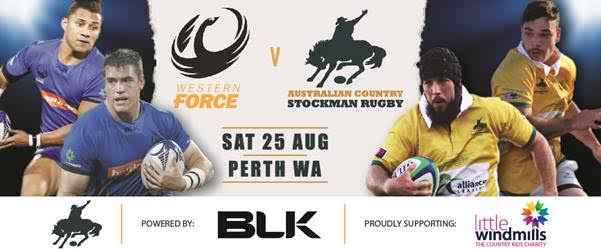 The Australian Stockman Rugby Union is giving anyone and everyone the chance to play against the Western Force in Perth on Saturday 25 August.
This presents a rare opportunity for amateur players across Australia who have been consistently performing at a higher level to put their hand up for possible selection and play a professional rugby team.
While the squad will be complemented by professional players, it will consist mainly of club and country players from premier competitions around Australia including the Shute Shield and Queensland Premier Rugby,
The Australian Stockman side will be coached by former Wallabies Nic Henderson and James Holbeck and will go into camp in Perth from Saturday 18 August to Sunday 26 August.
"This fixture presents a great opportunity to reward some of the best club rugby players in Australia with a Stockman Rugby jersey and a game against a professional team," said Henderson. "We reckon there is a fair bit of untapped talent in grassroots rugby, hungry for an opportunity like this one and able to perform at this level."
As the Stockmen can't go around and select players, the Australian Stockman Rugby Union is asking the rugby community to recommend player/s.
As a heads up, the key selection criteria include Character, Strength and Fitness, Experience and Potential. Unfortunately, due to constraints, there will be a touring cost of $2,000 for each player (incl. return flights, food and beverages) and for the week-long camp in Perth players will have to financially support themselves.
However, this is a rare and exciting opportunity for amateur players across Australia who have been consistently performing at a higher level to put their hand up for possible selection and play a professional rugby team.
If you know anyone who you think fits the bill, simply submit their name, contact deets and a brief outline of what sets them apart to info@stockmanrugby.com by COB Thursday 19 July. For any further information, visit stockmanrugby.com.