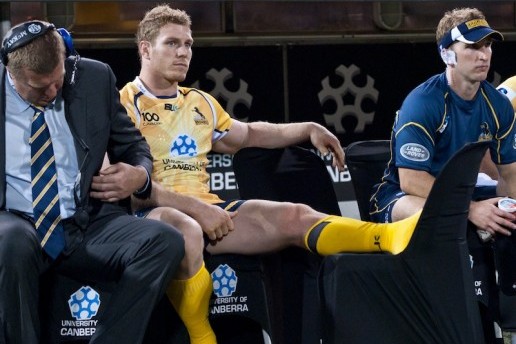 Wednesday's Rugby News looks at two of the Brumbies' Wallaby contingent in doubt for their Waratahs clash, The Rebels name their squad for their South African tour, the Reds looking to bounce back ahead of their Toyko trip and opposition to the proposed World League leads to talks about format flexibility.
---
Brumby duo in doubt for NSW clash
The Brumbies could enter their crunch Super Rugby clash with the NSW Waratahs without star Wallabies Allan Alaalatoa and David Pocock.
The pair suffered injuries in last week's 29-26 loss to the Melbourne Rebels, a game in which they led by 16 points at halftime, before being run down to suffer their second loss to the side in a month.
Both were substituted at similar periods of the game last week, with Alaalatoa being cleared of any major damage to his wrist whilst Pocock is still trying to manage a niggling calf issue, which has troubled him since 'that' Wallabies camp in January.
After their 1-3 start to the season, the Brumbies can ill-afford to be missing players of their quality, with a loss potentially putting them as far back as 10 points from the top of the Australian conference.
Despite their poor start, Brumbies No.8 Lachlan McCaffrey still believes the ACT franchise could topple the Waratahs on Friday night with or without their ace players.
"The coaches are lucky, they've got different players in every position they could pick," he told reporters on Tuesday. "Allan looked like he's pretty sore and Poey is just managing things with the back-row."
The Brumbies were still positive despite the heartbreaking loss against the Rebels, in which they lost their second match in a month to the Melbourne outfit on the back of blowing a 16 point lead at half time thanks to the inspired play by Wallaby halfback (and new Brumbies owner) Will Genia.
"That first 40 minutes I think is the best 40 minutes of rugby we've played in a long time," he said. "I don't think many teams will go down to Melbourne and dominate like we did in that first half, they're a really quality side. "When we stuck to our game plan, they didn't have many answers for us."
McCaffrey missed the match with the Rebels due to the resting policy implemented by coach Dan McKellar and is a definite inclusion for the clash with the Waratahs.
This policy has come under question by many as a result of the side's slow side, but McCaffrey was unfazed by the rest period, noting its importance in a long Super Rugby (and hopefully Wallaby) season.
"It's never nice having the week off but I think it's important in a long season," McCaffrey said. "There's a method to what (the coaching staff) are putting in place."
Rebels name South Africa tour squad
The Rebels have added four players to last week's matchday 23 ahead of their two-match South African tour.
The included players are Pone Faumausili, Angus Cottrell, Sione Tuipulotu and Campbell Magnay, who have been added to last weekend's matchday sqaud ahead of what's expected to be a true litmus test for the undefeated Rebels side, which are set to play the Lions and Sharks.
The most important news coming out of this squad was the clearance of Wallaby Locks Matt Philip and Adam Coleman to travel, who are expected to join the squad with the rest of their Wallaby camp contingent on Tuesday.
Philip played through an infected foot in the win against the Brumbies, which forced the lock to be removed at half-time and seeking hospital treatment when the infection got worse after the match.
"I had this cut on my foot that got infected a couple of days before the [Brumbies] game," Philip told The Australian.
"Someone came down on my ankle with their long studs and put a deep cut in my foot and then it started to get infected. I could feel it coming because I was starting to get really sick. I've had something like this before but it's Super Rugby and you don't want to miss a game, particularly a home game, so I tried to push through it."
Fellow lock Coleman is expected to be cleared of a concussion that shortened his playing time last week against the Brumbies, with the eight-day turnaround hopefully allowing for a full recovery in time for the clash in Johannesburg against the Lions.
The squad is as followed: Matt Gibbon, Robbie Abel, Sam Talakai, Matt Philip, Adam Coleman, Rob Leota, Brad Wilkin, Isi Naisarani, Will Genia, Quade Cooper, Marika Koroibete, Billy Meakes, Tom English, Jack Maddocks, Dane Haylett-Petty, Anaru Rangi, Tetera Faulkner, Jermaine Ainsley, Luke Jones, Ross Haylett-Petty, Richard Hardwick, Michael Ruru, Reece Hodge, Pone Fa'amausili, Angus Cottrell, Sione Tuipulotu, Campbell Magnay
Reds focused ahead of Sunwolves hunt
The Reds are all business ahead of their clash against the Sunwolves in which they assume the rare tag of being the underdog against Super Rugby's most improved side in 2019.
The Reds were thrashed 63-28 by the Sunwolves last year in Tokyo and prop JP Smith has insisted that the side will be all business as they look to bounce back from their derby loss against the Waratahs.
"This is not a trip to go sightseeing this is real for us, not a holiday," he said before the team flew on Tuesday. "I think their minds started to drift away from what our jobs were (last year)."
"It's something we need to prove to ourselves … we've been really hard towards each other … can't wait to get into the week."
The Reds have been hammered for their performance in the loss to the Waratahs, with Fox Sports commentator Rod Kafer savaging the side for their single minded approach to the contest.
"The Waratahs were ready for the challenge, they knew it was going to be a scrum battle. So you've got to develop more elements into your arsenal if you're going to attack — you can't build a whole game just around a scrum and a maul, there's got to be more," Kafer said.
"And when conditions change you've got to have the capability to change with them. No point looking at it going 'hey, it didn't suit us, we couldn't play our game. Develop more in your game."
The Reds task may become tougher with flyhalf Bryce Hegarty in doubt for the clash as he continues to battles through rib soreness. If he misses the clash, the likely replacement is young gun Hamish Stewart, who was dropped to the bench for last week clash with the Waratahs.
World League flexibility
World Rugby are prepared to be flexible on the makeup of the World League after mounting opposition continues to arise from clubs, unions and players.
One of the main stinging points of the tournament has been the proposed end of year semi-final and final format, which would see finalists play five weekends in a row, a move which has been opposed by the international players' union.
However, the removal of this period would leave international teams with a maximum of 12 matches during the calendar year, one less than what the Wallabies played last year and two less than in 2017.
Therefore, World Rugby are expected to stand firm on the format ahead of their meeting on Thursday in Dublin, which will be attended by representatives from all tier one nations, along with Fiji, Japan and the International Rugby Players Council.
This comes after the English and French club rugby competitions came out against the proposed World League, outlining their dissatisfaction in being excluded from the talks along with how it contradicts the binding San Francisco agreement formed two years ago.
"The San Francisco agreement reached in January 2017 by all stakeholders, including LNR (French Rugby League) and PRL (Premiership Rugby), represented a proportionate structure for all parties with an international calendar adopted until 2032," said a joint statement.
"The professional leagues now seem to be excluded from this new work, even though the World Rugby project would be a major change to the San Francisco agreement for all elements of the professional game, and impact other competitions."
The organisations have also hinted at potential legal action to protect their position stating "LNR and PRL regret the fact that World Rugby is not fully involving all stakeholders in seeking a consensus and they can only reserve the option to take any action to preserve their rights and competitions"
Another issue that is set to be discussed is the introduction of promotion and relegation in Six Nations, a move that has been endorsed by English boss Eddie Jones and Italy boss Conor O'Shea.