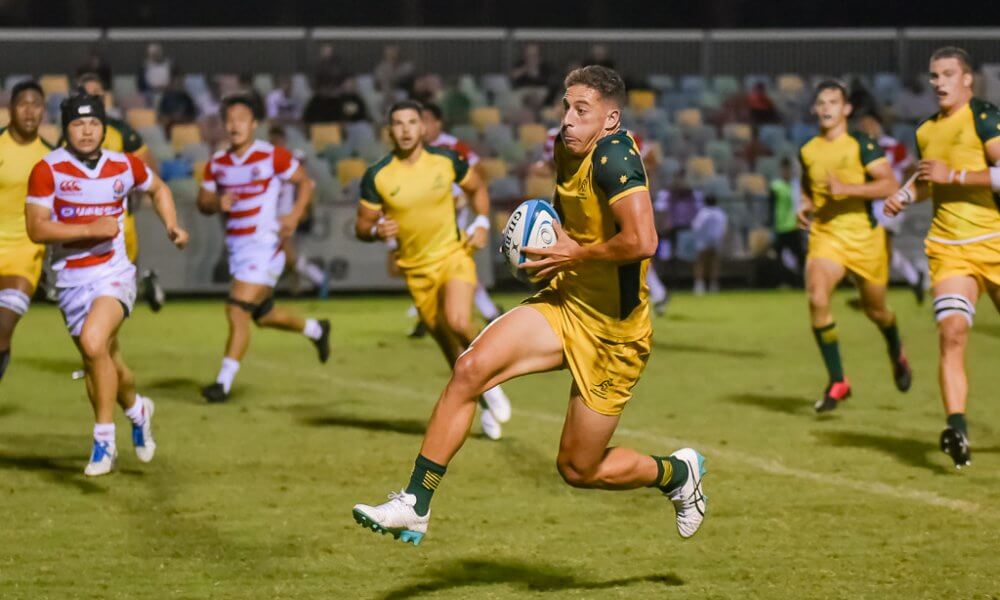 Wednesday's Rugby News examines the Junior Wallabies win over Fiji, returning Wallabies for both the Waratahs and Rebels and why one of the Reds best believes that it's now or never for their Super Rugby finals aspirations.
---
Junior Wallabies shut out Fiji
The Junior Wallabies have scratched their way to a 16-0 win over Fiji in Oceania Under 20 Championship, setting up a clash in the final with New Zealand.
Scattered showers would make for a slippery game and difficult conditions for attacking rugby, with both sides guilty of simple handling mistakes throughout the clash.
After ringing in the changes, Australia struggled for continuity throughout the match, and the Fijian side continued to take it to their much-fancied opponent until the end.
Lock Michael Wood would cross for the only try of the match in the first half, as Fiji would waste their chances, missing three penalties in the first half alone.
The Junior Wallabies were able to hold out their opponents in the second half thanks to strong defence from Pat Tafa, Carlo Tizzano and Tom Kibble, managing to curb the Fiji onslaught despite a yellow card to Joe Cotton for a high tackle.
Captain Michael McDonald was positive about the result given the greasy conditions and a physical Fijian side.
"Obviously we had to play to the conditions and we were up against a tough Fijian side, we got away with the win and that was all we had to do. Full credit to the boys, we just had to toughen up in defence, especially in that first half when we were under pressure and we did really well," McDonald said.
The win sets up a clash with defending champions New Zealand, who secured their position with a dominant 87-12 victory over Japan, a clash which McDonald was looking forward to.
"We're looking really forward to playing New Zealand, it's the one we've been building up to…Obviously, they're a quality side but everyone's really excited for Saturday and can't wait to rip in."
"As a team, we've only been together for a couple of camps now and we're really looking to build into this World Cup … that's our main focus."
Whilst on the topic of junior/schoolboy rugby, special mentions to Waverley College (my alma mater) who are representing Australia in the SANIX World Rugby Youth Tournament. They play tomorrow against Baek Shin High School and are currently two from two, looking to become just the third high school from Australia to win the prestigious tournament.
Robertson raring for return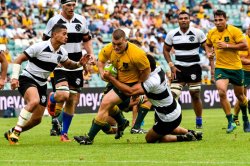 Wallaby and Waratahs prop Tom Robertson is raring to return to the Waratahs frame, with his recovery fast-tracked for this week's clash with the Bulls.
Robertson hasn't featured for the Waratahs since suffering an ACL tear in Buenos Aires last year during a regulation training session whilst in Wallaby camp.
He was expected to be eased back through club rugby in the Waratahs feeder team Sydney Uni, however, a rib injury to Rory O'Connor has accelerated the process and forced the Waratahs to take him to South Africa.
Despite the quick return, Robertson was unfazed about the chance for re-injury, believing that he has done enough training to be ready if called upon in the must-win clash.
"I wouldn't be over here if I wasn't ready to play and I'm pretty keen to get on the field," Robertson said. "The knee is good to go, it's just whether the coaches pick me or not. I'm still waiting to find out.
Having studied Medicine since 2016, Robertson is probably the most qualified person to determine his readiness to return and he was eager to come back in order to push his case for a spot on the plane for Japan.
"I've just got to get back playing well for the Waratahs and hopefully get rewarded if I'm in good form with a World Cup later in the year."
Robertson remained upbeat throughout the intensive rehab required from an ACL tear, keeping a positive frame of mind and perspective.
"Rehab is a similar sort of thing every day which is not ideal…but there are people out there doing it a lot tougher than I am in terms of injuries and other jobs. In terms of perspective, it's not the worst thing in the world but I'd love to get out there with the boys and do my job and start playing some footy which would be great."
The Waratahs will be looking to get their season back on track after their disappointing performance against the Sharks, with Robertson emphasising the dangers of the Bulls scrum and the importance of consistency.
Rebel troops return
The Rebels are set to welcome back captain Dane Haylett-Petty and fellow Wallaby Jordan Uelese as they head over the ditch to face the Hurricanes.
Haylett-Petty returns from rupturing ligaments in his toe in round 5 against the Lions whilst Uelese is set to play his first match for almost a year following tearing his ACL against the Blues in June 2018.
The pair resumed full training on Monday before the side travelled to Wellington after a much-needed bye, which centre Reece Hodge believed came at a perfect time for a team stinging after another second-half collapse against the Waratahs.
"Monday isn't usually our massive session but the boys were raring to go and there was a fair bit of intensity at training and a lot of competition which was good to see," Hodge said on Tuesday.
"We've now lost two on the trot so we're looking to get some momentum back into our season."
The return of DHP likely ends the experiment of Hodge at fullback, who was one of the shining lights in the loss to the Waratahs, with the utility happy to shift around the Rebels backline wherever he was needed.
Uelese is set to be eased back into action, starting the game from the bench behind standout Anaru Rangi. Hodge welcomed the returning Uelese to the Rebels fold, noting that he hasn't missed a step since returning to training.
"Obviously you get 12 months to lift in the gym, do running and work on your skills so when you come out of rehab you should be in better shape than when you train with the rest of the boys," he said.
"He has seamlessly fit into training – grabbed a couple of pilfers straight away and was really good in the defensive line so to see him out there is awesome."
Hodge stated that the focus going into the Hurricanes clash will be improving their attack, labelling it below par after being shut out in the 2nd half by the Waratahs a fortnight ago.
Tate Red-y to stand up
Reds halfback Tate McDermott has stated that it's time for the empty promises to stop and the side needs to step up if they wish to have any finals aspriations.
The young halfback put a line through the sand on the side's inconsistency, believing that the side must deliver on the promise shown over the next three weeks if they wish to play finals.
"As a young group this is a massive opportunity leading into the Sunwolves, Rebels and the 'Tahs," said McDermott. "There's something there to be salvaged and we're up for the challenge."
"We've spoken a little about finals but we want to be the team that stops making those promises and actually delivers in this three-week block."
McDermott pointed to performances earlier in the year against the Sunwolves and the Brumbies which were meant to be the "turn around" game for their season, however, the side would fail to back up in the following week.
"A lot of times this season we've said 'that' performance was the line in the sand," McDermott said. "We said it in Tokyo (after a 34-31 thriller against the Sunwolves) and before the Rebels game (after a strong 36-14 win over the Brumbies) but haven't actually backed it up."
McDermott has been one of the Reds best, with his teammate Lukhan Salakaia-Loto reflecting the views of many during the press conference when he shouted out "Wallaby bolter" as he walked past.
Despite the talk, McDermott remains level headed thanks to supporting words from his family, particularly his mum, keeping his focus solely on playing good football for his state despite his future ambitions for gold.
"I don't read anything into that stuff and mum always keeps me grounded with family chatter like 'Tate, there's another bloody article about you'," McDermott said.
"I'd be lying if I said I didn't want to eventually play for the Wallabies but you've got your Will Genia, Nick Phipps, Jake Gordon, Joe Powell and even Nic White as a big list of established players playing good footy (at halfback). I'm solely concentrating on playing good footy for my state."