Wednesday's Rugby News looks at the decision from Israel Folau's code of conduct hearing, the emotional and physical toll of Quade Cooper's return, the Brumbies unfazed about criticism of their play and the Junior Wallabies name their squad for the Under 20's World Championship.
---
Folau found guilty
Israel Folau has been found guilty of a breach of his contract with Rugby Australia.
The outcome was reached by an independent panel at the conclusion of an intense 3-day code of conduct hearing, which determined that Folau's social media post constituted a "high level" breach of his contract.
Folau's legal team had argued that the homophobic social media posts were not his own words, rather Biblical scripture, along with claims that his player contract did not include specific clauses about what he could and could not post on social media.
The response from Rugby Australia argued that the posts gave them no other option given the vilification caused to the gay community and the damage that had been done to the sport financially along with its reputation.
The independent panel of John West QC, Kate Eastman SC, and John Boultbee AM ultimately decided that Folau had breached Rugby Australia's Professional Players' Code of Conduct at the highest level.
"The Code of Conduct hearing in the matter of Israel Folau has concluded in Sydney today," said Rugby Australia during their media release late Tuesday afternoon.
"The panel today has today provided judgement that Israel Folau committed a high-level breach of the Professional Players Code of Conduct with his social media posts on April 10, 2019".
The decision to label the breach as "high level" ensures that Rugby Australia can still proceed with their initial decision to terminate Folau's contract, as any lower grading would not have provided them with the authoritative power to do so.
The punishment for Folau will not be handed down for several days, with Rugby Australia not providing an indication of a time period surrounding a decision.
However, it is expected that Folau will look to challenge the verdict and any punishment that is handed down, pleading for leniency on the issue and looking to get it downgraded to a fine or suspension.
Cooper cooked by return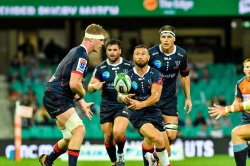 Rebels playmaker Quade Cooper has admitted that his return to Super Rugby had taken a physical and mental toll on the flyhalf early in the season.
Cooper returned from the Queensland wilderness at the start of the year and his early form brought fans back to memories of his play during the early 2010s, leading the side to 5 wins in their first 7 matches.
However, the Rebels and Cooper have crashed back to earth losing their last three games, with Cooper revealing that the added physicality of Super Rugby had left his body and mind wrecked before their second bye a fornight ago.
"I was feeling it – my body was pretty wrecked and mentally I was pretty fried," Cooper said on Tuesday. "Coming off a club footy season into eight straight games – the physicality and the intensity each week was a big step up."
"That bye was great to have for all of us, but more for me – I feel very much refreshed."
Cooper is preparing to face his old team in the Reds for the second time on Friday, a team that he gained some levels of revenge against earlier in the season when the Rebels went up to Queensland and beat them in round 7.
Despite the emotions that were free-flowing during the build-up in the first encounter, Cooper was focused on simply getting the job done for the all-important win in the tight Australian conference.
He believed that the fortitude showed during their second-half comeback, in which they turned around a 26-0 half time deficit to record a 29-19 loss, had set them up for a strong finish to the season, starting with victory on Friday.
"It was a difficult game and we're very hard on ourselves so we've approached training this week as anyone probably would and have busted our backsides," he said. "I always am hard on myself and I'll do what I can to put in a good performance for the team, as it's a big game for us."
Brumbies unfazed by criticism
The Brumbies are
refusing to change their style of play
amid a wave of criticism, drawing inspiration from Limp Bizkit to keep
rollin', rollin' rollin'.
The side created plenty of discussion surrounding their forward-heavy style of play, which centres around the rolling maul, which has been crucial to the side's success and Folau Faingaa's position at the top of the try scorer list.
The criticism has primarily come from former lock Justin Harrison who labelled their style as "pedestrian", a claim which was sensationally shut down by assistant coach Laurie Fisher.
Winger Toni Pulu doubled down on the sentiment shared by Fisher, stating that the outside backs were unfazed about the forwards nabbing up all the tries.
"I don't mind how we score and I love it when the forwards score," Pulu said. "It's hard to even get one maul try these days but that's our strength this year and the backs are happy with our forwards, they're world-class players."
"We're just happy to win, it doesn't matter how we do it…as long as we end up scoring we're happy and we'll just ignore the haters."
Likewise, the forwards had no qualms about stealing the shine from the outside backs, with Lock Murray Douglas noting the importance of ignoring the critics and sticking to their strengths.
"We go in every week with a game plan and teams have to play to their strengths and the maul has been a strength of ours," Douglas said.
"I wouldn't say it's boring rugby, it's playing to your strengths and analysing opposition and seeing where you can score your points."
Douglas has been an unsung hero for the club along with the likes of Darcy Swain and Blake Enever, who have stood up in the absence of David Pocock, Lochy McCaffrey, Rob Valetini.
Their depth is set to be tested further with the newsest member of injury club Rory Arnold, who is doubtful for the side's upcoming clash with the Sunwolves.
"Rory's a big player for this team, there's no doubt about that," he said. "So, I think we're really confident in the playing group that if people do get injured the next guy will step up and really stake his claim."
Junior Wallabies Sqaud named
The Junior Wallabies have named a 28-man squad for the World Under 20 championships that are set to depart for Argentina at the end of the month.
One of the big (literally) inclusions in the squad that were successful in winning the Oceania Under 20's Championships is Nick Frost, who has recently come back to Australian Rugby and the Brumbies after a stint in the Crusaders development system.
Coach Jason Gilmore noted that it was a difficult decision to include Frost in the squad, given their recent success and the fact he had not taken any part in their preliminary camps.
"Nick played Australian Schoolboys and has come through the pathway and then went over to New Zealand for 12 months and the Brumbies have just re-signed him so he's become available for selection for us but that was a tough decision for us because we've got a pretty settled squad," Gilmore said.
Queensland front-rower Rhys Van Nek was also added to the squad despite not featuring in the recent U20 championships, as Gilmore looks to add reinforcement at the tighthead prop position.
"Rhys has been to all of our camps and it's only Oceania that he just missed out on and he's been working hard at the Reds Academy as well, so he's a player already in the system and we've been watching him really closely," Gilmore said.
Unfortunately, seven players that took part in the Oceania campaign were cut from the final squad, which include Queenslanders Egan Siggs, Tom Kibble, Byron Ralston and Liam Usher and NSW representatives Max Douglas, Oliver Barden and Nathan Lawson.
The squad is as followed: Triston Reilly (7s, wing); Noah Lolesio (ACT, centre), Lachlan Lonergan (ACT, hooker), Nick Frost (ACT, lock); Angus Bell (NSW, prop), Darcy Breen (NSW, prop), Ben Donaldson (NSW, fullback), Will Harris (NSW, No. 8), Will Harrison (NSW, flyhalf), Mark Nawaqanitawase (NSW, wing), Henry Robertson (NSW, scrumhalf), Pat Tafa (NSW, No. 8), Joey Walton (NSW, centre), Bo Abra (NSW, prop); Rhys Van Nek (QLD, prop/hooker), Joe Cotton (QLD, hooker), Fraser McReight (QLD, backrow), Josh Nasser (QLD, prop), Kye Oates (QLD, centre), Harry Wilson (QLD, backrow), Michael Wood (QLD, backrow), Isaac Lucas (QLD, flyhalf), Esei Ha'angana (VIC, lock), Trevor Hosea (VIC, lock), Sione Tui (VIC, wing), Semisi Tupou (VIC, centre); Michael McDonald (WA, scrumhalf), Carlo Tizzano (WA, flanker).