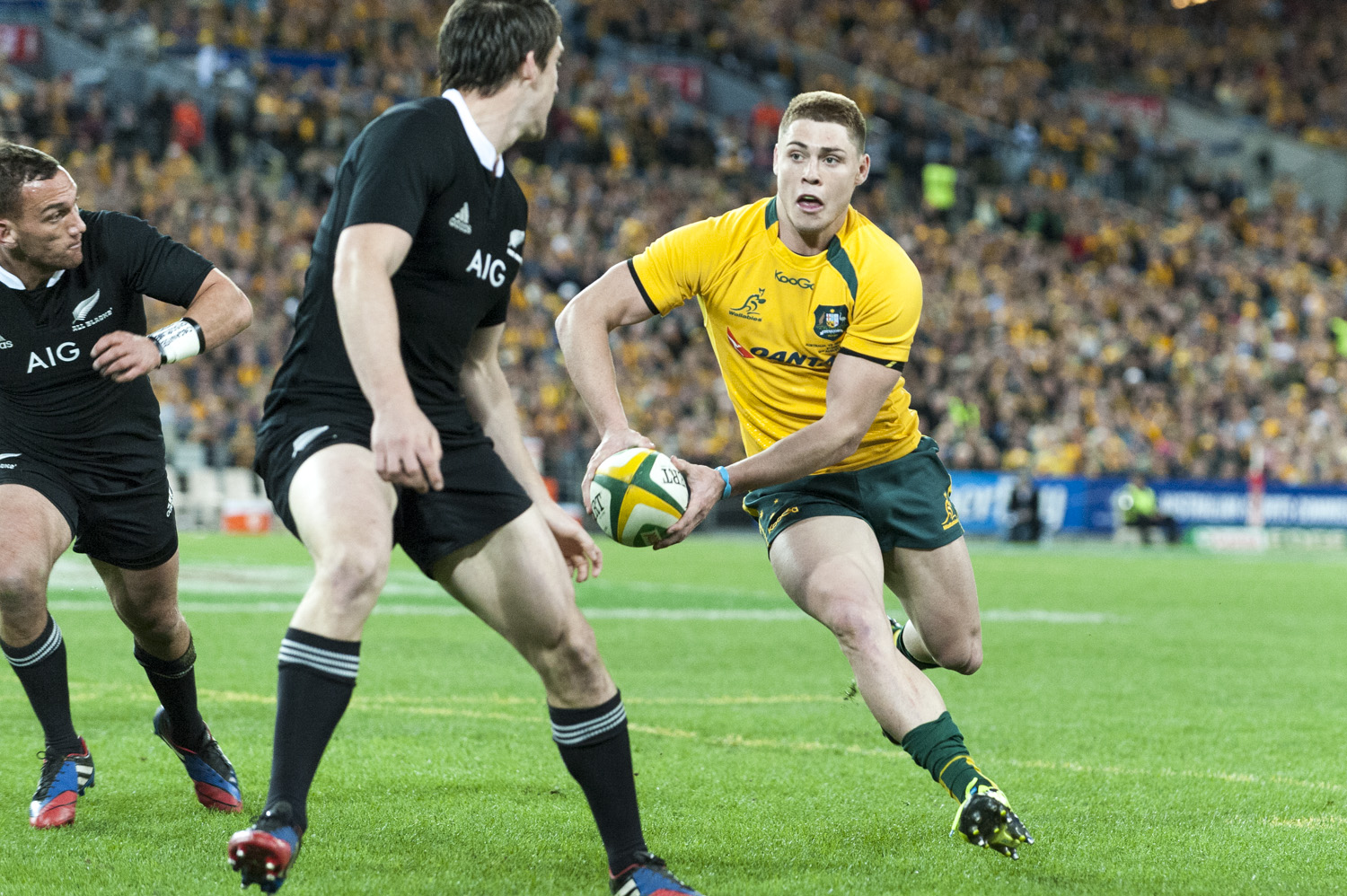 Wednesday's Rugby News covers James O'Connor's return to the Wallaby squad, the inspirational story of a young Wallaby, the Wallaroos prepare to take centre stage and recaps the start of the Australian School Championships.
---
Joc-keying into the squad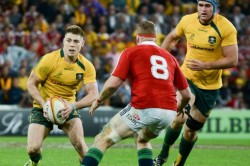 James O'Connor has been summoned into the Wallabies touring squad for the trip to South Africa.
O'Connor heads to Johannesburg this week to link up with the squad after Rebel Marika Koroibete remained in Melbourne for the impending berth of his child.
He will be included as a train-on member, with the delay in confirming a Super Rugby deal preventing him from being eligible as an 'official' member, delaying his test return at this stage.
With the announcement of his Super Rugby future set for the next fortnight, coach Michael Cheika believed that his addition to the squad allows O'Connor to further his integration back into the Wallabies set-up.
"Marika (Koroibete) should join us later in the week, but mother nature is in charge here, so until then it's a good opportunity for James to integrate into the team playing principles," Wallabies coach Michael Cheika said.
His return adds to the plethora of backline options that Cheika and the selection panel have at their disposal, with many speculating where he best fits in the squad.
According to former Wallabies coach John Connolly, O'Connor is best suited at inside centre, likely backing up gun Red Samu Kerevi.
"Working out James's position is the first thing and it appears that he's decided, and Steve Diamond at Sale decided, that 12 is his best position," Connolly said.
"Good, well that's important because at fullback he struggled, he was trialled on the wing, he's definitely not a 10 and we'll be looking for a backup for (Samu) Kerevi…And he's played OK, he hasn't played fantastic in England but he played reasonably well"
This sentiment appears to be shared by Cheika, who suggests that his most likely home will be in centres.
"He can play a bit of everywhere but I'd say in the middle, somewhere in the centres, but he could play in the back three," Cheika said. "There were a lot of things to happen for him to come back and play rugby here. But from what I've seen so far, he's pretty good."
Injured back-rower David Pocock will also join the Wallabies squad in Johannesburg to continue the rehab process as he gets set to return from a niggling calf injury.
Isi ready to rumble
Wallabies newcomer Isi Naisarani is determined to step up and pull on the colours of his adopted home ahead of their Rugby Championship clash against South Africa next week.
Despite being born in Fiji, Naisarani has been long viewed as the solution to Australia's No 8 dilemma, with his inclusion in the Spring Tour squad (despite not being eligible) along with electric form in Super Rugby all but ensuring his debut in Johannesburg on July 20.
"For me, hard work is No.1 to show the coach that I want to be in the 23 when the first Test comes up," Naisarani said.
"It's a great honour to be part of this squad. I've waited so long, three years, to be qualified (residentially), gone to three different clubs and it's all about sticking to my goal of playing for the Wallabies."
The story of Naisarani rise from unpolished barefoot talent in Naqali to Wallaby certainty is worthy of its own movie (or a 10 part Netflix series), with the barnstorming back-rower grateful for the opportunities that his adopted country has given him.
"It's a very long story and I would always tell myself that coming to Australia meant opportunities I wouldn't get at home," Naisarani said. "When I was in my village, I was just a kid throwing a plastic ball around in touch rugby with the other boys."
"My aunt and uncle live in Brisbane, saw me play a school game in Fiji, talked to mum and dad about giving me opportunities in Australia, and did all the visa stuff."
Despite his heritage and upbringing, Naisarani is all in on the Australian dream, having fallen in love with the country and the Wallabies before his arrival in 2016.
"I'd always loved watching the Wallabies from that era of Gregan and Larkham when I was living in Fiji," Naisarani said. "I know that I wasn't eligible to play for the Wallabies in that year but I kept working hard so that when the Wallabies time came I was ready to go."
"Now I'm training with them and I'll keep working hard and see what the coach picks on game day when they choose the team."
Wallaroos past patiently waiting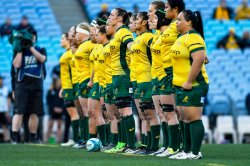 With the Super Rugby season over and The Rugby Championship not taking place until next week, the Wallaroos are set to take centre stage in a barren rugby weekend against Japan.
The Wallaroos arrived in Newcastle over the weekend to begin preparations for their two-test series against 16th-ranked Japan starting this Saturday afternoon.
Despite their ranking, Wallaroos captain Grace Hamilton expects a gritty and physical encounter, similar to their encounter in the 2017 World Cup, where the Aussies scraped home 29-15.
"Japan are tough," she said. "In the World Cup they came at us and I remember standing behind the goalposts just saying that we needed to stick to our structures and we need to come out firing because they are very structured and they will come at us."
"We've just got to come back at them and try and do our little things right."
Since their encounter in 2017, the Wallaroos exposure and calendar has significantly expanded, with four tests scheduled for this year (the highest outside of a World Cup), before they will next year join a four-nation tournament involving Canada, USA and New Zealand.
This had led to significant improvements in the quality of rugby played within not only the national team but across the Super W, which is evident in the 11 new debutants in the squad according to Hamilton.
"There's some new girls which is so lovely to see, there's so much depth within Australia now. Those girls that are coming through, it's a testament to the hard work they've been doing and, I think, the Super W seasons we've had."
"So for us just getting out there and being able to blood some new girls within this team is incredible and they're so lovely and I can't wait to see what we do on the weekend."
The added competition has juxtaposed the preparations of the Japanese, who have not played an international fixture since that World Cup, which Japan captain Saki Minami excited to represent the cherry blossoms once again.
"It's a very hot summer right now (in Japan) and coming to Newcastle it's nice and cool," Minami said via a translator.
"The first match since the 2017 World Cup, we play against any international side so we are very excited to play this game and we have been preparing well for this game."
School Championships begin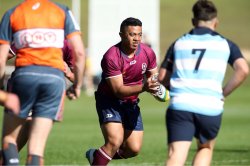 Freckled-faced kids from all over the country have temporarily paused at spitting into burgers they make at work to descend on Riverview in Sydney to play some rugby union football at the 2019 Australian School Rugby Championships.
The first day saw four games played, with the second day set to see finals.
The first game of the day recognised the natural order of things as NSW 1 walloped QLD 2 27-0. QLD 2's Tom Cregan, from St Philomena School, ended up in hospital after a nasty collision only seconds after the kickoff.
The following game featured a rejection of the natural order, as QLD 1 got up 36-20 over NSW 2.
Proud Queenslandahs will not that 8 out of 9 GPS schools didn't send kids down to these games, due to something or other – I don't know, Reg has covered it in proper detail – so a win here is a great result.
In game three, the ACT faced off against the Cavaliers Barbarians team, a team run by the Cavaliers Barbarians Academy who according to their Facebook is a rugby academy "based on the Barbarian philosophy of playing open and attacking Rugby without the pressure of having to win," whatever that means.
Interestingly the Cavaliers have two South Australians in their squad – including the wonderfully named Spiridon Haratsaris – as well as a Tasmanian. Even more outstanding is they have at least 2 kids from state schools!
Oh yeah, the score – it was 26-20 in the ACT's favour.
In the final game of the day, Combined States beat Victoria 27-24. Trying to one-up the Barbarians, Combined States had players from all states except Victoria, with 2 from Tas, 2 from NSW and 1 from SA.
Day two will have the mighty Barbarians taking on QLD 2, followed by NSW 2 tacking on Victoria. In the semi-finals, QLD 1 will face off with the Combined States and NSW 1 will play the ACT.