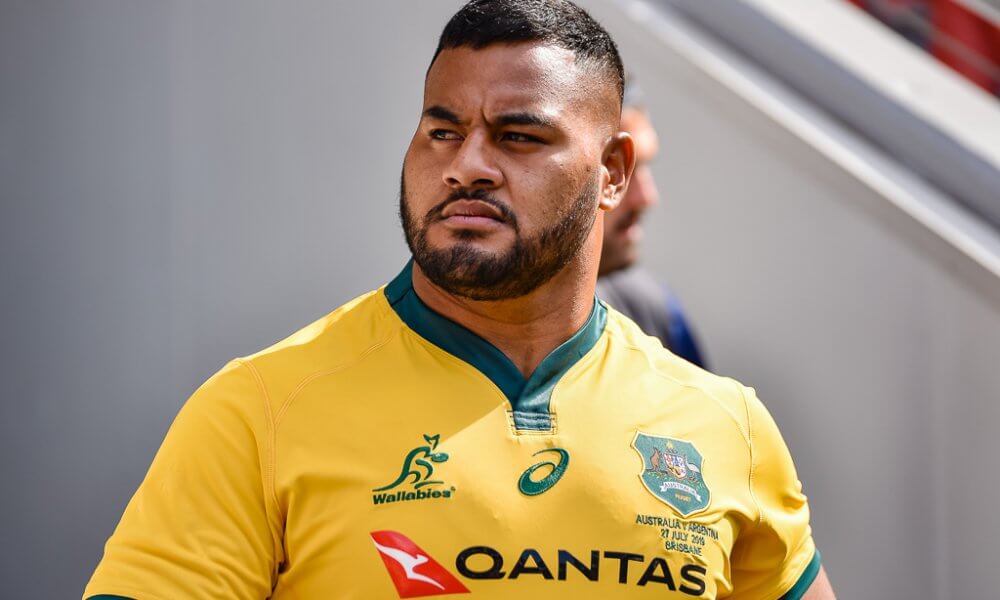 Wednesday's Rugby News looks at praise from one front-rower to another, the All Blacks preparing for a big inclusion, Stephen Holies calls for the recall of a forgotten Wallaby and how the growing professionalism in women's rugby has helped transform the Wallaroos preparation.
---
From Calf to Bull
Wallaby prop Sekope Kepu has praised the growth of fellow front-rower Taniela Tupou along with expressing tempered optimism about the strength of the front row ahead of the first Bledisloe contest this Saturday.
The veteran prop is likely in his final year for the Wallabies, having signed for Aussie London Irish beyond the 2019 World Cup, with the 33-year-old proud of the effort that Tupou has put in adding brains to his considerable brawn.
"He is definitely ahead of where I was when I was 23," Kepu said.
"We always have a giggle about it because we are 10 years apart. He is 23 and playing tighthead and he is the strongest guy I have ever seen in terms of his physique and the way he lifts in the gym.
"He has got it all and now I am starting to see his mental preparation.
"But yeah, I have seen him since he first came into camp in 2017/16. He has that confidence now and we are going to push each other as hard as we can to do our best."
Kepu was the anchor (before he went off injured) of the Wallabies dominant scrum during their win over Los Pumas, with the most promising part for him being the work of the bench front-rowers in continuing their command for 80 minutes.
"What excites me is the guys that came on and finished the job. It is probably something we have lacked over the years, and Allan (Alalaatoa) is still out. He hasn't come back, and is that's even more exciting for us as a front row and also as a forward pack," Kepu said.
Whilst he was pleased with the effort in Brisbane, Kepu knows that the task will be a whole another level when they face up against the number one ranked All Blacks.
"They're a world-class team and you only have to look through their forward pack and the experience they've got, the Test caps they've got, they've played together really well," Kepu said.
"I'm sure they'll prepare really, really well and want to bounce back as we did from the Springboks the first week. The challenge for us is to rise to that and just keep building.
"We're not going to rest on our laurels and think we've done a great job. We've parked that and we've got a massive, massive challenge on Saturday. We can't be fooled into thinking otherwise."
Calling the Bluff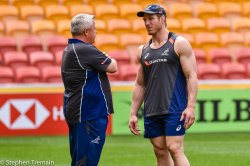 The Kiwis are calling Michael Cheika's bluff regarding the fitness of David Pocock, stating that they are preparing for his inclusion in the Wallabies matchday squad for Saturday.
Pocock seems to be close to recovery, with the flanker named in the Wallabies squad for the first time in the Rugby Championship along with taking part in the side's main training season at the WACA on Tuesday.
This word has seemed to hit enemy territory, with the All Blacks coaching staff preparing for the return of Pocock, who would likely come off the bench if selected on Thursday.
"You always prepare for that sort of scenario. But we have played against those two (Pocock and Michael Hooper) when they play together, a number of times," All Blacks assistant coach Ian Foster said.
"They're quality footballers so we're preparing for that. But we also know if he doesn't make it, there will be someone else there who will do a job. Ultimately whatever happens on Saturday will happen but we are guessing that he will play."
Fellow flanker Sam Cane seemed a bit more certain (and blunt) about his return, confident that he could re-inject himself into the Wallabies setup with no dramas.
"Yep," Cane said when asked if he would bet on Pocock lining up for the Wallabies on Saturday.
"When you have played that much Test match footy and you're used to playing at Super Rugby level consistently, I think it's more of a mental than physical thing," he said.
"I would expect him to come back and be right in the thick of things. Your match fitness is not normally where you want it to be but because you have been in those situations before you can normally just push on through.
"A guy like David Pocock, his best and worst game is not a big margin between them."
The All Blacks have their own conundrum at the flanker position, with the coaching staff contemplating their own version of 'Pooper', with the speculation growing that Cane and Ardie Savea will join Kieran Read in the back row.
"I will tell you on Thursday. Obviously, I am not going to say anything like that so we'll wait and see," Foster said.
For Pete's sake
As Australians finest doctors/religious figures/voodoo healers trying to get David Pocock back to full fitness, former Wallaby Stephen Holies has urged selectors to recall Brumby Pete Samu into the Wallabies squad.
With his impending return inevitable, many have questioned where it fits into the side, especially Holies, who has expressed his concern as to who can cover (or donate their calf) if Pocock's aggrevates his calf injury.
"I think there's always going to be doubt with Poey's injury now," Hoiles told the Fox Rugby Podcast.
"If they pick him — and it looks like they will for this World Cup — there's going to be concerns in the back of their minds, so there's always going to have to be cover for him and there's not too many other specialist sevens in the squad.
"Pete Samu can cover that role, he's pretty good on the ball, but he's not in the squad.
"Liam Wright wears No. 7 on his back for the Queensland Reds, but he's not a traditional seven either — he hasn't played a Test match yet."
With this in mind, Holies has turned to Samu as the ideal man to cover the position.
Samu has fallen out of favour with Wallabies big brass, with Fox Sports revealing that his decision to miss part of a training camp earlier in the year to attend a wedding and poor Spring Tour form has harmed his position.
Holies has urged the selectors to put this incident behind and recognise the versatility and dynamic ball-running ability that Samu can bring to the picture.
"I would personally love to see Pete Samu in the mix," Hoiles said.
"He's still a very dynamic ball-runner, he had a hamstring injury and missed the Brumbies semi-final, but I thought his form in the two-three weeks leading up to that was almost an automatic pick — whether it be six or eight — I thought Samu was walking into this Test team.
"I can't carry Luke Jones on my Wallaby bench in the back-row because he's not a specialist six, he's not a specialist seven or eight, he's not a specialist four or five, he's cover.
"You'd be mad not to have Pete Samu on the bench."
Reaping what's been Clough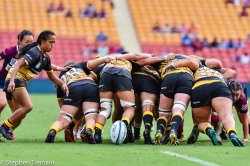 The advancements that have made within women's rugby in Australia have been exponentially over the past decade and there aren't many that has experienced it quite like Wallaroos lock Rebecca Clough.
As a Perth-based player, Clough would often receive her training programs from coaches in the East Coast Mafia and would have to find her own ground and facilities to train on during her earlier years in the Wallaroos squad.
The rise in funding and recognition in women's sport has allowed for dedicated women's rugby staff to help the 30-year-old and her WA team-mates to prepare for the exapnded international season, which she believes has been crucial in the side's increasing quality and professionalism.
"I used to train by myself – I used to have to get a program from our strength and conditioning (S&C) trainers in Brisbane or Sydney…I would have to go and find my own field or gym and do it myself in years gone by." Clough revealed.
"The last year or so – we've got dedicated S&C trainers on the ground here in Perth and in all the cities that look after the Wallaroos.
"The attention to detail that the staff now show us, that for me is the biggest improvement or benefit to my game and to the girls' game on a whole."
The clash with the Black Ferns will be the first full international contest to be played in Perth and just the 3rd time they have played in an Australian state not named NSW.
It also marks the first time that Clough will enter and play in the new Optus Stadium, having saved the moment for this special occassion.
"I've had many a chance to go but I've declined all the previous games like the State of origin and lots of AFL games because I knew this was in the pipeline and it's been my goal to make this Test match," she said.
"I kind of wanted to make it even more special, so the first time being there, I'm playing on Optus Stadium, I think it's going to be surreal."
With plans for a Four Nations tournament involving Australia, USA, New Zealand and Canada in the pipeline, Clough is enticed to continue playing on for as long as her body will allow her to.
"I want to try and play as long as I can and I guess the allure of more Test matches is enough to make me want to keep playing and it's a really exciting time in women's rugby."