Monday's Rugby News looks at the race for the Wallabies fly-half position, the call to axe Giteau's law, the re-singing of two young Reds and the hot potato of the 'favourites' tag heading into the World Cup.
---
Keeping faith
Christian Lealiifano is still the leading man for the Wallabies flyhalf position according to coach Michael Cheika.
Lealiifano had a less than impressive showing against the All Blacks last Saturday, missing two early penalties before being hooked in the early moments of the second half.
Despite that, Cheika has said that the 31-year-old has his 'nose in front' in the race for the starting job, ahead of the likes of Bernard Foley and Matt To'omua
"It's been competitive — he's (Lealiifano) got his nose in front because he's played the majority of games so far but Foley is there and contesting at training, contributing in a big way," Cheika told reporters at Fox Sports' World Cup launch in Sydney on Tuesday.
"It's a fine margin and also To'omua, who in the last couple of games has played very well as a finisher.
"He's come in and got the team going forward, made a few line breaks himself, has moved forward in that position.
"So we've got good options there and that's really good for us."
Cheika revealed that former golden boy Bernard Foley has taken his demotion well, working overtime to try and regain his spot as the premier fly-half in the country.
"It's a very difficult thing for a guy like him who's probably been in that position, relatively uncontested for a while because he's been playing well, and now he's got that competition he's reacted well," Cheika said.
"He's reacted well from a team perspective and also his individual routine in preparing to try and get his spot back."
He also continued to float the possibility of an 11th hour deal for Will Skelton, believing that his overseas knowledge and experience would be invaluable to the squad.
"He's an excellent player, he's also performed against a lot of players we could be meeting at different times," Cheika said.
"You often find a lot of those players that get that experience, come back a bit wealthier with knowledge."
Cheika continued the Pocock dance (otherwise known as the neck rock and roll) with the public, earmarking the clash with Samoa on September 7 as his expected return to Australian rugby.
Pick the best we have
That's the message from Wallaby great and Fox Sports commentator Tim Horan, who suggests that the Giteau law should be scrapped in World Cup years.
Horan offered up the suggestion whilst endorsing Saracens-based lock Will Skelton as a bolter for the Wallabies squad set to be named on Friday.
"I would select Will Skelton if we need to," Horan said.
"I am a big believer in…I get the Giteau rule, I get the 60 Test matches.
"But I am a big believer in a World Cup year, you should be able to select anyone from around the world. Where they are playing, it doesn't matter, get the best team that gives us the best opportunity to win a World Cup."
He acknowledged the risk that this presents in that more homegrown players will chase the cash in Europe/Asia, however, Horan believes that it must be taken if we wish to win a World Cup.
"I would be (prepared to take the risk)," Horan said.
"We want to win the World Cup and yes we want our best players back playing Super Rugby, but if a player like a Samu Kerevi is away for the next five years, we would want him back, just for the World Cup year."
Horan also backed the selection of Jordan Petaia and David Pocock in the 31-man squad, believing the injured pair would help inspire the squad.
"I wouldn't say it is going to be a risk selecting Jordan Petaia, he is going to be a sensational player and could be one of the great players," Horan said.
"Dave Pocock is going to be important, just because of the players who play around him. They get inspired by him when they see him run out onto the field
"The pilfers that he does, and the tackles that he makes, he just inspires people. But not only on the field, but also off the field. Having someone like a David Pocock in a gold jersey, about to run out next to you is pretty important."
Young Reds Scott the Wright stuff
The Reds have continued to tie-up their young forwards with the re-signing of recent Wallaby Liam Wright and promising back-rower Angus Scott-Young.
The pair has committed to Queensland and coach Thorn until 2021, joining the likes of prop Taniela Tupou, Junior Wallabies captain Fraser McReight and exciting halfback Tate McDermott (all 2023) to re-sign with the club in the last two weeks.
Wright became Wallaby no. 928 after coming off the bench for 20 minutes during the loss against the All Blacks and he was excited to extend his stay at the club.
"Despite the result, I was still incredibly proud to put on this jersey and run out there with the boys, it was one of the best 20 minutes' of my life," Wright said.
"I can't wait to continue growing and developing alongside a great group of people, players and good mates as we work towards our goal of a Super Rugby championship for Queensland,"
Scott-Young had his own reason to celebrate over the weekend, playing an integral part in Uni of Queensland's win over Brothers in the Hospital Challenge Cup, with the 22-year-old eager to continue following in the footsteps of his famous dad Sam.
"I grew up hearing stories of how Queensland was one of the most successful rugby provinces in the world during the 90s," Scott-Young said.
"It's always been a goal of mine to restore the Reds to this former glory."
It continues the successful partnership that the pair have forged across their rugby career, having played together in the 2014 Churchie's squad, which is one of the best high school teams in recent memory, along with one of the biggest massacres of rugby talent (Ponga, Croft and Perese all snapped up by that other code).
"They're good mates and well respected within our group," Coach Brad Thorn said.
"They've known each other since school. They've played U20s together for Queensland and Australia, plus with Queensland Country in the NRC. It's important we continue to develop their rugby futures here in Queensland."
Shedding the favourite's tag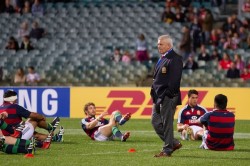 The rise of Wales to the world number one ranking has led to the All Blacks and England heaping them with the favourite's tag heading into the World Cup.
Wales coach Warren Gatland looked to downplay the hype surrounding their historic rise to the top, referring to the achievment as 'just a number.'
"It's just a number, isn't it," said Gatland following their 13-6 victory over England at the Principality Stadium in Cardiff.
"It is a nice accolade to have, but it is all about the next few months and backing that up by performing well in the World Cup, and we've a couple of games against Ireland to go as well.
"It's nice for a day, but we won't be shouting from the rooftops about it. We have got to keep things in perspective.
"Lots of journalists will be out there saying 'this is a joke' – probably Kiwi journalists more than anything! It's just a number."
However, Aussie Eddie couldn't pass up the opportunity to put more pressure onto his Six Nations rivals, labelling them as the clear favourites to win their first World Cup.
"They're favourites for the World Cup now. When you go to No 1, you're favourites for the World Cup," said the English coach.
All Blacks coach Steve Hansen was not worried about the sudden demotion of his side, pleased that they had silenced their critics after their demolition job against the Wallabies.
"We just need to get ourselves in the right frame of mind to go over and win the World Cup, so I'm not too worried about that," Hansen believed.
"It's massive really because everyone externally was starting to get a bit shaky and starting to question whether the coaches still had it, the players still had it," Hansen said.
"Where we had question marks, we no longer have question marks."