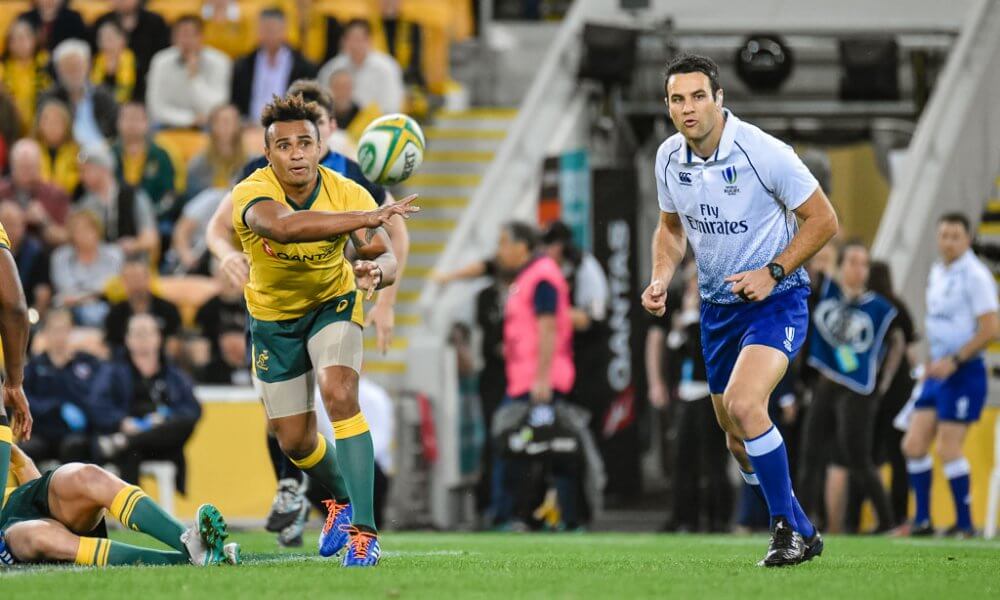 Wednesday's Rugby News looks at the battle for the starting halfback job, a Welsh legend labels a current Wallaby as the best of his generation, the special bond of two hookers and the local customs that the Wallabies have embraced
---
Half the battle
Scrumhalves Nic White and Will Genia will continue their battle onto the training ground as they tussle out for the starting halfback position.
Both players are in the rare position of having their spot in the matchday squad guaranteed, with coach Michael Cheika opting to select just two halfbacks in the 31-man squad.
Genia, who has played 105 test caps for his country, is adamant that he can still contribute regardless of what role he plays as he enters the swansong of his international career.
"The main difference is when you start the game, you can sort of build into it," Genia said.
"When you come off the bench you want to bring energy and an impact into the game but you don't want to try to do too much," added Genia, who was in the first XV in just one of this year's four Rugby Championship games.
"Whatever role I am chosen to play in, whether it's from the start or at the back end of games, I am not particularly fussed. I'm happy to just contribute and do my best.
"I'm confident in my game and what I'll bring if given the opportunity."
Genia believes that the competition has been healthy for both players as a result of their similar playstyles and skills.
"I enjoy the working relationship (with White) because we very much see the game in a similar way," he said.
"We have a similar sort of understanding as to how we want to play the game.
"Our styles really suit the type of rugby that we are playing at the Wallabies."
If the worst happens and both go down, Genia revealed that Bernard Foley has been training as the third halfback option.
"Interesting you say that (about having two halfbacks) because Bernard Foley has been lined up as potentially the third halfback, he has been doing a lot of practice actually, feeding scrums, practising his passing, so if the worst comes to the worst we've got that cute little thing playing halfback as well," he said.
Going to War for Poey
Welsh legend Sam Warburton has weighed in on the back row conundrum facing the Wallabies, believing that David Pocock should be an automatic selection.
Speaking with Fox Sports, Warburton praised the recovery of David Pocock and his skill-set, referring to him as one of the best of his generation, even better than Richie McCaw.
"Pocock, without a doubt," Warburton said.
"I always say he was my most difficult opponent.
"But even with Richie McCaw, I didn't play against anyone who was better than him (Pocock).
"For me, he was a real force.
"In the northern hemisphere, if you're looking at openside flankers I think he's the most highly regarded."
Warburton believes that the current structure of the Wallabies forward pack means that it would ideal to run with the Pooper combination, suggesting that the increased athletism in rugby has meant that it's not essential to have a giant blindside flanker.
"Because the Wallabies have got the luxury of such a big and athletic front-five and a No 8 that can carry, mind you those two boys can still carry, I don't really know what sides are losing," he said.
"Rugby players are becoming more and more athletic, it's not so much of an issue if you don't have a six-foot four blindside flanker playing anymore.
"It's great to have one, but if you don't have it it's not an issue because you've still got six other guys who can ball carry.
"For me, you play the two of them together.
"We played against both of them in 2015 and we realised when you play Australia you've got to fight fire with fire in some departments and we picked two opensides to play against Hooper and Pocock as well to help us in that game.
"Those two together are a great combination."
Cup cousins
Whilst Tolu Latu and Folau Fainga'a are locked in a two-horse race for the starting hooker role, both players are revelling at the special chance to play alongside each other.
Latu and Fainga'a are bonded beyond the rugby field as Faingaa's father and Latu's mother are first cousins, which has allowed for both players to gel and push each other harder than usual.
"It's exciting time for our family," Faingaa said.
"To do it next to my blood cousin is pretty exciting. We're into each other at training all the time and giving each other shit. It drives us to be better. Everyone is overwhelmed.
"We get told not to be with each other because we always get up to no good,
"It was the same growing up. [We were] always doing stuff we weren't meant to be doing. Tolu's mum [shouted at us] when we didn't listen. We play the same and always get told we're twins.
"At training, everyone competes for that position. [We are] keeping each other accountable and trying to make each other better,
"It's just pushing each other to be better every week. Whoever has got that jersey on it's about doing your best for the team and the team comes first."
For a long period of time during the Super Rugby season, it looked like the pair would be denied the special moment, with Latu battling on and off-field discretions.
However, Fainga'a is proud of the way Latu has put the negative noise behind him and secured his spot back in the Wallabies squad.
"I always reach out to him every time he's in Canberra to see how he's doing," Faingaa said.
"I'm obviously very proud of how he has coped and brushed everything [aside] and put his head down and worked hard to get himself to the place he is now. I'm very happy."
Tattoo Taboo
The Wallabies have embraced the customs of Japan with tattooed players going the extra effort to cover up while bathing in public.
The side's current residence in Odawara has an onsen (Japanese hot spring), which is accessible to those staying at the hotel.
This is significant in Japan as tattoos are associated with Yakuza – the Japanese mafia – and in public places, there is an expectation that they should be covered up, most notably in public baths.
The onsen is a popular relaxation area for players after training seasons and they have gone above and beyond to adhere to these expectations, with some taping up their tattoos whilst those with significant ink have donned the classic rashie when bathing.
World Rugby Tournament Director Alan Gilpin has praised the players for respecting the cultural heritage and customs of the host nation whilst in public.
"Many of the teams are very understanding of that and will be covering with various items of clothing," Gilpin said.
"We've seen fantastic goodwill from players towards their hosts and from hosts towards the players and we don't see it as an issue at all."
The custom will not extend onto the football field, with World Rugby not providing any directive to do so since the ink is generally covered by the player's jersey/shorts.
The other custom that the Wallabies have been adhering to is putting on different shoes inside and outside their team hotel, despite no direct directive from World Rugby to do so.
"I just love them, they're so respectful," prop Taniela Tupou said.
"If I see them do something, I just join them and I just love it. Love the food, love the people and love everything about Japan. The culture is awesome. We've been having a good week here of training and the boys are working hard."