Wednesday's Rugby News looks at the Fijian response to Cheika's jib, the bold selection move being pitched for the Wallabies, Warren Gatland's view on Australia and the wild clash from Pool A.
---
McKee slams Mick Cheika
As Reece Hodge prepares to have his case heard by the judiciary, Fiji coach John McKee has slammed Michael Cheika after he accused them of not acting in the spirit of the game.
Cheika raised plenty of eyes during the week when he called McKee out for being two-faced after referring Reece Hodge's tackle on flanker Peceli Yato to the citing commissioner.
"I prefer they come up to me and get upset with me, if they were really upset about it, not to then talk to me in that nice sort of friendly chitty chat way and then put in a referral, don't think I've ever referred anyone," he said.
The Fijian coach has taken offence to his juvenile comments, arguing that he had every right to considering Yato was knocked out and has since been ruled out of their next game against Uruguay.
"From our side, we lost a player who was nearly the most influential player on the park at the time of the game for the rest of the game, and because of the head injury he can't play in this game either," McKee said.
"Maybe Michael Cheika's views of what's within the spirit of the game are slightly different to some other people, but it's not up to me to decide what exactly he meant by that comment.
"I think the World Rugby guidelines are quite clear around head injury assessment. Everyone is very well aware of the head injury framework and how they will be dealt with by the match officials and citing official,
"The process in the World Cup, it is the citing commissioner who cites people if they deem something could have been a red card offence and was missed on the field. In the citing official's opinion, it's a red card offence and it's up to Australia Rugby to argue whatever they wish, and for the judiciary to decide."
Hodge will be represented by Mark Martin QC; a Brisbane barrister who regularly represents Queensland players at the SANZAAR judiciary.
He was called in after the Fijians objected to their initial lawyer since the same person has done support work for them and other Tier two nations in the Pacific Islands.
The case will be heard at 3 pm local (4 pm AEST)
Barnes doesn't Beale-ive
British pundit Stuart Barnes believes that the Wallabies must play Dane Haylett-Petty at fullback ahead of Kurtley Beale if Reece Hodge is cleared for a high tackle for their next clash against Wales.
Barnes suggests that Beale will struggle with the route one style of rugby that Wales plays (otherwise known as bombardment), led by flyhalf Dan Biggar, and believes that DHP must be picked at fullback or winger, depending on if Hodge gets off.
"I would definitely play Dane Haylett-Petty somewhere because I think you have to diffuse the kicking game of Dan Biggar, who's one of the best in the business, so I would play him," Barnes told Fox Sports.
"I would consider leaving Beale out reluctantly – I'm a great fan of him – but I think Wales might just target him.
"And I think this is a World Cup that when it's all over will be remembered for the tournament that we stopped talking about who's your best 15 and instead you selected the most appropriate 15,
"I think that's a sign of sophistication in terms of coaching, so Beale might be a better player than Dane Haylett-Petty but Haylett-Petty's game is suited to Wales, so I'd probably play him at 15."
He also believes that Will Genia should start over Nic White, suggesting that he provides a tighter and more direct style of play.
"I would say that the greater problem started from the halves in the sense that you want your 9 and 10 to shape your game, and because the game had width and that certain Fijian feel of randomness, you can't have control at breakdown situations," said the former England fly-half.
"I think Nic White, as well as he played in Perth, has to take some responsibility and Lealiifano at 10 should have been saying, 'lets tighten this up.'
"To me, after 30 minutes, I was saying Genia should be on because it just felt they needed someone who would put the right shape on the game.
"I would definitely play Will Genia at 9, I think he's a better player than Nic White.
"If they're both at their best, he's markedly better than Nic White, therefore, he gets more of the game time."
Wales full of confidence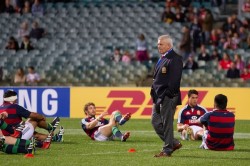 Wales coach Warren Gatland believes that his side will be full of confidence ahead of their clash against the Wallabies.
The clash against Australia on Sunday acts as a must-win for both sides, since it will pretty much determine who finishes top of Pool D.
Gatland believes that his team can take plenty of confidence from last year's 9-6 victory over the Wallabies in Cardiff, but was cautious of the frenetic nature of world Rugby.
"I think we can take a lot of confidence from that, they're a tough side," he said.
"With teams at the top of international rugby you can have a really good performance…we saw the Australians play exceptionally well against the All Blacks in Perth, then they were well beaten the next week.
"That's the way the modern game goes. We won a tight contest in the autumn last year.
"We've had some really tight games with them over the years.
"We've got to go into that game with a lot of confidence."
He was full of praise for the way the Wallabies started their World Cup campaign after their win over Fiji, believing they showed great resilience to fight back thanks to their set-piece.
"I thought Australia soaked up a lot of pressure. Fiji came flying out of the blocks and were very impressive in that first half," he said.
"Australia managed the game exceptionally well, especially in the tight with the scrum and the driven lineout.
"Fiji looked like they were starting to tire and Australia soaked up a lot of initial pressure and came away in the second half."
Gatland also weighed in on the impending Reece Hodge hearing at 4pm (AEST), suggesting that the Australian winger will find himself in trouble.
"With the Reece Hodge tackle, it looks like he has made contact there to me but that is not my decision and the judiciary needs to make a call," Gatland said.
Samoa survive scare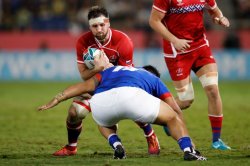 Samoa has survived a mighty scare before overcoming minnows Russia 34-9 in one of the craziest games of the tournament, which saw three players sin-binned for tackles that were lucky not to see red, a drop goal and an injury while scoring all in the space of 15 minutes.
Manu Samoa looked to open their tournament with a bang when a superb pass from Tim Nanai-Williams found Alapati Leiua to crash over for the first of his brace after 15 minutes.
From here, the game turned wild, with the Russians drawing in front 6-5 at half time when Russina fly-half Yury Kushnarev kicked a pair of penalties.
During this period, the Samoans were reduced to 13 men after Rey Lee-Lo and Motu Matu'u were yellow-carded within two minutes for a pair of ugly challenges that make Reece Hodge's look tame.
With the Samoans down to 13, the Russians failed to capitalise, not scoring a single point whilst having the old union v league numbers advantage.
This would be the game-changing moment as number eight Afaesetiti Amosa bulldozed over five minutes after the restart to give them the lead.
The Bears night would go from bad to worse, as prop Kirill Gotovtsev was yellow-carded (there's even a case for him being sent off) for a high tackle attempting to block Amosa, who was stretchered off after twisting his knee in the process of scoring.
Kushnarev would reduce the margin to just one point after nailing a beautiful drop goal.
However, the Samoans would kick clear, with tries to Lee-Lo and Ed Fidlow securing the victory.
Alapati Leiua would add the cherry on the cake just before the buzzer, bursting down the wing to beat several Russian defenders to boost them to the top of Pool A.
Samoa will be looking to build off this performance when they take on Scotland on Monday whilst Russia will be looking to get their first win when they face Ireland next Thursday.