Monday's Rugby News looks at the Wallabies not overlooking Uruguay, a former coach slamming the current halves situation and a superfan taking over the World Cup. It finishes by remembering the life of former Wallaby and Randwick legend Jeff Sayle.
---
Wallabies wary of underdog Uruguay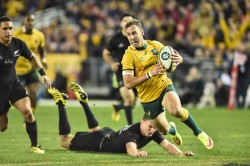 The Wallabies are refusing to take Uruguay lightly as they look to bounce back after their heartbreaking loss against Wales.
Whilst many would've pencilled this game to end with a cricket score at the start of the comp, Uruguay showed their might in their opening game with a huge upset over Fiji.
Halfback Nic White is well aware of the danger that they possess, referring to the clash as 'do or die'.
"It's a do-or-die game for us and it's against a team that beat Fiji," Wallabies halfback Nic White said.
"Certainly the days of old World Cups where there are two different tiers are gone. We've certainly got a lot of respect for them.
"They play with some serious passion. They're going to be physical and in terms of what they're going to throw at us I think a degree of not knowing may help us. It's about focusing on ourselves and being ready for anything because they play pretty unpredictable footy. That's going to be a challenge."
White towed the typical favourite's line that anything that can happen on any day, reaffirming that their primary focus is on winning (as oppose to what, losing?).
"There's a lot of respect for everyone and all teams. Anyone can beat anyone on any given day," White said.
"We have to make it to the quarters first, for us. It's pretty simple. Thats all we are saying at the moment,
"We have to win and keep winning. We don't have that luxury of maybe other nations at the moment, thinking which way we are we going to go through it. For us it is this week."
Prop Scott Sio believes that the defeat to Wales hasn't caused panic amongst the group, with Cheika and the rest of the coaching group upholding the confidence in the group.
"I don't think so, I think Cheik and them have been very steady in their plan," Sio said.
"I think it's more about that squad mentality I alluded to before, making sure everyone's ready to play no matter what role they play this weekend.
"They know what they want to do and if you're name's called upon, you've got to be ready to play Saturday. Every game is a must-win for us."
Connolly blasts 'muddled' halves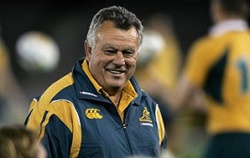 Former Wallabies coach John Connolly has described the Wallabies playmaking dilemma as a "mud puddle" as the side still tries to figure out the perfect combination.
Connolly has cautioned selectors about putting too much emphasis on enterprising performances from the bench as further questions continue to emerge about the side's number one flyhalf.
In the two pool games, the Wallabies have used two separate flyhalves, Christian Lealiifano and Bernard Foley, with both overshadowed by the performances of Matt Toomua off the bench.
Connolly suggested that whilst Toomua will likely get the start after his impressive showing against Wales, the selectors shouldn't be too much consideration in the work of a fresh player against tired opponents.
"We don't know. We don't know. We'll probably throw To'omua in the next one, so three Tests in a row we would have had three different five-eighths," he believes.
"It's like the fool's gold that you get when you play White and then because Genia goes on with a full tank of petrol and looks better we think 'Well, he looks good, he'll play'.
"Then White comes on and he looks better than Genia.
"Well, your reserves should always look better because on a full tank of petrol. So you just don't know."
The former Reds and Wallaby coach nominated Bernard Foley as the ideal candidate, suggesting that his experience was the main difference.
"The problem you've got is that Foley was dropped, confidence was down, you've got to assume that it will be tough mentally for him," he said.
"He didn't play particularly well in the first half, nor did others, I didn't think Genia's service was particularly good at times to him.
"But I don't think Lealiifano's the answer because he's not a real attacking threat.
"I don't know what he brings to the table extra.
"I'd probably start with Foley and have To'omua up my sleeve again."
World Cup's Bak-san's canvas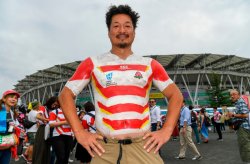 If you have watched any of the World Cup, then you have probably witnessed the guy above in the stands.
Hiroshi Moriyama, who has been dubbed 'bak-san', intends to have worn a painted representation of all 20 teams' jerseys on his body by the end of the World Cup.
Moriyama got the idea from an Auckland fan as a way of spicing up Japanese rugby, which often has more passive and respectful crowds that usual.
"In the Top League games we go to watch regularly, the crowds are often very serious and watch the matches in silence," he suggests.
"I wanted to do something to change that."
He is hoping that the tournament will help create a positive rugby legacy within the country (despite SANZAAR's best effort to kill it), helping to get more people involved in the game played in heaven.
"People who aren't rugby fans will come to know the sport through this tournament," he said.
"I would love it if more people started to play rugby and there was an environment where kids can keep playing."
His wife Rika is heavily involved in his journey across the 28 RWC games that they intend to attend, painting his bare chest with special paint to replicate the jerseys.
"My husband is very attentive to detail and I have to admit I'm still struggling to draw the smaller letters and precise patterns," she said.
Whilst many would shriek at their husband's costly hobbies, Rika was unfazed by it, believing that the joy that it brings to other people makes it all worth it.
"We're really just here to have fun so we're not too hung up on the amount," she said.
"When I see the smiles of people when they see my husband, I say to myself that it's really worth the effort and gives me strength for all the jerseys I've still got to do."
When the question of warmth came up, Moriyama added to his cult status with his ingenious way of fighting off the cold.
"I just put up with it," he said. "I've got a lot of fat, so that keeps me warm."
Vale Jeff Sayle
It's with a heavy heart that I finish this news with the passing of Wallaby and Randwick legend Jeff Sayle
Sayle died peacefully at the Prince of Wales Hospital on Monday night, aged 77.
He was awarded the Centenary Medal in 2001 for services to rugby, having been involved with the club for over 60 years.
Sayle was capped for Australia in 1967 and also played for NSW, having played 379 games for Randwick between 1961 and 1980 – including 160 in first grade.
He also served as the club's treasurer, secretary, president and was club patron from 2003.
Wallabies attack coach Shaun Berne paid his respects to the legend that was Sayley, who embraced the club and everyone who joined it.
"He was one of my first coaches when I got down there at Randwick in the Colts (and) as a young kid coming out of school I remember being inspired by this guy," Berne said.
"His way with words was incredible and the way he explained rugby was sometimes from a different planet but at the same time but so clear as to how he thought the game should be played.
"He embraced life. He suffered from a bit of Parkinsons and Sayley would embrace that and say it was very windy indoors because his hand was shaky while he held his beer and he'd blame the wind. He was such a character."
This is a sombre story for anyone who was involved within the Randwick Rugby club as he was the heart and soul of the great club, with every person to have met him coming away with a different moment adding to his legend.
Wallabies coach and former Randwick player Michael Cheika summed him up perfectly in his letter to Sayley, crediting him for the person he is today.
Personally, my rugby story begins as a ball boy for Randwick and even from a young age, you could tell the passion and love that he had for the sport and the community of Randwick.
Regardless of age, background and history, he would make anyone welcome at the club and it's almost touching that the last Randwick match he saw was the team that he treasured taking it to a world-class international side in front of a packed Coogee Oval.
He will be missed.