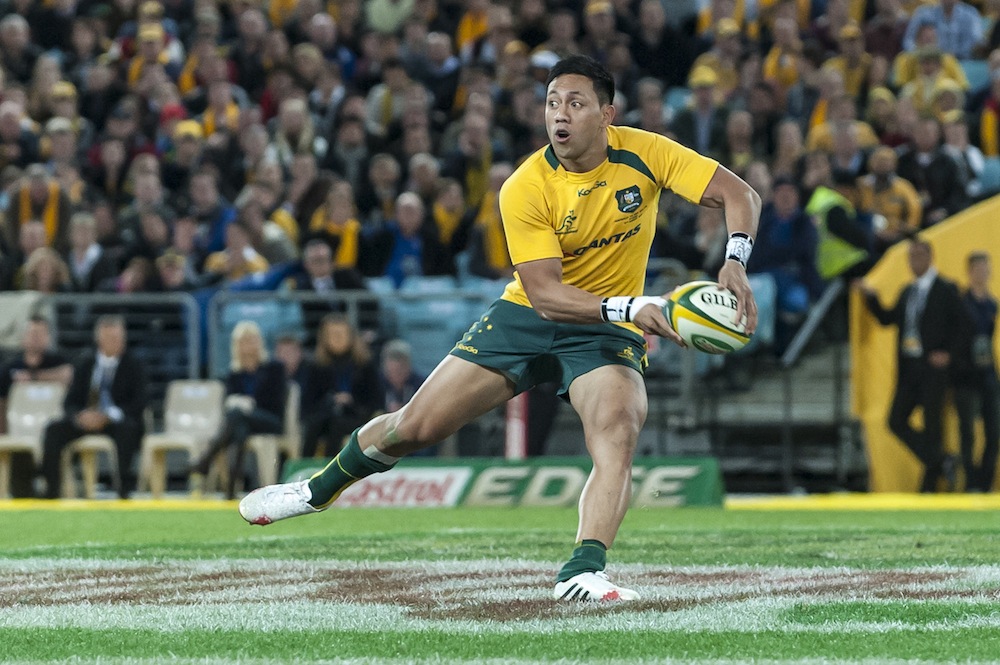 Wednesday's Rugby News looks at the flyhalf front-runner, a glowing endorsement for Michael Hooper from an ex-captain, the secret behind Marika Koroibete's sizzling form and Scotland sent to the principal.
---
Cheika backs Christian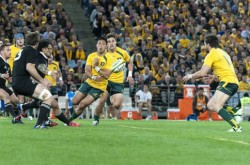 Wallabies coach Michael Cheika has seemed to tip his hand towards who will start at flyhalf for the quarter-final against England after shedding some light over his strange selection decisions throughout the tournament.
The Wallabies have not played the same individual at flyhalf for consecutive games, with Christian Lealiifano, Bernard Foley and Matt To'omua all used throughtout the group stages.
Cheika revealed that the rotation policy has been down to the continual recovery of Christian Lealiifano from leukaemia, with the coaching staff attempting to limit his workload throughout games and training.
"We were always going into (the World Cup) thinking that we will share roles in that position," Cheika said.
"Obviously Christian hasn't played a lot of Test footy. He's been building and building and building from quite a serious illness and it takes time for him to get up to the levels that he needs to.
"I'm not going to throw him out there in every game, in every minute of every game, and say go 'slug it out'. The same at training, because you want him to keep his energy."
Lealiifano admitted that it was a 'day-to-day process' although he was confident that his body could handle the rigours of three consecutive full matches if called upon.
"It's hard to say, as we've gone, it's just been managing each game as we go and seeing how I feel day to day," he told Rugby.com.au.
"I guess I'd be confident too if I was called upon, but I think it's just about coming back to the week-by-week case and seeing how they go.
Cheika also praised the performance of his latest choice for the number 10 jersey, Matt Toomua, although admitted that he needed to be more attacking.
"I think he was solid," Cheika said.
"I thought we need to probably be a bit more attacking in some situations across the board, our outside men as well.
"I thought he was solid there, so we'll chat about it today after training selections and get a handle on what we want to do into the match on Saturday."
Super Hooper Moore than capable
Former captain and Wallabies hooker Stephen Moore has hyped up the leadership and importance of Michael Hooper to Australia's World Cup hopes.
Whilst the debate still rages around the make-up of the Wallabies back-row and whether Hooper or Pocock is the best leader heading forward, Moore has paid tribute to Hooper, suggesting that he was the most important player in Michael Cheika's side.
"For me, particularly Michael Hooper, he's been the Wallabies' best player for a long time," Moore told foxsports.com.au.
"You talk about consistency, he's a guy who plays at a certain level every Test match and for a coach they're the kind of players you want in your team.
"You know come hell or high water when that whistle blows he's going to deliver a performance that you can set your watch to around his work rate, his desperation, the way he fights for his mates — and that's real leadership. And that's how Michael leads the team."
Moore believes that Hooper's influence and leadership extend beyond the 80 minutes on the field, revealing that he plays a key role in the planning and preparations of the side before game day.
"What people may not see is his leadership off the field during the week and that's so important," Moore said.
"We just spent however long talking about preparation and accuracy and discipline around your preparation and he's a player who considers everything right from what the travel looks like, what are we going to do when we land and arrive somewhere, all those little things that people who just watch the game on the weekend may not see.
"Michael's closely involved in all those decisions and he's asking the questions, he's thinking about that stuff and that's what real leadership is.
"We get 80 minutes to show everyone what we stand for, but it's the time in-between that that gets you ready to play and that's where leadership is even more important."
Marika's marvelous moves
Wallabies winger Marika Koroibete believes that extra focus on his agility has been the secret behind his incredible 2019 form.
Koroibete has been one of the Rebels and Wallabies best, lightening up defences with his incredible speed throughout 2019.
The league convert has put it down to extra work done on his footwork with strength and conditioning coach Dean Brenton, which he believes has been the major key to his great form.
"We've been working a lot with Dean Benton, he's been helping the outside backs with certain things that I know that we can improve on," he said.
"He's been helping a lot with our agility and our footwork before contact and change of direction.
"And I think it's been transferred to the field, hopefully, we will see more this week."
Koroibete is one of the few locks in the Wallabies backline, believing that the stellar form showed by the outside back contingency in the squad will leave the selectors facing plenty of headaches come selection time.
"Hodgey's back this week and there's been a lot of competition there," he said.
"Dane Haylett-Petty has been constantly playing well as well. It's up to the selectors tonight and for the team selection.
"Jordy's been doing well for the last couple of games.
"He's been coming out early these days, prioritising his hamstring, so hopefully you know we can have him again this week but that's really up to the selectors."
Whilst he admitted England fullback Jonny May will be a major threat heading into the contest, Marika continued to hum the company line that they were primarily focused on themselves.
"Obviously they have got a lot of big bodies there (and) like Johnny May with like the speed," the winger said.
"This week we didn't focus much about the way they are going to play, we focused more on what we are going to do to stop them and what we can work on to combat what they are going to bring."
Not off Scot free
After their demoralising loss to Japan on Sunday, Scotland has been issued misconduct charges and referred to a disputes committee by World Rugby.
The charges come after remarks made by chief executive Mark Dodson indicated that Scotland Rugby Union (SRU) had sought legal advice in case the decisive contest in Yokohama on Sunday was cancelled.
Whilst World Rugby stated that a match can't be postponed until the following day during the group stages, Dodson argued that the "common-sense approach" would be to play the game 24 hours later if it had been cancelled.
For these comments, World Rugby has issued misconduct charges to Dodson and the SRU, with an Independent Disputes Committee set to rule over the case.
"Rugby World Cup can confirm that it has issued misconduct charges against the Scottish Rugby Union in relation to recent comments made about Typhoon Hagibis and its potential impact on the Rugby World Cup 2019 Pool A match between Japan versus Scotland," the statement said.
"The case will be decided by an Independent Disputes Committee and Rugby World Cup will not make any further comment on this matter pending the outcome."
Tournament director Alan Gilpin believes that Dodson's comments gave them no choice but to offer these breach notices.
"Under our tournament rules, we're very careful that people behave appropriately and as a result of that we've referred to independent disputes committee the behaviour and comments of the Scottish Rugby Union," Gilpin told a news conference.
"Putting any match on is an incredibly complex task on that scale but to do so in those circumstances is remarkable,
"We know they are remarkable, which is why we had a high degree of optimism that we could get this done."