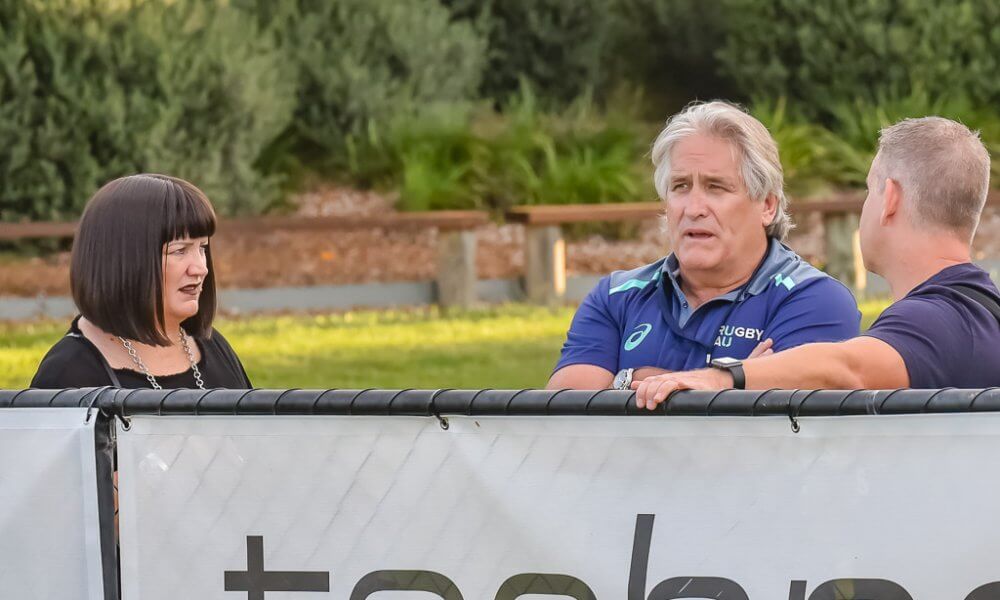 Wednesday's Rugby News looks at the latest Wallabies coaching plot twist, a groundbreaking doubleheader, the Springboks respond to "boring" claims and the busiest athlete in Australia.
---
Wallabies coaching plot twist
The Wallabies hunt for a head coach has hit a potential pothole with suggestions that New Zealand could come in and swoop Dave Rennie out of our clutches.
Rennie has been the overwhelming favourite for the job ever since before the World Cup, with the former Chiefs boss continuing his express his interest in taking the role.
He has shot to the front of the queue thanks to his positive relationship with current Rugby Australia Director of Rugby Scott Johnson, who played a direct role in getting Rennie to the Glasgow Warriors when he was Scotlands DOR.
However, sources close to Fox Sports believe that New Zealand Rugby is considering him to replace departing World Cup-winning coach Steve Hansen.
The leading candidate for the AB's head coaching role has been current assistant Ian Foster, who Hansen has continued to praise throughout the tournament.
"Fozzie has got the attack going really good, he's reinvented it, and is coaching probably the best I have ever seen him coach", Hansen said last week.
But their early exit from the tournament has left the former Chiefs and New Zealand under-20s coach in a vulnerable position.
Three-time Super Rugby winning Crusaders coach Scott Robertson is another candidate that has been presented by the NZ media.
However, there's a perception within some that Robertson must go and get some international experience coaching overseas if he wants the head coaching job.
Along with this, Rennie has become a viable option thanks to the departure of CEO Steve Tew.
Rennie and outgoing CEO Tew had an uncomfortable relationship, with both parties rarely seeing eye-to-eye, but the Super Rugby winning coach has a good relationship with new boss Mark Robinson.
This relationship leaves the Wallabies vulnerable as there would be few New Zealanders would turn down the opportunity to coach the All Blacks.
Unholy alliance
The NRL has announced their upcoming draw for the 2020 season.
Whilst that may seem irrelevant to rugby union fans, one interesting revelation from the draw was the announcement of a rugby union/rugby league doubleheader.
The dual-code feast of rugby will be a world first, with Auckland's two oval ball clubs (Blues and NZ Warriors) set to take on their Canberra counterparts (Brumbies and Raiders).
The Warriors will host the Canberra Raiders at Eden Park on Saturday March 21 at 5pm before the Blues and Brumbies meet at 7.35pm (all times NZ).
"We are delighted to be a part of this innovative and exciting event in Auckland," Brumbies CEO Phil Thomson said.
"This is a unique event and a chance for fans of both codes in Canberra to get behind their teams together in what should be a fantastic sporting spectacle played out at one of the World's most famous venues.
"The double-header concept has been approved by NZ Rugby, SANZAAR and the NRL to proceed and we are very excited to take part in what will be a history creating event."
"We have much in common as professional teams in international competition and we know that we have fans that follow both clubs," a joint statement between Warriors chief executive Cameron George and Blues chairman Don Mackinn said.
"Both clubs have worked together in recent years when the opportunity has arisen, and we have been trying to make this idea work for a couple of years.
"This year we trialled a single ticket promotion to both of our games on the same weekend and fans from both codes absolutely loved it.
"With both clubs playing Canberra teams on the same weekend, it was the perfect chance to give it a go."
If it ain't broke
South Africa coach Rassie Erasmus has confirmed that he won't look to change his much-criticised tactics as they head into the World Cup final against England.
The Springboks have employed a gameplan based around the impressive kicking game from Faf De Klerk and Handre Pollard and their rough as nails forward pack in order to control the breakdown and territory.
Whilst the armchair experts have come out and criticised the 'boring' nature of their play, Erasmus has confirmed that viewers should expect a similar style on Saturday.
"If one understands where we are coming from, being number sixth, seventh, eighth in the world, we've got certain challenges," Erasmus said Tuesday.
"One of them was always to redeem ourselves and become a power again in world rugby and try to get to number one or two.
"To do that, you've got to have some building blocks in place and we've followed a certain route and play according to stats and the way the game is currently being refereed, and what gives you short-term results on the scoreboard.
Erasmus will have the full 31-man squad to select from, with winger Cheslin Kolbe the only potential change from last week's winning team.
"We'll pretty much go with more or less the same team. We believe that's the way we can get best out of the team," he said.
"It is a bit horses for courses, but we also believe it's also our most fit in-form, best available and best combination team.
"It's probably exactly the same 23, with Cheslin Kolbe being one of the guys who comes into the match-day 23."
The 47-year-old also revealed that the side will take a relaxed approach in regards to training heading into the big finale, with just two sessions planned for the build-up.
"There's not a hell of a lot you can change in your tactics in two training sessions on a six-day turnaround," he said.
"So you can expect pretty much the same from us on Saturday."
Double duties
Wallaroos flanker Millie Boyle will continue her incredible year after being named in the Wallaroos A squad.
The 21-year-old is one of the busiest athletes in Australian sport, having starred across multiple codes and formats of rugby league and union.
Boyle commenced the year in the sport played in heaven, starring in the Super W for the Queensland Reds before playing an integral role in the Wallaroos internationals against Japan and New Zealand.
In between rugby commitments, she played league for the Burleigh Bears, with her impressive performances seeing her named in the NSW Origin side for the one-off game against Queensland.
When the rugby season was over, she would go back to league, having been crowned NRLW champion with the Brisbane Broncos, reaching the final at the Rugby League World Cup Nines and defeating New Zealand on debut with the Jillaroos within the same month.
Boyle's extensive schedule will be capped off in November as one of the senior members of the Wallaroos A squad for the Oceania Rugby Women's Championship.
"It's been a big couple of weeks," the Wallaroos vice-captain admitted.
"I've played rugby for a while so hopefully it comes back naturally and I can pick up where I left off.
"It's the little things I'll have to be aware of, like getting the ball stripped at any time and not running back 10 metres.
"Throughout the year I've juggled both with Queensland Reds in Super W and also playing Burleigh Bears rugby league, and I've learned that you adapt pretty quickly."
She is joined in the squad by fellow dual-code athlete Zahara Temara, who Boyle believes can make a massive impact in the 15-a-side game.
"She's got a good footy head and she's played some rugby before so I'm looking forward to playing with her," she believes.
"She's a flyhalf so there's a position in the team for her potentially for years to come because there's no-one really cemented in that position."