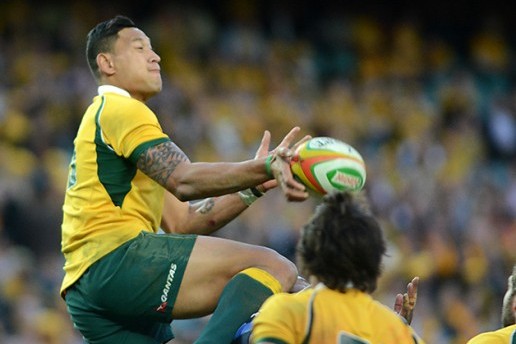 Wednesday's rugby news has the Wallabies accepting the learning curve, preparations for a midfield bomb attack, RWC madness and the Samoan standoff continuing.
---
Wallabies content with building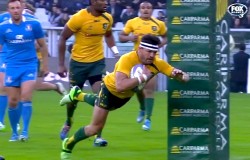 Wallabies vice-captain Adam Ashley-Cooper has emphasised that the players are comfortable with the building process that the team is undergoing and believes that World Cup preparations will not be negatively affected by the dual responsibilities of Michael Cheika as both Waratahs and Wallabies coach.
Speaking of the European tour, 103 test veteran AAC said, "we've copped a few blows to the face, but in the bigger picture we're tracking nicely…There are few little things to change, but we're moving in the right direction."
Back 3 ready for aerial attack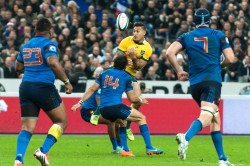 The Wallabies will be expecting the English tactics to mirror the midfield bombs used successfully by Ireland and France. In order to stifle the Australian counter-attack, opposition teams have started launching bombs in the direction of five-eighth Bernard Foley, who shares a dual fullback defending position with Folau.
"We've had a backs' meeting and that's something we've addressed," Foley said. "The idea is to vary up your positioning to try to nullify their kicks and try to make them do something different."
Campese criticises RWC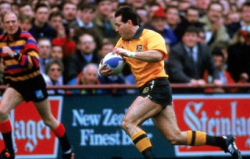 David Campese has labelled the Rugby World Cup draw as "madness" in reference to the inclusion of England, Wales and Australia in the same pool. "It's a bit like having Brazil, Argentina and Germany in the same pool at the football World Cup. It just would not happen," Campese said.
The former Wallabies winger also said that the ARU were asking for too much from Michael Cheika, who is expected to hurry together what should be four years of preparations into one pre-World Cup year in charge.
Samoan PM dismisses complaints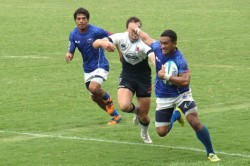 Somoan PM and rugby chairman Tuilaepa Aiono Sailele Malielegaoi has downplayed the crisis between the SRU and the players. The Samoan team had threatened to pull out of their Test match with England with demands of better pay and working conditions.
While the SRU have complained about the players being forced to pay for their own travel allowances and minimal budget during Test windows, Tuilaepa flippantly dismissed these concerns by telling players to focus on their play, saying, "if they are able to perform well then we will be able to raise the necessary sponsorships."