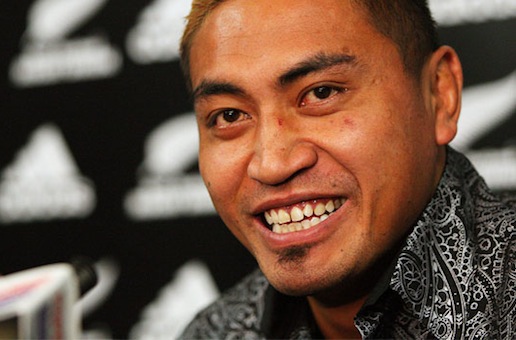 Here's our daily roundup of what's hot in rugby.
---
Jerry's knives
Former All Black Jerry Collins says he was running from a gang of Brazilian workers who hate foreign rugby players shortly before his arrest in Japan. A sweaty and anxious Jerry was arrested by 20 police officers in a department store in Hamamatsu on 17 March, where he had wandered in and placed two 17 centimetre-bladed knives on the fish counter. He believed the number of people in the store would prevent him from being attacked. Collins tested clear for drugs following his arrest, but is still behind bars.
Wishful Smith staying noises
With headlines like 'Push to let Smith feast on Lions',  you'd think the Brumbies had launched negotiations to retain the best rugby player in the world ever – George Smith – for longer than their current agreement which end in June. In truth, all Jake White has said can be paraphrased as 'Yeah, that might be a good idea'. Turns out they haven't even phoned Suntory with the idea.
Wishful thinking much?
Beale to League nonsense
It's only taken two days for the papers to add one plus one and get three over the Beale v. Vuna debacle. Where the SMH got Brad Fittler to admit Beale could possibly switch to mungoism during a coaching session with the Tahs, the Telegraph has gone one further and linked him with two NRL clubs – Penrith and St George Illawarra – despite there being not one shred of evidence, nor the Rebels hearing having even been held. Go figure.
Refs chosen for Lions
New Zealand's Chris Pollock, South Africa's Craig Joubert and France's Romain Poite will referee the British and Irish Lions tour of Australia.
Pollock will ref Brisbane, Joubert Melbourne and Poite Sydney. Steve Walsh has been handed the Barbarians match in Hong Kong, which should put a few noses out of joint.