Eight wins, seven losses, no playoff spot. So close, and yet so, so far.
Perspective matters. The tournament format has been a farce, and the Tahs record compares reasonably to that of a few teams who will make the playoffs. Losing Kurtley Beale was a big blow. And the Tahs had a large number of youngsters in their match squad every week, which will pay off down the track.
But it's hard to avoid the feeling that the team didn't achieve its potential. A points differential of plus 96, and four losing bonus points, underlines this. Save for one great home win against the Chiefs, the Tahs never really looked like a top-shelf outfit. What went wrong and where can the team right the ship looking to 2017?
Composure
The final game of the year against the Blues was a microcosm of the season as a whole. The Tahs did enough good, positive, creative things to win, but shot themselves in the foot over and over. They scored four tries, but let in five, including a couple of really soft efforts.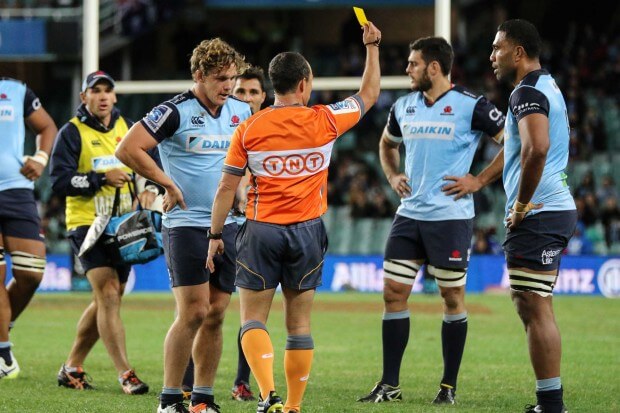 The Tahs know this. "We just pressure on ourselves so poorly," Waratahs captain Michael Hooper said in the post-match TV interview. "Get a really nice try and then we can't exit our own area and teams get a try straight back on us and we're back to an even playing field."
Very true, but Hooper's mangled syntax lets his insight down, much like the Tahs all year: two steps forward, one step back. Across the game on Saturday, every time the Tahs scored a try, the Blues scored one within 3 minutes.
Philosophy
Australian rugby is currently burying itself with a mindless ideological commitment to a certain style of rugby, regardless of conditions or opposition. The most invigorating aspect of the Wallabies' superb World Cup run last year was their pragmatism. Team management realised that in a World Cup played in England in November, you'd have to scrum well, kick your goals, maul effectively, and generally force the opposition into making mistakes. They trained hard for that and executed it pretty damn well.
Fast forward six months and it seems like a distant dream. Like the Wallabies, the 2016 Tahs have been obsessed with playing up tempo rugby. They cannot play at a different speed. While they obviously spend a large amount of training time on high-octane passing, rucking, and offloading skills, other areas of their game, particularly the kick-chase and basic containment defence, are little better than club rugby standard.
The game against the Blues showed just how much mileage in rugby can be achieved by simply doing what your opponent doesn't want you to do – regardless of what you, in an ideal world, might want to be doing. Two sets of scrums close to the line against a struggling eight, two seven pointers. Northern hemisphere refs would have added in a yellow card on each occasion too (as World Rugby guidelines mandate, it's worth noting). There was far too little of this all year long.
Pragmatism is a must if Australian rugby is going to see success again.
Lineout
Awful. Not bad, awful. Not just this year, but for the last two years. The lineout plan needs to be scrapped and built anew.
Entire matches were lost because the Tahs lineout fell apart at key times. Even when they were winning their own ball, they relied very heavily on the front of the lineout, which denied them opportunities to use the ball with the opposition backs ten metres back. Opposition teams had little difficulty reading the Tah system and had a guy in the air contesting far too often. The major target against the Blues was Jack Dempsey, at just 1.91 metres.
One would have thought after the lineout cost the Tahs their semi against the Highlanders last year that this would have been a major, major focus of the team over the off-season, both in terms of the Who and the How. It wasn't and they paid the price. Also see: recruitment.
Recruitment
In many ways, this was a rebuilding year. Guys like Andrew Kellaway, Tom Robertson, Hugh Roach, and Jack Dempsey have been around Moore Park for a while now, but only received consistent game time this year. All acquitted themselves well, though Kellaway's skillset looks much better suited to the wing than fullback. The jury is perhaps still out on Reece Robinson, who found it difficult to inject himself into games when the ball wasn't coming his way. David Horwitz didn't get a lot of week-in week-out game time.
It would be no surprise to see Angus Ta'avao and the Tahs come to a "mutual agreement" to end their relationship a year early. The ex-Blues tighthead looked really below par early in the year and, while he improved somewhat as the season progressed, it seems fairly clear that he won't mature into the banner, Wallaby-qualified signing that Moore Park hoped he would.
Zac Guildford and Sam Lousi have both left, and the Tahs are probably not too upset about either. Taqele Naiyaravoro is incoming, and ex-Tah hooker Damien Fitzpatrick has been signed for the next two years, fuelling rumours that Taf is on his way out. The great man still has the goods and provides a lot of experience too.
For 2017, a key focus area has to be to fix the lineout. At lock, Australia under 20s player Ryan McCauley, a mobile lineout specialist, is only 19 but may well get a full contract. Ex-Samoa and Australia under 20s man Senio Toleafoa is also coming in.
With Dave Dennis leaving and Cliffy Palu unlikely to play again, the Tahs really should be looking at someone who can play at 6 and 8 and be a real contributor in tight, as well as the loose. A backrow of Dempsey, Hooper, and Holloway will be well suited to playing up tempo rugby, but won't really allow the Tahs to develop the Plans B and C they need to defeat the range of teams they'll encounter across the competition. Not for the first time in the last few years, letting Lopeti Timani go a few years back looks like a mistake. There will also be a major leadership vacuum, which needs to be addressed somewhere.
The other area where the Tahs will be looking is at 10-12. Beale is off to Wasps next year. Guildford's departure leaves the Tahs with a foreign player slot open, and this might be somewhere where they think signing a marquee player could have a real impact.
Finally, there's the front row. With Cameron Orr off to Gloucester and a real lack of junior props coming through, the Tahs will have to stock up here – especially if they can unload Ta'avao.