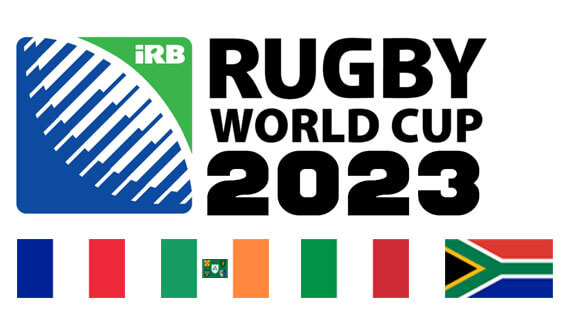 Last week, World Rugby put out a press release concerning bidders for the 2023 Rugby World Cup. These bidders – France, Ireland, Italy and South Africa – are now confirmed.
The Rugby World Cup, if it is to take place in 2023 (you never know, maybe the Mayans were off by 10 years), would make it 200 years since William Webb-Ellis "invented" rugby. It would also be the 10th World Cup, and hopefully it won't begin with New Zealand looking to win their fourth one in a row.
If you've listened to the podcast, you might've heard Hugh Cavill waffle on about the USA hosting the World Cup. Well, they haven't chucked in a bid. There seems to be a feeling that the World Cup will return to Europe in 2023, so the USA and Argentina – who were also interested in hosting in 2023 – must think they're better off investing their funds towards a tilt at the 2027 edition.
What's The Deal, Kurtley Beale?
The nations have submitted to the global governing body so-called "bid questionnaires" that address, among other things, what stadiums they plan on using, what the finances of the event are looking like (and how much profit it will make), how well they will run the thing, and whether fans will have a fun time.
Whoever wins the rights to host the 2023 Rugby World Cup – no decision will be made until November 2017 – will be following in the footsteps of Japan's no doubt successful and really well done 2019 event. By the time 2023 comes around, rugby sevens will also have had its second run at the Olympics (Tokyo is also doing the 2020 edition of the Olympics).
Therefore, it'll be high time to see if World Rugby's expansion plans have started to bear fruit. World Rugby have also started talking about expanding the tournament to 24 teams (up from 2015's 20),
Let's go through the nations and see what they offer:
France

The French are a dependable choice. They're a big country, with a pedigree for hosting events. Just this year, they hosted the European Championship in soccer, which is an event similar in size to the Rugby World Cup (a 24-team tournament held every four years).
Given the popularity of the round-ball game there, there's also a healthy list of stadiums all over the country to pick and choose from – in 2007, cities in the north, west and southwest and southeast of France all held games.
One potential benefit of a French bid would be the opportunity to put games in Barcelona – the Camp Nou, capacity of around 100,000, hosted the Top 14 final this year – as well as spreading the good word to western Germany. Heidelberg, a hotspot of rugby in Germany, is down the road from Strasbourg, and an hour or two further on from Heidelberg is Stuttgart, which has a 60,000 capacity rectangular stadium.
The only downside to the French bid really is lack of novelty – if they were to host the 2023 Rugby World Cup it'd only be 16 years since they last did, and 8 since it was over in England.
South Africa

All the major rugby nations have hosted the Rugby World Cup twice – except South Africa. If the Rainbow Nation was to win the rights to the 2023 World Cup it'd be 28 years, arguably too long for a country of their stature, since Matt Damon led the Springboks to World Cup victory on home soil,
The South African bid lines up in a lot of ways: a vibrant rugby culture, big stadiums, and a strong tourism scene (Cape Town, seeing/shooting lions & other endangered safari animals), as well as a brilliantly-named populace.
However, the SARU's bid runs into a bit of trouble on two fronts. Their own government, it was reported earlier this year, had disallowed them from bidding after they had failed to meet quota requirements. That ban seems to have been lifted, but the uncertainty doesn't really do the South African bid any good considering there's 7 years until the theoretical kickoff.
The second part of the bid's troubles is South Africa itself. As proper journalist Greg Myre explains: "government corruption is an endemic problem. Violent crime has not been tamed. The HIV/AIDS rates are among the highest in the world. Squatter communities just keep expanding, and millions of poor blacks have seen little or no improvement in their lives [since Nelson Mandela became president]."
While this article is a cutesy little piece about Rugby World Cup bids and not a thorough examination of South African society, would foreigners be as excited to travel to a country requiring a "high degree of caution" (DFAT) than one of the three Euro nations? It's an important question that World Rugby will no doubt consider as they leaf through the bids for the 2023 Rugby World Cup.
Ireland
Ireland has helped host a few games in previous World Cups – 1991 and 1999 – but has never hosted one by it's own. It would no doubt be exciting for the Irish to host it – and for the British and French fans who live only a short plane journey away – but is it really an exciting prospect for anyone else?
There doesn't really seem much to do in Ireland – kiss a stone upside down, visit the Giant's Steps, remark how rainy and miserable it is – even if the Irish people themselves seem quite fun and friendly.
There isn't a questionwhether a small, rather irrelevant nation can host a World Cup – New Zealand already did it in 2011 – but Ireland doesn't really possess any sort of pizzazz that makes it stand out.
The only thing, really, that is really going for this bid is that it'd do a lot to mend all those nasty divisions in Irish politics. The IRFU, an island-wide body, are proposing that the final be played at the home of Gaelic football, Croke Park (80,000 capacity) which was until recently closed to foreign sports (like rugby and soccer), and scene of the Bloody Sunday massacre. If the World Cup final was played there, it'd be a nice touch and good example of the power of sport.
Italy

Of all the bidding countries, Italy is the only one that could really be seen as pushing the boundaries of rugby.
Rugby union isn't terribly popular in Italy, and their Six Nations results show that. In the 17 competitions since they joined the other Five Nations, they've come last in 11 of them. If Italy won the bid, there'd no doubt be a boost in popularity and an investment in the game that they'd (as would the Six Nations and European Rugby) sorely need.
Like France, being a mad soccer nation it has plenty of rectangular stadiums that can be well-stocked to the brim and are raring to go.  The Italian Rugby Federation is proposing stadia from top to toe, with Milan's Giuseppe Meazza (seating 81,000) to Naples' San Paolo Stadium (61,000) being thrown in the bid's mix.
Also like France, a 2023 Rugby World Cup in Italy could also easily include games in nearby countries, like Spain (just across the Mediterranean Sea). If France is upset they lost out to Italy, a few games could be chucked at some of the huge stadiums in the rugby-mad south of France too.
Italy, it goes without saying, would also be a bonza destination for tourists, who could go look at and eat a range of delightful things, and maybe even come home with an stronger appreciation for using expressive hand gestures while talking. Just in one day, you could traipse around Tuscany, check out Michelangelo's David, and then go watch a game of rugby at this stadium in Florence:
With a population and infrastructure and all that jazz on par with France, the only drawbacks the Italian bid could face would be lack of confidence in their rugby governing ability. Everything else, though, really seems to line up.
What Do You Reckon, Michael Cheika(n)?
To be honest, all these options would be great. It's also a welcome sign that these countries deserve to host the event, a far sight from the soccer version which will see Russia (where bananas are frequently thrown at black players) and Qatar (the less said the better) host their next two world cups.
A world cup in Ireland and France would no doubt be well run, but as was said on the podcast: been there, done that. There's also a chance that some of the enthusiasm for the World Cup and World Rugby's positive and proactive approach to expanding the game would be lost if it went to northwest Europe again. If it did, it'd be the 5th World Cup in that region of the world.
South Africa, too, would be nice, but their quota kerfuffle is a bullet in their own foot, and the state of the country itself might be a turn off to commercial interests and fans willing to travel.
I'd put my money on Italy. It looks like it'd go off, and also do the rugby world and World Rugby good by promoting the game in a new country.
Left out anything out? Are the opinions whack? Let us know in the comments below