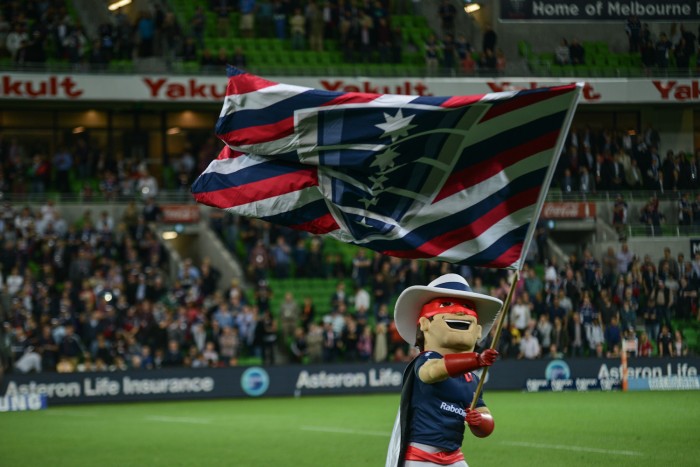 A Winters Tale*
Melbourne Rebels v Golden Lions
Ellis Park, Johannesburg. South Africa.
Kick off: 1910 hrs local, 0310 hrs, AEST.
*With apologies to the bard.
Dramatis Personae
Higgers: A King of Melbourne
Coach T: A Gaoler
Mitch, Luke, Hugh, Woody: Four Lords of Victoria
Laurie: A Clown
Daz: A Rogue
Supporters: As Chorus
---
ACT I SCENE I
Antechamber in AAMI Park, Half-Time, Rebels v Reds.
[Enter HIGGERS: and COACH T:]
COACH T: If you shall chance, Higgers, to not give away such infringements, you shall see, as I have said, no great difference betwixt our Rebels and those dastardly Reds.
HIGGERS: I think, in fairness, the ref doth be blind. Surely, in the second half of this great contest, he means to pay the Reds the Yellow card which he justly owes them.
COACH T: Wherein our game-plan shall shame us, we will be justified in our adoring supporters; for indeed–
SUPPORTERS: [in the background] Reeeeee-bels! Reeeeeee-bels!
COACH T: Shut up!
HIGGERS: Gads, that resounding noise guilts us all. Verily, they speak it in ignorance of the scoreboard.
COACH T: They pay a great deal, too dear, for what tripe is given by you and your men. Believe me, I speak as my understanding instructs me, and as mine honesty puts it to utterance.
[Enter MITCH, LUKE, HUGH, WOODY]
HUGH: We cannot show ourselves over-kind to Queensland. They were trained together in their childhoods; and there rooted betwixt them then such an affection, that I disbelieve their position on the Australian Conference ladder.
MITCH: Verily so. We must overcome this Queensland bond somehow, brothers.
LUKE: Well, your 10 in the bin didn't fucking help.
MITCH: Thou doth gain a Gold Jersey, and suddenly thou art above us in standing? What is this madness?
LUKE: The lure of the ARU top-up is strong. Agree with me, brothers?
HUGH: and WOODY [together] Wellll….
COACH: T: What is this cloud that doth descend? Focus, you buggers.
[Enter LAURIE, staggering from side to side]
LAURIE: [Distressed] Mine eyes! Mine eyes!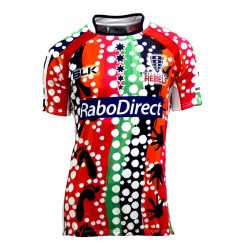 COACH T: [to all] What's his problem?
LAURIE This jersey doth steal away my desire to play. Such hideousness! Verily, I am blinded!
COACH T: This affliction bodes darkly for our journey to the Republic, but a week hence from this day.
MITCH: I have willed myself to extra sweating, but I fear this accursed jersey will go unbidded at auction.
HUGH: Your devoted follower will surely put aside such concerns, at all costs.
MITCH: I fear not. Even that rogue has his limits. And his fellow supporters too.
SUPPORTERS: [in the background] Reeeeee-bels! Reeeeeee-bels!
COACH T: Shut up!
LUKE: Brothers, listen to our chorus! They have come to see victory. Should we not give them that, here, at our last home game? For the Republic awaits us, far from kith and kin.
HIGGERS: Yes; if there were no other excuse why they should desire to live.
COACH T: If the team had a win, they would desire to live.
LAURIE: The Lions doth have a potent forward pack. I fear to survive, thank you.
COACH T: Stay your thanks a while, and pay them when you part these fair shores to Africa.
MITCH: Sir, that's next game.
WOODY: I am question'd by my fears, of what may chance. No wins at home, besides, I have stay'd to get that Gold Jersey.
LUKE: Yeah, right. All in Black doth suit you best.
WOODY: I'll no longer stay.
HUGH: I say this too, brother.
COACH T: Which is why you are on the bench, lacking game time.
HUGH: Merde.
COACH T: Gather ye thoughts! 'Tis time to face the accursed Reds for the final 40, before recovery and a flight to South Africa. The Lions await us, anticipating such easy victory.
HIGGERS: Press me not, beseech you, so. There is no tongue that moves, none, none i' the world, So soon as yours could win me: so it should now.
MITCH: Tongue-tied, our Gaoler? Speak you.
COACH T: I had thought, Higgers: , to have held my peace until full time, but I say this now; win, or get dropped to the Dewar Shield.
LAURIE: Well said, Coach T:.
COACH T: For glory's sake, open your eyes, clown!
LAURIE: The jersey doth hurt me. O, such a fool I be. But better to scrum blinded, than see the nightmare all around me.
COACH T: Righto then. But to you all I say this; The borrow of a week, when at South Africa we shall be in our traditional away strip. No excuse to gift the Lions any advantage of playing blinded, as we do today.
[ALL] Verily!
COACH T: And tho' today doth look bloody bleak against the accursed Reds, I swear to you , that the foul Lions will taste defeat, heavy and bitter. By about 7, I'd propose. On our supporters life, I swear it!
SUPPORTERS: [in the background] Reeeeee-bels! Reeeeee-bels!
COACH T: Shut up!
[Exeunt]
| | | |
| --- | --- | --- |
| Schalk van der Merwe | 1 | Toby Smith |
| Robbie Coetzee | 2 | Shota Horie |
| Julian Redelinghuys | 3 | Laurie Weeks |
| Franco Mostert | 4 | Hugh Pyle |
| Franco van der Merwe | 5 | Luke Jones |
| Jaco Kriel | 6 | Colby Fainga'a |
| Warwick Tecklenburg | 7 | Scott Fuglistaller |
| Warren Whiteley | 8 | Scott Higginbotham |
| Ross Cronje | 9 | Luke Burgess |
| Marnitz Boshoff | 10 | Bryce Hegarty |
| Anthony Volmink | 11 | Tom English |
| Alwyn Hollenbach | 12 | Mitch Inman |
| Stokkies Hanekom | 13 | Tamati Ellison |
| Deon van Rensburg | 14 | Tom Kingston |
| Coenie van Wyk | 15 | Jack Debreczeni |
| | Reserves | |
| | | |
| Armand van der Merwe | 16 | Pat Leafa |
| Jacques van Rooyen/Corne Fourie | 17 | Cruze Ah-Nau |
| Ruan Dreyer | 18 | Paul Alo-Emile |
| Willie Britz | 19 | Cadeyrn Neville |
| Derick Minnie | 20 | Jordy Reid |
| Faf de Klerk | 21 | Nic Stirzaker |
| Elton Jantjies | 22 | Jason Woodward |
| Lionel Mapoe | 23 | Telusa Veainu |
| | | |
| | | |
| Location: | Ellis Park | Johannesburg |
| Kickoff: | Sat 5 Jul 3:10 | |
| Referee: | Jaco Peyper | |
| Assistant Ref 1: | Stuart Berry | |
| Assistant Ref 2: | Cobus Wessels | |
| TMO : | Johan Greeff | |