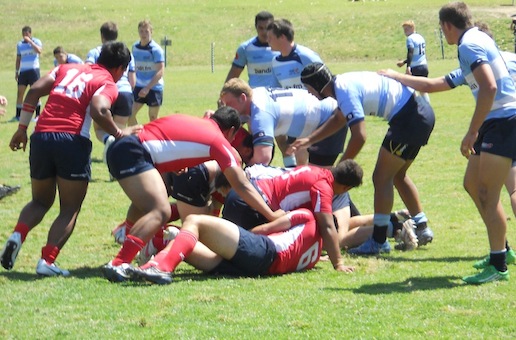 Queensland Red won the tournament for the second year in a row.
Although there were more cards dished out this year than I can remember in the past it was because the referees cracked down more on foul play, especially lifting tackles, and not because of bad blood between the players.
The coaches did a good job with their charges, in the main. Some of the half time talks I overheard were inspirational and the habit of the Victoria coach in teaching his bench players the finer points of the game as play was unfolding in front on them warmed the heart.
The lads had to deal with temperatures of up to 34 degrees on the last two days of the championship and they are to be commended for how they dealt with the physical stress caused by it.
---
The Division I Teams
Images courtesy of Sportography — see the site to buy more photos
1. Queensland Reds
Played best when it mattered most and that is always the mark of a good team. They had a skinny win of 13-8 against last placed Victoria on Day 2 and managed to beat Sydney Juniors only by slotting a late penalty goal on Day 3. But, as it ever is in sport, past performances counted for nothing in a final and they had an opening half that coach's dreams are made of – and held on.
Star players: 2. Alex Mafi, 1. Richie Asiata. 5. Maclean Jones 7. Toby McNamee, 12. Henry Devine, 11. Tyrone Hussey, 15. Isaac Nathan.
2. NSW Schools
Players will be shattered that they let Qld Red blast them off the park in the first half of the final and it won't console them that they showed character in coming back in the 2nd to almost snatch an unlikely victory. In the first three days they were the form team, looking hard up front and slick out back, but looks are deceiving sometimes in sport.
Star players: 8. Angus Crichton, 13. Henry Hutchinson, 14. Joey Fittock, 4. Hugh Summerhayes.
3. Queensland White
Looked nothing much in the first three games. They were lucky to beat WA on Day 1 by two points yet to their credit they had one chance to score a try in the 2nd half and they took it. But in the play-off game for 3rd place they showed what they were capable of and the back line sung.
Star players: 13. Isaiah Perese, 11. Matt Marsden
4. Brumbies
Had an epic win against Sydney Juniors on Day 2 and they came screaming out of the blocks to put on 14 points in 7 minutes against Victoria which was more than enough. In the play-off for 3rd place Qld White hit a purple patch and had too much class for the ACT lads, but they had a good tournament to finish 4th.
Star players: 2. Suita Tai, 12. Liam Simonsson..
5. Sydney Juniors
Were cruising at 15-0 against the Brumbies on Day 2 but they got rattled as the ACT lads came back and they lost by 4. They were 16 points ahead of the Qld Red team on Day 3 and lost that too when Qld slotted a penalty with the scores tied.. They will be the team that will be thinking most of what might have been.
Star players: 8. Jum Woodhill, 1. Jordan Loto'aniu, 10, J. Clancy
6. NSW Country.
Like most country people the Country players were non nonsense, hard working and lacked style. They were outclassed in most games but should be proud of their gritty win against WA, a team of similar ilk.
Star players: 9. Tommy Sawden, 2. James Wlikinson.
7. Western Australia
Played well against Qld Whites and just lost when a long range penalty missed late in the game. They had every chance to beat NSW Country but were careless after a late 22 drop out, when they turned the ball over at a 5 metre lineout and Country scored. On Day 4 they played their best game in the battle for the wooden spoon when they refused to quit when 15 behind at oranges – and won by 9.
Star Players: 3. Tristan Schneider, 8. Blake Phillips, 9. Angus Taylor.
8. Victoria
Had a disappointing tournament and didn't win a game; yet they promised a lot. They were respectable against the Juniors on Day 1 and they frightened the crap out ot the Reds on Day 2, their high point. Yet on Day 3 they started too slowly against the Brumbies and couldn't make up the 0-14 gap later on. Their last game was their worst, when, as mentioned, they suffered a 24 point turnaround in the heat.
Star players: 8. Tangaroa Hosea, 5 Jerry Lemalu, 11. Tom Blake (in his 2nd year of rugby),
---
Division II
National Indigenous team
This year the Lloydies had some brilliant attacking players, albeit performing against modest teams. At that level their forwards were able get dominance to provide quality ball and the backs pigged out.
14. Michael Doolan was a marvel most of the time and 11. Damian Carriage created havoc. 13.Connor Watson was destructive with his fend and leg drive, and utility Frances Muhammed was in everything.
Because their opponents in Division II have not challenged them often in 7 of the last 8 years it would to facile to say the Lloydies should be playing in Division I. But it may be time to test that theory.
Or is it better to leave that how it is and have NSW Country's spot go to a Combined States side as in the Opens? Why does NSW deserve 3 teams? Watch this space.
---
Team Of The Tournament – by "George Smith" and "Hugh Jarse"
The competition to be named in the G&G U/16 Team of the tournament was intense for most places. Teams were selected on a running basis during the week but more weight was given to performances on the final day.
Critics are advised not to do a forensic study of the the numbers chosen from each Division I team because selectors didn't bother to consider that factor.
1. Richie ASIATA (Qld Red) An exponent of the front row dark arts and expert at the Prop Sprint.
2. Alex MAFI (Qld Red) Had some quiet moments but was dependable in tight and as a runner.
3. Tristan SCHNEIDER (WA) The scrum is meat and potatoes for Props, and this boy knows his dinner. He also brings some raw mongrel to the table
4. Hugh SUMMERHAYES (NSW Schools) Did everything expected of a 2nd rower and some, making ground on runs, and delivered good lineout ball. Reliable on defence.
5. Maclean JONES (Qld Red) Lineout jumping very good, work rate around paddock excellent, ran strongly.
6. Jum WOODHILL (Sydney) Was always "on the ball", continually making crucial steals. happy to get in and get dirty but also good in cover defence.
7. Toby MCNAMEE (Qld Red) Eats inside backs for breakfast, and is wanted by the authorities due to his prolific ball pilfering.
8. Angus CRICHTON (NSW Schools) Hard running, hard tackling, Wolf Pack leader. Lead by example in the 2nd half revival that almost won the gold medal for his team.
9. James TUTTLE (Qld Red) – Captain.- Was the most enterprising of the No9s. Good delivery to his support and got his backline running forward. Led the Qld team to success for the tournament engaging wisely with officials when required.
10. Mack MASON (Qld Red) Played very well when needed to in the 2 BIG games against NSW Schools (final) and Sydney (Day 3). Passed well both sides and judiciously kicked for territory.
11. Matthew MARSDEN (Qld White) Speed to burn, and can dance inside or outside defenders. Brings an accurate place kicking option to the party as well.
12. Henry DEVINE (QLD Red) outplayed all his opp No12's especially in the big games on last 2 days. Combined well with his outside players making several breaks.
13. Henry HUTCHINSON (NSW Schools) Reads the game well and has an intuitive knack of being in the right place at the right time. Knows where the try line is and is difficult to bring down with his low running style
14. Joey FITTOCK (NSW Schools) Runs like the wind and knows the angles needed to get across the advantage line.
15. Isaac NATHAN (Qld Red) A reliable set of hands at the back with counter attacking skills to rip open the defence line.