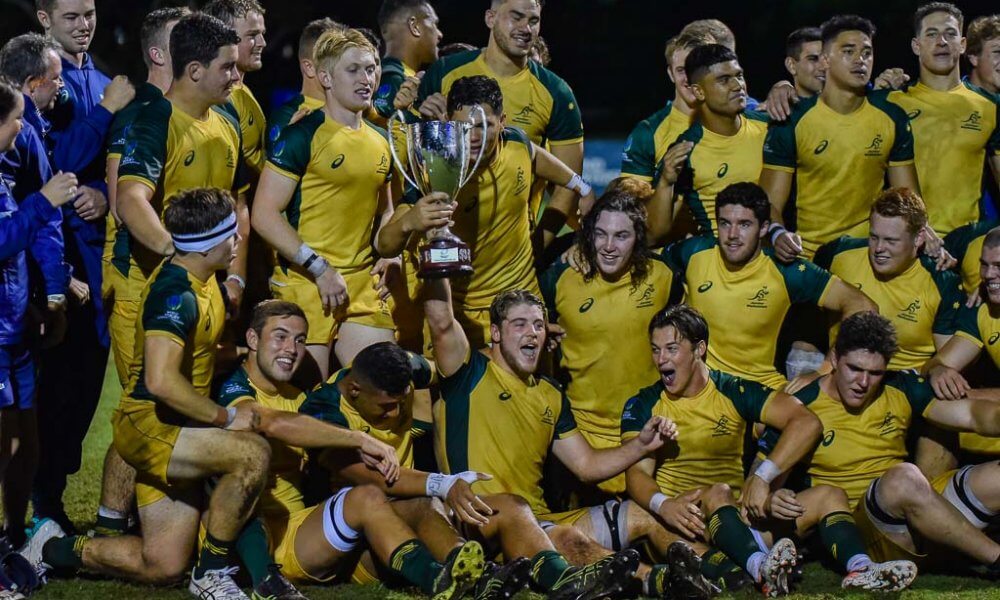 Australia U20s savage NZ 20s in Oceania Champs
The Australian U20s have defeated New Zealand U20s 24-0 in a dominant performance to finish the 2019 Oceania Rugby Championships undefeated.  The win is a huge boost for the confidence of the team as they prepare for the Junior World Cup to be held in Argentina in June.
Let me start by saying two things.  I acknowledge this is 'just' Under 20s rugby and we can't get too carried away with the result.  Secondly, it's worth noting that I (nor anyone from GAGR as far as I can tell) had plans to do a post-match review for this game.  I changed my mind around half time, inspired by the play of this Australian team.
Both teams had entered into the match undefeated, with the Aussies destroying Japan 64-14 before having a hard-fought 16-0 win over Fiji.  Meanwhile New Zealand had two massive victories, downing Fiji 53-7 and then Japan 87-12.
For Australia not to concede a point against New Zealand was a fair indication as to the quality of the win.This was a real battle of attrition.  An old school forwards battle with the backs purely there to offer ongoing encouragement and then to take advantage of any rare bit of ball in space they received.
Pleasingly, from an Aussies perspective, everyone did their job.The intensity of the Aussies in the first half was apparent early.  The speed with which they advanced their defensive line was exceptional and caused all sorts of trouble for the boys in black. The force of some of the tackles could be felt through the live stream and the crowd, of which there was an extremely healthy one, was loving it.
Fraser McReight, at openside and captain, was leading the way and knew that points, any points, would be crucial. He opted for the points at any reasonable opportunity and his sharp shooting flyhalf, Will Harrison, didn't disappoint.The 12-0 lead at the break was recognition of the hard work done but was nowhere near enough for the Australian team to be confident. New Zealand second half come backs are par for the course in rugby matches against Australia.
And they looked better when they came out after the break. On the flipside, the Aussies were a little off the pace.  A few errors were starting to creep in and it all pointed to the Kiwis getting back on top.
But, no, not tonight.  The Aussies held firm.  Captain McReight marshalled them with the help of his canny scrumhalf Michael McDonald, and the Aussies just kept on turning them back.
The forwards were incredible.   They pulled out every trick in the book to stem the kiwi tide.  They turned over ball when the pick and drive try close to the try line seemed unstoppable.  They drove lineout mauls directly into touch.  They put in huge hits that turned over possession.  It was monstrous stuff. One maul from a lineout, late in the game, was nigh on unstoppable (with the kiwis trying every trick not in the book to do so).  The Aussies drew the penalty from it but skipper McReight powered over for the try regardless.
While the kiwis rolled through the changes, Coach Jason Gilmore backed his men and kept his starting XV on the field together until the 65 minute mark.  It was a brave decision that paid off in spades.
The backs did their stuff when they needed to.  They tackled stoutly when required and were dangerous on attack when the opportunity arose.  Triston Reilly showed his 7s abilities and smarts with some clever options out wide and  a well taken try.  Issac Lucas can put a player into space like few others in Australian rugby at the moment, while his cover tackle on a runaway kiwi semi-trailer was a huge play. Noah Lolesio at inside centre is an exciting prospect with a physicality and dexterity that makes him a great foil to his flyhalf.
His 10, Harrison, played almost the perfect flyhalf game.  His goal kicking was crucial, but his general play boot was just as important.  He read the play superbly and spread it when the chance was there, or kicked deep when territory was needed.  All the time his calm head prevailed and his forwards would have loved every minute of it.
McDonald at 9 is a fascinating player.  I've only seen him twice and I can't get a grip of him.  I think he has the ugliest pass I've seen from a scrumhalf but often that's just his intent to get quick ball.  It is not ineffective.  He seems a very smart player. In fact he seems much wiser, as a player, than his years.  He, with Harrison, were crucial in this win and worked with his pack brilliantly.
Once again, the whole pack should take a bow, the way they took it to the kiwis.  But there were some clear stand outs. The Brisbane Brothers connection of Michael Wood, Harry Wilson and McReight were three of the most influential players on the park.  McReight continues the long line of exceptional openside talents in Australian rugby (and is part of a fair backlog we have in Queensland at the moment) but his captaincy impressed as much as his general play.  He was inspirational.
Wilson is a superbly skilful forward. Yotube searches will show his SBW-like off-loading ability at school as well as a 100 off 30-odd balls in cricket.  But tonight he brought the muscle. He was a beast across the park with powerful running and ferocious defence.  He's one the kiwis will learn to hate as well.  He was Itoje-level with his annoying clapping and niggle.  But I loved it. He can back it up.
Wood was probably my player of the match.  His work in the first half in particular set the tone for the encounter more than anyone.  He ran hard and tackled harder, and then took apart the kiwi lineout like a master, snaring a handful of crucial turnovers.
If this was a traditional GAGR match report, I'd have a 'Turning Point' right about now.  It's tough to single one out considering the controlled dominance the Aussies generally enjoyed. But if I was forced to come up with one, it would be the ten minutes that No 8 Will Harris was in the sin bin for.
A couple of minutes before the half time siren, Harris was binned for a professional foul as the kiwis pressured our line.  The following scrum, against a 7 man Aussie pack, would be there chance to enter the sheds with points on the board and with an injection of confidence.
Well the Aussies produced the scrum of the game and pushed the kiwis back over themselves to snare the turnover.  They held their 12-0 lead and continued to do so until they returned to 15 players about eight minutes into the second half. Epic.
Kudos to Gilmore and his team for having his team 'up' for this game. The ability to stand up in the big matches has been something lacking from most rugby teams in Australia of late. With success comes expectation though and with the World Cup just weeks away, it's up to this team to take their game onwards and upwards.
Another pat on the back to the Bond University team for putting on a great tournament again. It's clear they have invested big time into this level of rugby and the large crowd in attendance is a credit to their support of the event.
Scores:
Australia 24 (Triston Reilly, Fraser McReight tries; Will Harrison 4 penalties, conversion)
New Zealand 0
Teams:
Australia U20
1. Angus Bell (University of Sydney), 2. Lachlan Lonergan (Tuggeranong Vikings), 3. Josh Nasser (University of Queensland), 4. Michael Wood (Brothers), 5. Trevor Hosea (Harlequins Rugby Club), 6. Harry Wilson (Brothers), 7. Fraser McReight (c) (Brothers), 8. Will Harris (Eastern Suburbs);
9. Michael McDonald (Palmyra), 10. Will Harrison (Randwick), 11. Mark Nawaqanitawase (Eastwood), 12. Noah Lolesio (Tuggeranong Vikings), 13. Semisi Tupou (Box Hill), 14. Triston Reilly (Randwick), 15. Isaac Lucas (Sunnybank).
16. Bo Abra (Eastern Suburbs), 17. Joe Cotton (Wests Bulldogs), 18. Darcy Breen (Sydney University), 19. Esei Ha'angana (Melbourne Unicorns), 20. Carlo Tizzano (University of Western Australia), 21. Henry Robertson (Sydney University), 22. Ben Donaldson (Randwick), 23. Sione Tui (Melbourne Unicorns), 24. Egan Siggs (University of Queensland), 25. Pat Tafa (Northern Suburbs), 26. Nathan Lawson (Southern Districts), 27. Kye Oates (University of Queensland), 28. Joey Walton (Gordon).
New Zealand U20
1. Ollie Norris (Waikato) 2. Kianu Kereru Symes – captain (Hawke's Bay) 3. Tamaiti Williams (Canterbury) 4. Cullen Grace (Canterbury) 5. Tupou Vaa'i (Taranaki) 6. Samipeni Finau (Waikato) 7. Kohan Herbert (Bay of Plenty) 8. Kaylum Boshier (Taranaki);
9. Leroy Carter (Bay of Plenty) 10. Fergus Burke (Canterbury) 11. Scott Gregory (Northland) 12. Dallas McLeod (Canterbury) 13. Quinn Tupaea (Waikato) 14. Lalomilo Lalomilo (Bay of Plenty) 15. Cole Forbes (Bay of Plenty)
16. Shilo Klein (Canterbury) 17. George Dyer (Waikato) 18. Kaliopasi Uluilakepa (Wellington) 19. Fletcher Newell (Canterbury) 20. Taine Plumtree (Wellington) 21. James Thompson (Waikato) 22. Jeriah Mua (Bay of Plenty) 23. Simon Parker (Waikato) 24. Taufa Funaki (Auckland) 25. Rivez Reihana (Waikato) 26. Danny Toala (Hawke's Bay) 27. Chay Fihaki (Canterbury) 28. Sam Gilbert (Canterbury).
Photo Gallery by Stephen Tremain