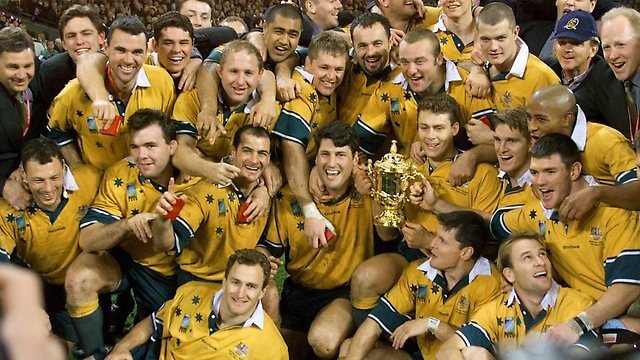 It is 5 May 2018. Brookvale Oval is packed. The fans are on the hill, downing beers, excited to see their Waratahs play their favourite sport: rugby union. The scene looks great on tv again. This is Sydney's north shore, one of the hot-beds of global rugby. Matt Burke is from here, so too Michael Hooper. Players, mums, and dads are flooding into the ground, many of them after spending all day at schoolboy rugby matches earlier.
Australian Super Rugby teams have lost an incredible 36 straight games against New Zealand teams. But tonight, the ever-resilient Sydney rugby fans are optimistic. The Blues have won two games all year. They are ravaged by injuries. They almost lost to the Sunwolves. Maybe tonight is the night that the drought is broken.
Tonight is not the night. The Waratahs turn in yet another abject performance, with the same underlying problems. There are basic skill errors, too many inexperienced players in the 23, rubbish defence, awful execution, no killer instinct, and terrible discipline. The turnover count is 22-10.
But really, it's a match of two moments.
Quick note. This article is 7,000 words long. It's split into 4 parts. It's worth it. – Ed
Early on, a great kick puts Israel Folau deep into the left hand corner as he retrieves the ball. He shifts the pressure with a woeful left-to-right, non spiral pass to Bernard Foley, who in turn gives an even worse left-to-right, non spiral pass to Kurtley Beale. In contact, Beale loses the ball, and it's an easy try to the Blues.
Not long after, an actually unlucky turnover sees probably the fastest man in World Rugby and 2017 Rookie of the Year, Rieko Ioane, sprint away up field. Shut the gate… or so everyone except Cameron Clark, a new inclusion in the Waratah line-up, thought. Clark chases down Ioane and executes an incredible try-saving tackle. It's a moment of true world class on an evening where nothing else but the camaraderie on the hill is. The only man more impressive than Clark on the night is his dad, Greg Clark, who displays remarkable self-control in his commentating upstairs.
Australian rugby fans feel like they're in an abusive relationship. Just when they watch three Wallabies offer up a series of errors that would look bad at club level, a young rookie flies in and produces just enough promise, just enough of a reminder of how good rugby can be, to keep them coming back.
This article is an effort to take a longer perspective on the crisis of Australian rugby and what to do about it.
I'll make my case up front for the TL;DR crowd: We have to improve on-field performance, which above all means a profound, full-scale change in the business model underpinning professional rugby in Australia. This will require honesty and openness from administrators, a quantum leap in thinking about the future of rugby in Australia, a re-evaluation of the assumptions that have underpinned two decades of professionalisation here, and a new deal that everyone can get behind, from players to fans.
Reform is not enough. We need a revolution.
Crucially, however, we need to segment our thinking, because what appears as one inter-related mess is actually not.
Let's be clear on this: not everything in Australian rugby is going badly.
The women's sevens team is the best in the world.
The men's outfit looks nothing like it did four years ago. It has built a distinctive, defense-based(!) style. It recruits and develops quality specialised players. And it's firmly entrenched in the top echelon on the World Series.
Australia is out ahead of many of its peers in women's rugby generally and in identifying the importance of female fans to the game. The inaugural Super W tournament was a huge success.
The National Rugby Championship has provided a credible third tier to bridge the gap between club rugby and Super Rugby, despite many naysayers saying it was a huge waste of time and money.
Club rugby has never been healthier.
Many schools have introduced near-professional level coaching, which has resulted in a sharp increase in the quality of schoolboy rugby and players coming out with some understanding of what will be required at the next level.
At the top, the Wallabies have been very up and down, it's true. But they were incredibly close to winning the Bledisloe Cup last year and probably should have done so.
At all levels of Australian rugby, there has been a dramatic re-emphasis of the scrum and maul. What was a chronic weakness as recently as five years ago is now something of a strength.
The off-field image has remained good too. Australian rugby players don't get caught screwing in airport bathrooms (Aaron Smith), or having affairs in hotels on the road (Jerome Kaino), or hooting and hollering at every opponent's mistake like an Australian cricket team member (Aaron Smith, again), or running drug rings (AFL), or running more drug rings (rugby league), or cheating (cricket), or getting involved in outright fraud to stay afloat (Parramatta Eels). Nobody is getting continually prosecuted for rape and murder (the NFL and college football).
Sure, Nick Phipps pees on a bar on his bucks' night, dressed as a cow. But he apologises to the pub the next day and brings his family in for lunch. By and large, it's all pretty tame, which is a good thing.
At the same time, Super Rugby results have collapsed. Fan morale is low. Trust between administrators and supporters is non-existent. Players are leaving en masse. Media coverage sucks, stuck in a relentlessly negative narrative (when they talk about rugby at all).
What is really scary is how precarious it all is. Australian rugby is dependent on about half-a-dozen elite players, any of whom could be injured, or leave, at any moment. Some are close to retirement, including Sekope Kepu, who against all odds has developed into one of Australia's best ever props, if not the best. The international player depth is incredibly thin, particularly in the halves. On the 2013 spring tour, the Wallabies went down to hooker number 7. A couple of injuries in the halves this year, and the Wallabies would be simply incapable of competing at Tier 1 level.
We are at a crossroads. The situation is dire. But the problems are distinct, so let's look at them in turn.
1. On-Field
What is most concerning about watching Australia Super Rugby teams is simply the lack of basic skills.
Sure, there was the Israel-Bernard-Kurtley comedy of errors versus the Blues. But we have a Brumbies 10-12 combination that can't create anything. There are photocopies with more originality. The Rebels defend like a club team. Their fullback, Jack Maddocks, managed to twice put his head on the wrong side of the same tackle on the weekend, which I didn't know was really possible.
Failure keeps getting rewarded. None of these players will be dropped for next week, much less feel like more severe professional consequences are likely.
Rugby Australia is currently paying huge sums to Quade Cooper, a fly-half who never felt like he had to learn how to tackle, because he kept getting picked anyway. The Waratahs star player this year is Taqele Naiyaravoro, who is a great tackle buster, but can't kick, can't pass, can't tackle, has poor ball security, and doesn't know the rules. The list goes on. Because of a lack of competition, player drain, and the dearth of experienced players (more on all these later), players keep failing upwards.
Of course, it's not just players either. Nathan Grey coached a Waratahs defence last year that conceded 522 points, or 35 points per match! How on earth can a team hope to give their opponent a 35 point head start and not feel that they are under immense pressure to score every time they get the ball? Any normal metric would have seen Grey fired from the Waratahs; instead he failed upwards and was the Wallaby Defence coach.
The Head Coach last year, Daryl Gibson, managed to coach Australia's best funded, most resourced team to just four wins and third-last place (in a tournament with three teams finding their feet in just their second year). He kept his job too.
The trend is the same at the highest level. In 2016, the Wallabies lost away tests against an Irish team so ravaged by injuries they had a scrum half on the wing, and a South African side that was almost entirely devoid of creativity and cohesion. Last year (2017), they lost at home to Scotland, were rubbish against Italy, and drew twice against a very average South African side too. Oh, and they lost five times across both years to England.
There are guys receiving Wallaby jerseys who are not, and never will be, Tier 1 test level players. It's just that simple.
We'll come to why this trend of failing upwards and this lack of accountability have taken root in a bit.
But the most easily solved problem on the field is the lack of smarts. The Wallabies are many things, but nobody would describe them as a smart team. It's brawn over brain every time, and Ireland, Scotland, and England feast on that predictability. Rugby is, fundamentally, a dialectic. It's a struggle between two forces. Yet Australia regularly turn up looking as though they have either done no research on their opponent or, rather, don't care what that opponent is going to do. They play largely the same way against every team, which is just dumb. They look to get into their patterns with the ball and then run their training ground options. That's it.
Two weeks ago, former player, coach, and current commentator Rod Kafer, one of the smartest minds in Australian rugby, made much publicised comments about the Brumbies failing to adapt their game plan to what was in front of them: a Crusaders team with two men in the sin bin.
"We talk about heads up rugby and having an understanding of how we want to play, yet we're not a country who wants to play heads up rugby," Kafer said. "We want to go to structure, we hear our people talk about it all the time, structure, structure, structure. It's not working for us."
Kafer is spot on. On Saturday, the Waratahs ran two mauls in the first half, resulting in an easy penalty and a try. Instead of learning from what was happening, they went back to the plan: the bounce-out plays that they use in practice to tie up forwards and give ball to their backs. At half-time, someone obviously said something. Mauls early in the second half yielded more penalties and huge yardage gains. And then, the maul got shelved again.
Frankly, the Blues had so much trouble with the Waratah maul, and the Waratahs were so poor in open play, they should have been opting for the maul over and over again. To win at rugby, you have to be willing to change plans in light of new information. That's central to playing smart.
If you really hate life, watch the five Wallaby games against England over the last two years back to back. It's the same match. The team learned nothing. A more adaptable coach would have noticed that Eddie Jones' England have zero interest in playing with the ball in their own 40, that they love structure, that they love contestable midfield kicks, and they feast on opponents' ill-discipline. He or she might then have deduced that Australia's chances of winning were good if they (respectively) forced England to play from their own area a lot, played an unstructured game, picked a back three based on their ability in the air, and contested less at the breakdown, thereby reducing the penalty count.
We saw none of that. Over and over again. Australia's solution to failing at their brand of fast-paced, ball-in-hand rugby, we were told, was more fitness, more speed, more ball in hand. It's the same mantra, regardless of the question. No wonder fans are exasperated.
This addiction to sticking to your patterns has infected the Super Rugby teams. All play a variation of the 1-3-3-1 system. They all look alike. Spread the ball wide, then back to a pod of three forwards. Reload and repeat. Opponents know exactly what they are going to get. It's fine to have a foundation if you build something on top of it that offers room for creativity and incision—just ask England in the opposition's 22. But defences are just too good for you to give them hours in the video room watching your structure and then replicate that picture on the field.
Currently, Australian teams offer structure in attack and unpredictability in defence, rather than unpredictability in attack and structure in defence.
This over-reliance on structure rather than letting players play what is in front of them is closely linked to a lack of experience. As Brumbies coach Dan McKellar noted after the same Crusaders' game, his 15 on the field had about 20 Super Rugby caps per player between them (just over one season, including replacement appearances). That's a fair comment too. The same weekend, Leicester's starting fifteen had about 70 caps per player between them.
So what is going on and where have all the experienced players gone?
2. The Rugby Market
The short answer is: largely overseas.
The most important factor in the decline of Australian (and South African) rugby has been the rapidly accelerating player drain over the last five years or so. No sooner are Australian players finding their feet in Super Rugby than they now look abroad. That experience is lost to the team. Over just the last couple of years, the Brumbies alone have lost Scott Fardy, Jarrad Butler, Jordan Smiler, Nic White, Matt Toomua, Joe Tomane, Ben Mowen, and Jesse Mogg. I'm probably missing someone; it's hard to keep up. Half the starting team. Most are Wallabies.
Players are leaving in their prime. Even mid-way through last year, the conventional wisdom about Sean McMahon was that he probably would never quite have a key role at test level. He played like a ball-running 8, but at roughly 100kg, didn't have the size. He wasn't tall enough to be a key lineout winner. His technique over the ball wasn't good enough to be the jackal 7 either. But McMahon went from strength to strength. His breakout match, in a breakout year, was his huge performance in Bledisloe III in Brisbane. He was best on ground, busting tackles with huge runs in the last 20 minutes.
That was also his last match on Australian soil before he signed on to a two-year deal to play rugby in Japan, a level no better than a good club game. He is 23.
Sean is hardly alone. At the end of 2013, a watershed moment took place when the Wallaby captain, Ben Mowen, left the team to go play in France. How can you have a team leader who not only doesn't want to be the leader, but doesn't even want to be in the team? Why should fans turn up at Stadium Australia when the captain doesn't even want to be there?
Rugby Australia needed to make its displeasure known, but it didn't. When Charles Piutau, the hugely talented All Black back-three man, left shortly afterwards, coach Steve Hansen let every newspaper in the country know what they thought of such a decision. Rugby Australia needs to signal to both players and fans that quitting the team—and that's what it was—when you're the Wallaby captain is not ok.
The truth is that Australia does have enough rugby talent to fund four good Super Rugby teams. It just doesn't have enough for six, and two of those teams are playing overseas.
I'm including recent overseas players too. But what about these line-ups?
Team 1: Greg Holmes, Tatafu Polota-Nau, Mike Alaalatoa, James Horwill, Luke Jones, Ben Mowen, Dave Dennis, Sean McMahon; Nic White, Matt Toomua, Joe Tomane, Matt Giteau, Rob Horne, Adam Ashley-Cooper, James O'Connor.
That's the best Super Rugby team in Australia, on paper, by a long shot.
Let's try another one:
Team 2: Ollie Hoskins, John Ulugia, Paul Alo-Emile, Hugh Pyle, Will Skelton, Scott Fardy, Liam Gill, Leroy Houston; Nic Stirzaker, Brock James, Alofa Alofa, Berrick Barnes, Peter Betham, Digby Ioane, Drew Mitchell.
Competitive, at the least.
How are teams supposed to be competitive without experienced players? We know that young players develop best alongside experienced ones. That's why when the All Blacks develop a new hooker, they group him alongside super experienced props. They don't pick an all rookie front row. Yet that's what Australian Super Rugby sides are forced to do all the time: have rookies learning off rookies.
Australia's legacy to the sport is rich. It was us (with the Kiwis) who lobbied hard for the creation of the Rugby World Cup and, later, professionalisation. We dragged northern unions kicking and screaming into the 21st century. Rugby innovations from the flat 10 to extended multi-phase play to bringing wingers into the centre of the park all come largely from Australian rugby. With two World Cups and two finals, we have the second best World Cup record (and before 2015, had the best).
Yet World Rugby has steadfastly refused to create a transfer system that would reimburse clubs for their investment in players lost overseas. World Rugby has refused to impose foreign player quotas on European clubs. World Rugby has refused to extend the residency window for international qualification from a ridiculous three years, with the result that Southern Hemisphere players are able to have their cake and eat it too: head to Europe and end up playing international rugby.¹ Their rugby communities at home get nothing in return.
World Rugby has even, as of this year, removed the ability of countries to name their under 20s team as their "second side", which means that youngsters invested in and capped at under 20s level can now freely go and play for other countries later. In other words, World Rugby is making it easier, not harder, for countries who haven't invested in players to buy them later on.
Consequently, we have a system whereby Southern Hemisphere rugby effectively subsidises the richest entities in World Rugby: cashed-up European clubs. How ridiculous. If the English coach couldn't work with 30 of his country's best players because they were playing Super Rugby most of the year, you can bet your last dollar World Rugby would have done something about it.²
World Rugby just doesn't care about the health of rugby here. It is willing to throw Australia (and South Africa) under the bus.
This isn't news to many. But it is important to cover because this is the major factor driving our problems here. The fully global market for rugby players (and coaches) is what has changed in the last five to ten years.
Yet we often hear other explanations for where Australian rugby is, and I want to dispel those, specifically that the format of Super Rugby is to blame.
It isn't really true that Super Rugby has turned into a boondoggle. It's always been a weird creature, played across multiple time zones, with visiting teams that home fans can't locate and will never meet a fan from. Kick-offs in South Africa have always been in the middle of the night. Some teams have sucked in any given season. The Lions, Cats, and Cheetahs were awful for years. Even the Hurricanes had a terrible few years. These are all features of the comp, not new developments.
True, the competition has acquired a silly format in which teams with fewer points can finish in a higher ladder position than those with more, and SANZAAR refuses to develop an ability to communicate with fans beyond press releases. I'd venture that 99% of Super Rugby fans can't name the SANZAAR CEO. (Andy Marinos.)
But these shouldn't obscure the broader picture.
In fact, the standard of the games this year in Super Rugby is probably as high as it has ever been. (If you don't agree, have you watched non-Australian matches?) The SA and NZ outfits are both putting on good shows. It's just us. The key to solving fan engagement in Super Rugby isn't cutbacks (though that might—might—make sense for other reasons). It is winning.
Whenever Australian sides win, crowd numbers and engagement go up. All four of our teams currently suck. There's no other way to put it.
The reason for the sharp decline in Super Rugby crowds even as record numbers turn up to club rugby is obvious: the fans don't want to pay the same—in money, in attention, in emotion—for less.³ The Canberra fans aren't dumb. They know the 2018 Brumbies are missing half their starting team overseas. It's the same everywhere. Fans are being asked to feel the same way about a match as five years ago, when the product is worse. If the players won't commit to Super Rugby, why should the fans? It's not rocket science.
So, performance increase is vital to the future. What has gone wrong and how can we fix it?
---
Notes:
1. We hear that the residency requirement will be extended to five years in 2021, but sceptics abound that this will actually happen. Why introduce the measure then, and not now?
2. None of this is to comment on what this is doing to the integrity of international rugby. Currently, no fewer all three countries vying for the last European qualifying spot for the next Rugby World Cup, Spain, Romania, and Belgium, appear to have fielded ineligible players. How World Rugby will resolve this is very much up in the air. One of the countries that might benefit, Germany, has a team full of South Africans whose residency was paid for by one man: corporate titan Hans-Peter Wild. When Wild fell out with the German rugby authorities, he simply pulled all "his" players from games, with the result that Germany, once again, are pretty poor—but might be in the World Cup as the European Steven Bradbury.
3. No doubt the players would say the same: Why should they not go play in Grenoble if the fans won't turn out? The difference is that the players are an asset for the business, while the fans are the core constituency. Some players often don't seem to get that: they seem to think that pro rugby exists for them.
---
3. Development Pathways
In 2015, the Rugby World Cup filled, and overflowed, English rugby coffers. To be sure, there was lots of money to go around.  £443m to be exact. But £190m of it, or 42%, was invested outside the professional game: in infrastructure, community rugby, and coaching.
This was no more than smart practice. A £1m might fund one or two marquee players at international level for a year. The same money, however, might fund five top level coaches, or ten mid-level ones, whose expertise develops the talent of every player they come into contact with. Investment in coaches is critical to creating a system that produces and improves rugby talent over time.
Australia is not doing this. Its finances are heavily skewed towards retaining top players, not development in any form. It spends $3.7m on "community rugby" and 8.4 million on unspecified "high performance and national teams". (The rest has been outsourced to the state organisations.) Even at the most generous of readings, Australian rugby spends just 9% of its expenditure on development in the very broadest sense. In absolute terms, that's around 29 times less than England's massive post-World Cup investment.
The result of a lack of coaching funding and pathways is that Australia's top-level coaches are terribly inexperienced. Of the four Super Rugby coaches this year, Dave Wessels is in year two as a top-level professional head coach, Daryl Gibson year three, and Brad Thorn and Dan McKellar year one. None has a long and varied pedigree through the coaching ranks.
In New Zealand, Aaron Mauger (Highlanders) has already been head coach at Leicester. Scott Robertson (Crusaders) has been head coach in the NPC (where he served a five year apprenticeship before getting the top job) and for New Zealand Under 20s. Chris Boyd has been an assistant at the Sharks, had a top job in the NPC, and taken the New Zealand Under 20s. Dave Rennie, Colin Cooper, Pat Lam, Tony Brown—all have been on a coaching pathway with plenty of stations before getting to Super Rugby. They've had chances to improve, to develop, to cast aside preconceptions—and to fail. Australia's Super Rugby coaches are failing at the top level.
Let's return to the theme of investment. Coaches are part of the equation. But the other part is investing in up-skilling players over time. Again, this is not a focus area for Rugby Australia. Australian rugby was terribly slow to realise that the merging of global under 19 and under 21 championships into a single Junior World Championship for under 20 players ten years ago had streamlined player development into just one major channel. Other countries did.
Now that we've come late to the party, we are desperate to do something to rectify the situation, without working out what that something should be. Two years ago we didn't have any centralised mechanism for bridging the gap between schoolboys and the national under 20s side. Last year, it was a domestic comp between the Super Rugby franchises' under 20 teams. This year, it's a squad picked early, to give the core group more time together. Next year, we now hear, it will be a new under 19 week-long carnival next year and a squad picked early. Is it any wonder that young players have no faith that the administration knows what it is doing when the plan changes literally every year?
This year, the newly minted "Junior Wallabies" had warm up games against Tonga under 20s (89-7) and Fiji under 20s (51-5), neither of whom have even qualified for this year's tournament. Who thinks this is meaningful preparation for playing England, France, and Argentina in June?
It's impossible to know if the new under 19 week-long carnival, which reeks of schoolboy rugby, is actually the best mechanism to filter out the next generation of pro players, or whether it's just what Rugby Australia has chosen to afford. As usual, RA isn't providing any transparency whatsoever, just a corporatese-laden press release, with the usual emotion-neutral quote from Relevant Person X (in this case, Under 20s coach Jason Gilmore) parachuted in. This is how RA engages with its core constituency: fans.
On an individual level, the list of promising young players who are in no way better players now than when they stepped out of under 20s is a long one. Kyle Godwin, Campbell Magnay, and Chris Feauai-Sautia, to take just a few examples, looked ready to take on the world at age 20, and just haven't developed since then. In the Sydney Morning Herald recently, journalist Paul Cully made the striking observation that not a single recent under 20s playmaker is starting for a Super Rugby team and most aren't even in a squad.
The broad solution is fairly obvious: the pool of future professional players needs to be both broader and bolstered with the best.
First the broadening: Australian rugby needs to be fully opened up beyond the old networks. That way, selectors would have a stronger idea by year 12 who can hack it at the highest level and who cannot. It is no more than logic.
It's great to see schools playing more friendlies against out-of-network rivals. But narrow competitions like the GPS and CAS in Sydney aren't doing the job for Australian rugby any more. They are not helping their boys play at the top level and open up a professional career. Instead, competitions should be state-wide and, realistically, national. Joeys can still play Kings every year. They just also need to play Oakhill, St Edmunds Canberra, and the Southport School, all in competition matches, so selectors can see players under a range of conditions and against diverse opponents. This is what happens in South Africa and New Zealand.
At the same time as opening up the main development pathways to more boys, Rugby Australia should also be looking to bolster the player pool, particularly in the 18-22 age range. Australian rugby has to get smart—there's that word again. Fifteen years ago, Irish and Scottish rugby was in terrible shape. One big factor that changed that was the overt, shameless recruitment of players who were, or would be, qualified for the home team. Huw Jones, C. J. Stander, Jared Payne, and W. P. Nel were all low-risk signings who have come over and contributed hugely to Celtic rugby.
We have access to two of the great rugby grassroots systems in the world, in New Zealand and South Africa. Masses of people migrate from both to Australia every single year. Adapting is easy.
We should be recruiting from both places relentlessly. The residency system is not a good one (see above). But so long as it's there, we should be working it. Super Rugby clubs should be empowered and supported to look abroad and sign players on three-year residency contracts if their performances warrant it. The same goes for coaches.
The more accountability that can be introduced into professional rugby, the better for Australian rugby. As it is, too many players are limping into Super Rugby from the under 20s without the requisite skills and with little of the investment in coaching and experience needed to acquire those skills. They are failing upwards.
4. The Finances
I started this piece by arguing that, to a certain extent, the problems in Australian rugby were distinct. The lack of investment in development is a choice. The addiction to structure is an on-field disease. The evaporation of players and experience is driven by surging external demand.
Now we get to the nub: the finances. If we become much more savvy on the field, invest more in development, convince school networks to break out of the 1960s, and generally upskill our players it won't mean much if we don't overhaul the entire business model for rugby in Australia.
To this end, the 2017 Rugby Australia's annual report, audited by KPMG, is illuminating. A huge government grant for a new, one-off training centre at Moore Park distorts the balance sheet. In any other year, the organisation made a loss of about $5m.
The report reveals a fair bit about the fiscal position of Super Rugby. In 2017, Rugby Australia gave the four operators of the Rebels, Waratahs, Reds, and Brumbies (and not the Force) a total of $39 million. They also spent $25 million on player payments, for a grand total of $64 million. We can assume that Wallaby top-ups fall under "High Performance and National Teams" and thus aren't included in that figure.
The income from Super Rugby is largely in the form of broadcasting dollars, which total $61 million. But a lot of that comes from televising the Wallabies, rather than Super Rugby.
In other words, Super Rugby is a loss maker, perhaps a substantial one, with or without the Western Force. That's key point one.
Key point two is that without the 2015 TV deal, which increased Rugby Australia's broadcasting take by a whopping 148%, the organisation would be deep in the red and with no way out. But the last English rugby deal increased by 80%, even after European games were taken out of the package. The last Top 14 deal gave clubs 200% more than the last.
This is the take-home trend: the global boom in rugby is driving up television revenues, but it is doing so everywhere. And since the European deals are bigger in absolute terms, their buying power will continue to increase and player salaries will continue to escalate quickly. That creates an unsustainable equation for Rugby Australia. Even if the 2020 TV deal is a monster, including increased revenue from Japanese and American broadcasters (a reasonable assumption), still Rugby Australia will be playing a losing game.
We should acknowledge that Rugby Australia is in a really tough spot here. As it sees it, either it funds pathways heavily and lets top players go off to Europe, or they try to retain top players at the expense of pathways. They've tried to do a bit of both and it just isn't working.
Rugby Australia has managed to get itself into a position where it essentially pays for Super Rugby to exist, but doesn't yield the rewards in terms of long-term Wallaby development. It is Rugby Australia that puts these players in the shop window and develops them to pro standard. When European clubs snap them up, Rugby Australia (and Australian rugby) gets no return on their investment.
It's not unlike the extraordinary rort in American football player development. It's super hard to produce an NFL player. You need rare skills, performed at an extremely high intensity, just so. The skills aren't by and large transferable. But it's the largely publicly funded college system that produces 23 year old draft day prospects; the NFL then swoops in and snaps them up for its private profit.
Australian rugby, in much the same way, has ended up developing players who then go off to play in France, or England. It's madness to stay in such an arrangement. More than that: the more Australians we send to Europe, the better the quality of rugby, the more eyeballs on their games, the bigger the TV deals, and the larger the contract for the next Australian player. We are funding our own demise here.
More to the point, rugby.com.au even runs a weekly column advertising what Australian players are doing over in Europe (NB: Nobody cares.) This is completely crazy: Rugby Australia is paying to advertise a rival's product, one that offers a mortal threat to its own. Who signs off on these decisions? Seriously?
We have to ride the global boom in rugby, not fund it for others' benefit. It's that simple.
Tying the organisation to the top players at the expense of development pathways has hollowed out the entire business model. For every player that leaves, the bargaining position of those that remain is strengthened. This has left Rugby Australia is some truly ridiculous positions, including paying David Pocock to not play rugby and then to play rugby for someone else, and to consider offering Michael Hooper a five-year contract, the longest in the world. Quade Cooper is currently playing club rugby, because there was no clause in his contract that stipulated that he actually needed to do his job (ie. play professional rugby) to earn his money. Top players have left to go to Europe… and then Rugby Australia pays them extra to come back home. This is a mug's game.
At the same time, Rugby Australia's top-heavy strategy isn't actually stemming the bleeding. Within two years of the 2011 World Cup, the Wallabies weren't playing their two best players from that tournament, James O'Connor and Digby Ioane. Right now, in May 2018, Joe Tomane, Matt Toomua, Nic White, Sean McMahon, Ben Mowen, Tatafu Polota-Nau, and Greg Holmes would all walk into the Wallaby squad. Others would be in the picture too. Not having those guys there is a huge head start to give the opposition—and the fans know it.
In short, Rugby Australia is damned if it does or damned if it doesn't. There just isn't enough money to do everything, due to the spiralling demand in player wages. Not to belabour the point, but this model simply isn't sustainable.
There are numerous short-term solutions to be considered. A professional competition that could stand on its own two feet without Rugby Australia needing to subsidise it heavily would be one. That would free up more money for both top players and development.
New contracting measures to recoup the full value of player development investments would be another. The current pay scale already gives Super Rugby franchises a small salary cap discount for long-serving players; this could be increased. Player contracts could be rewritten to tie players better to Australian rugby. KPIs could be introduced to prevent players from failing upwards.
We can also pray that World Rugby begins to understand that current trend lines, without a circuit breaker, are actually unsustainable. After all, European club rugby without Southern Hemisphere players is, well, European club rugby fifteen years ago. They might realise that the golden goose needs to be kept alive for their own model to work.
Another stopgap is to look to new markets. If Japan was so 2015, then it is America that will be all the focus looking to 2020. The pattern will likely be the same. Rugby is the single fastest growing sport in America. Now, Major League Rugby has just started there, so any Super Rugby franchise will suck. For years. But American money might just offer the illusion of safety to cash-strapped Southern Hemisphere unions. As we've seen, however, it will likely just be a stay of execution, because the more TV deals increase, the more player salaries increase too. We probably have to plant our flag there just to keep the Europeans out, though that shouldn't stop us addressing the structural problems we need to turn the business equation around.
But in the long-term the answer is clear: more buying power in Australia. We need it, by hook or by crook. This is where we need to be able to talk about bold, new solutions.
One option is privatisation. It is nothing short of incredible what Andrew Forrest has been able to do in Western Australia, all overnight. He's created a hodge-podge competition from scratch. He's coughed up player salaries and is bankrolling the other teams. He's got the matches on live free-to-air television. The entire concept sounds ridiculous… but it's happening. 20,000 turned out for game one (game 31 is a different story, but still).
This is how much of European rugby is funded: as a prestige project, not a profit making enterprise. Opening Super Rugby up to sugar daddies would come with costs, but European soccer and US sports have shown that somehow fan buy-in is rarely diminished by the reality that some rich person, often a foreigner, is using the club as their plaything. Fans are, by and large, ok with that. Put it this way: four or five Andrew Forrests and we have financially stable rugby in Australia. We need to have a conversation about it, at the very least.
Option two: full public ownership. A more romantic, grassroots model is to copy FC Barcelona and allow the fans to own the club. It's hard to imagine that the Waratahs are worth more than about $20 million, given their continuing cashflow problems and the big question marks over their business. If 50,000 fans each buy a stake, their shares will cost $400 each. The fans would vote for the club president and board. They would, by definition, feel a renewed connection to the team. Shareholders would certainly turn up to see how their team was doing. Shares might even go up in value. Or be given to new babies in the family, in a new tradition. And so on.
It could bring the rugby community right together by actually transforming professional rugby into grassroots rugby. This mechanism would also provide a new basis for club income, an asset for the club to borrow against, and, as in Europe, a prestigious position for rich individuals to run for.
Conclusion
The key to fixing Australian rugby lies in improving on-field rugby. That means we need more money to keep players and coaches in the game, to invest at every rung of the development ladder, and develop a distinctive brand. Managing the international player market is the key to everything, which in turn requires a turn towards either full privatisation or full public ownership.
But we don't just need the right solutions. We need the right tone. Australian rugby is desperate for leadership and honesty—something fans can't remember any of. A line needs to be drawn in the sand. A whole new era has to start now. We are at a crisis point because of deep-seated problems in the business of rugby. It's not all our fault; the player drain to Europe and World Rugby's refusal to regulate it has a great deal to do with things. But that's life. A new way of doing everything needs to be announced, and made public. It's like in a relationship: you can't fix a problem if you don't first have the courage to sit down and actually articulate that there is a problem.
The Australian rugby community is screaming out that there is a problem, and Rugby Australia needs to do no more than admit the same, look to actively engage fans, and address their concerns with a cogent, long-term blueprint. Mistakes need to be admitted. Only then can we all move forward together. We all want the same thing: to see the next generation of Mortlocks, and Ellas, and Caslicks, and Pococks inspiring Australian hearts and minds, which they won't do if they're playing for clubs in Dublin and Montpellier. We are all waiting for leaders to show us the path to that goal.