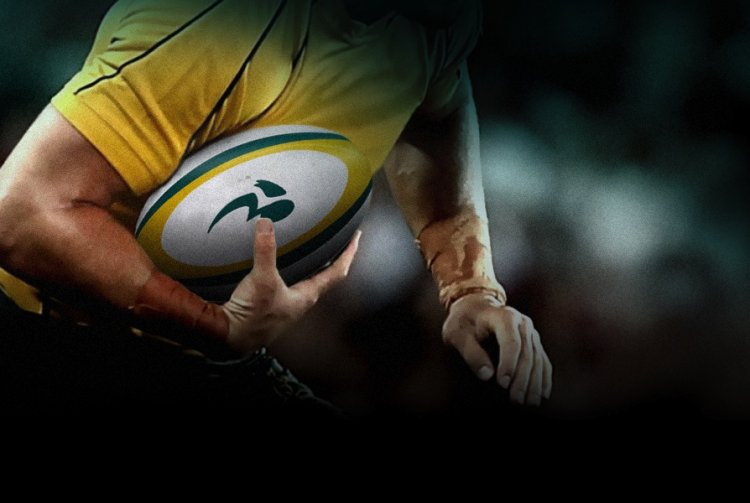 It's going to be a big year for the Australian Rugby Union Schoolboys team. There are inbound tours from Tonga and New Zealand Schoolboys, and an end of year tour to Ireland and the UK. These are stars of the future who'll become well known to you in years to come.
How do I know that? Lets just randomly look at any Australian Schoolboys team from the past, 2000 as an example. Mark Gerrard, Jone Tawaki, Ben Hand, Will Caldwell, Luke Doherty, Lachlan MacKay, and that's just the back row in the photo. Cooper Cronk, James Hilgendorf, Lei Tomiki, Peter Hynes, Josh Valentine, Morgan Turinui and the list goes on.
This year's Australian Schoolboys sides (Australia and Australia 'A') have recently been named. The 2009 teams are dominated by Queensland players; there are 22 in the sides. That's because over the past few years Queensland have won the National Championships which are normally held in the June/July school holiday period. This is a bit of a surprise as Queensland field sides that are generally a year younger than NSW, due to the difference in the age kids start school. In fact, this year there are two 15 year olds from Queensland who've made the top team (wing Chris Sautia and lock Curtis Browning both from Brisbane State High).
Brisbane State High School has the highest representation with a total of eight players selected. I'm not sure whether this is a record or not but it's got to say something about their rugby program run by Graham Noon. Queensland rugby is dominated by the schools involved in the GPS competition. There is a second tier competition which is nowhere near as strong, the Association of Independent Colleges (AIC). As an example, 20 of the 22 Queensland players are GPS, one AIC and one from a minor independent schools competition. BSHS is Brisbane's only selective public school and is able to pick the best rugby players in the government school system from all over town. The other GPS rugby powerhouses at the moment are Nudgee and The Southport School. They stay ahead of the pack by offering lots of rugby scholarships, unlike some of the other sides.
In NSW, the GPS schools also lead the way in player strength. As in Brisbane, GPS players completely dominate the NSW No 1 side.  This year there are representatives from Joey's, Newington, Knox, Riverview and Scots College amongst the 18 NSW players selected in the Australian sides. Quite a few of the rest are from the myriad of lesser competitions involving CHS, CAS, CCC, ISA, AICES and Country Schools.
ACT schoolboys rugby is currently in decline with reduced participation rates occurring in private schools. The setting up of Year 11 and 12 colleges in the public school system has also impacted negatively on sport in general. In the ACT there are only two schools that would foot it with GPS schools in Brisbane and Sydney, St Edmunds and Marist.
The Australian Schoolboys sides are selected after the National Championships which this year were held at Knox College in Sydney. The National Champs involve teams from NSW (2), Queensland (2), ACT and the Combined States (rest of the states). There is a Division 2 National Championships held beforehand to select the Combined States team. This year QLD1 won all their matches, including the final against Combined States 41-17. It was a bit of a boilover with Combined States making the final but this is an indication that the spread of rugby throughout the traditional non-playing states is becoming stronger. They got there by defeating NSW1 20-15.
Big tests this year against Tonga (26 September at Riverview), New Zealand (9 October at Ballymore) with 'A' games in the preceding weeks and Irish Schools, Ireland U18, Welsh XV and various Regional England U18 sides on the tour.
Keep an eye out down the track for Liam Gill, Simon Morahan, Chris Sautia, Paul Alo-Emile, Kimamai Situata, Curtis Browning, Ted Postal and Krisome Au'uva (a Melbourne Storm scholarship holder). These are very promising players of the future from the Australian squads who I've seen play in Brisbane this year and have impressed.
The teams are:
Australian Schools squad to play Tongan Schools: Paul Alo-Emile (Brisbane State High School, QLD), Tyson Frizell (Illawarra SHS, NSW), Liam Gill (St Joseph's Gregory Terrace, QLD), Kyle Godwin (Aquinas College, WA), Angus Hamilton (Scotch College, VIC), Ruka Hanlon (The Southport School, QLD), Marcus Heather (Endeavour SHS, NSW), Jake Holland (St. Edmunds College, ACT), Matt Ika (Brisbane State High School, QLD), Luke Jones (St Pius X College, NSW), Jack Kimmince (The Southport School, QLD), Simon Morahan (The Southport School, QLD), Joe O'Regan (Brisbane State High School, QLD), Greg Peterson (The Scots College, NSW), Hugh Roach (Newington College, NSW), Rohan Saifoloi (Brisbane State High School, QLD), Chris Sautia (Brisbane State High School, QLD), Waita Setu (St Joseph's Nudgee College, QLD), Scott Sio (Trinity Grammar School, NSW), Kimamai Situata (St Joseph's Nudgee College, QLD), Nick Stirzaker (Knox Grammar School, NSW), Jordan Tuapou (Brisbane State High School, QLD), Jacob Woodhouse (The Scots College, NSW).
Australia A squad to play Tongan Schools: Krisome Au'uva (Ipswich Grammar School, QLD), Curtis Browning (Brisbane State High School, QLD), Damien Cooke (Illawarra SHS, NSW), Steve Cummins (Hills SHS, NSW), Nick Curtis (Knox Grammar School, NSW), Jack De Guingand (St Kevin's College, VIC) Rodney Esekia (Chandler College, VIC), Zach Fell (St Edward's, Gosford NSW), Mitchell Felsman (Iona College, QLD), Matt Garland (Brisbane State High School, QLD), Tom Kingston (St Aloysius' College, NSW), Tom Lamont (St Joseph's College, NSW), Liam Law (Ipswich Grammar School, QLD), Matt Lucas (St Joseph's Gregory Terrace, QLD), Ross Marais (The Southport School, QLD), Cayden Matehaere (St Joseph's Nudgee College, QLD), Usaia O'Sullivan (Trinity Grammar School, NSW), Nathan Paila (Hallam Senior College, VIC), Ted Postal (St Joseph's Nudgee College, QLD), Richard Quigley (The Scots College, NSW), Jack Rowntree (St Augustine's College, NSW), Nick Turner (Emmanuel College, QLD), Joe Welch (St Ignatius' College, NSW)