Rocky Elsom (76)
Staff member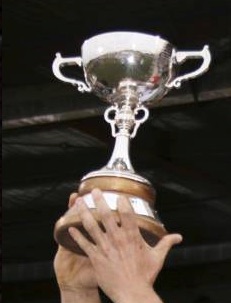 First played for in 1938, the John I Dent Cup was won by the Royal Military College, 27-6 over Norths, and it has been contested every year since except between 1942 and 1944 during World War II.
The Cup was a gift from John I. Dent, a wealthy Cootamundra grazier, who owned shops in Civic, Kingston
and Manuka. Dent was a personal friend of W. G. Woodger, the then President of the ACTRU, and he retired to live in Canberra and took up a grazing lease in the area that is now Weston.
Perhaps it was significant that Dent moved to Weston, the site of the Royals club. Royals have appeared in 29 of the 52 grand finals, winning 16 and losing 13.
Clubs that have long since disappeared from the ACTRU competition, RAAF, Navy, Forestry School and
Ainslie have all lined up in ACTRU grand finals but perhaps the one oddity that stands out in the winners' list is
the 1950 victory by Royal Military College No 2 over Royal Military College No 1, 17-15.
RMC dominated possession of the Cup in the early years, taking it back to Duntroon on 14 occasions between
1938 and 1962.
Source: Canberra Times 17 September 1993, Sports Supplement Page 1
Season 2015 has been done and dusted.
Time to start the wang for 2016.
Who is changing clubs? Any movements in the Coaching Ranks?
What impact are the 2015 Colts Graduating Cohort going to have in 2016?
Which 2015 Schoolboys will bypass Colts and be parachuted directly into Premier Rugby?
Ex-Reds Player and Brisbane Easts Coach Tim Sampson , the new coaching Director at Tuggies