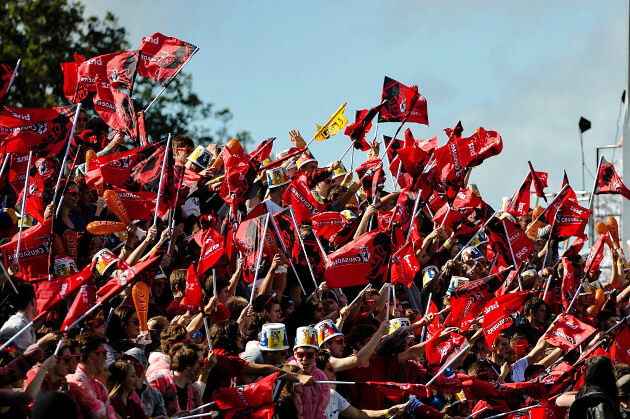 Can a new coach, but largely the same players, build on a promising but unsuccessful 2016 to end a nine-year title drought?
2016 – Opportunity lost
Heading into the June recess the Crusaders sat atop the New Zealand Conference, the Australasian Group, and the overall Super Rugby points table. A month later their campaign was in ruins. Losses to the Chiefs in Round 15 and Hurricanes in Round 17 saw them fall to seventh overall, earning them a quarter-final trip to Johannesburg where the final-bound Lions were far too good.
---
New Crusaders' head coach Scott Robertson back in the day
Comings and goings
Former Canterbury and Crusaders flanker Scott Robertson takes over as coach from Todd Blackadder, having taken Canterbury to three National Championships in his four-year tenure. His two years in charge of the New Zealand Under 20's yielded a world title in 2015, and he's widely regarded as a likely part of the All Blacks setup post-2019.
Robertson has largely retained the same playing group as last year, with 28 of the 38-man squad (including Australians Michael Ala'alatoa and Pete Samu) returning, and only four signings from outside the Crusaders/ Canterbury catchment.
Bryn Hall – arrived from the Blues
Powerful centre Seta Tamanivalu joins from the Chiefs as a like-for-like replacement for Robbie Fruean who is now in France. The signing of Digby Ioane to essentially replace Nemani Nadolo, also now based in France, has raised a few eyebrows: devastating in his day, you have to wonder if Ioane, now 31, has it in him to recapture those days after several years in France and Japan. Halfback Bryn Hall arrives from the Blues to replace departed stalwart Andy Ellis, and midfielder and occasional five-eighth Tim Bateman returns after a stint in Japan.
Cutting Fiji five-eighth Ben Volavola (now picked up by the Rebels) is a bit of an eye-opener, especially coming after Canterbury's rising star Jordie Barrett chose to join his brother at the Hurricanes. It leaves them with just two specialist 10's in Richie Mo'unga and Marty McKenzie with Tim Bateman and David Havili as backup.
Kieran Read had wrist surgery in the off-season and Sam Whitelock, who stood in for Read as skipper at the start of 2016, will assume the Crusaders captaincy full time. Read isn't expected back until April.
---
Digby Ioane playing 10s last weekend
The squad
Props: Michael Ala'alatoa, Wyatt Crockett, Oliver Jager*, Joe Moody, Tim Perry, Owen Franks.
Hookers: Ben Funnell, Andrew Makalio*, Codie Taylor.
Locks: Scott Barrett, Luke Romano, Quinten Strange*, Sam Whitelock (captain).
Loose forwards: Heiden Bedwell-Curtis*, Jed Brown, Mitchell Dunshea, Kieran Read, Peter Samu, Jordan Taufua, Matt Todd.
Halfbacks: Mitchell Drummond, Leon Fukofuka, Bryn Hall*.
First-Fives: Marty McKenzie, Richie Mo'unga.
Midfield backs: Tim Bateman**, Ryan Crotty, Jack Goodhue, David Havili, Seta Tamanivalu*, Sean Wainui.
Outside backs: George Bridge*, Israel Dagg, Sione Fifita, Mitchell Hunt, Digby Ioane*, Jone Macilai, Manasa Matele*.
*denotes new (**returning) Crusader.
---
Richie Mo'unga – grew in stature in 2016
Key players
No team has won a Super Rugby title without a quality first-five steering the ship. Richie Mo'unga stepped into Dan Carter's enormous boots last year and after a diffident start grew in stature as the season went on. A successful Mitre 10 Cup campaign with Canterbury will have done his confidence no harm and it's now easy to see why he had such big raps on him as an age group player.
Championship sides also tend to have dominant tight fives, and in Wyatt Crockett, Codie Taylor, Owen Franks, Luke Romano or Scott Barrett (another of Beauden's brothers, there being five boys in all), and Sam Whitelock they certainly have that. As in previous years, however, the interests of the All Blacks, especially in a Lions tour year, may impact on how often that five, and flanker Matt Todd, actually take the field. Read's recovery from his surgery must also be factored in.
Israel Dagg's return to form and favour after being left out of the 2015 World Cup squad has been nothing short of phenomenal. Now re-signed through to 2019 he will be a key player again. So too will Ryan Crotty and Seta Tamanivalu: for several years now the midfield has been a Crusaders weakness but this All Black pairing looks the goods.

Best XV: Crockett, Taylor, Franks, Barrett, Whitelock, Taufua, Todd, Read, Drummond, Mo'unga, Macilai, Crotty, Tamanivalu, Ioane, Dagg
---
Lions' tour gives a disjointed draw for Kiwi sides.
The draw
The extended British & Irish Lions tour means that all New Zealand sides face a disjointed draw. For the Crusaders this comprises six matches before their bye; eight more before the Lions tour starts; and just one after the Lions head home. They have seven home and eight away matches.
In 2017 the New Zealand sides are paired with arguably the weaker of the two African conferences and the Crusaders will play all four – Sunwolves and Stormers away, Cheetahs and Bulls at home – on consecutive weekends immediately after the bye.
Home-and-away Kiwi opponents will be the Highlanders in Rds. 2 (away) and 15, and Hurricanes in Rds. 12 and 16 (away). They host the Blues in Rd. 4 and travel to Suva for the Chiefs' fixture in Rd. 13.
Trans-Tasman fixtures are Brumbies (Rd. 1) and Force (Rd. 5) at home, and Reds (Rd. 3), Waratahs (Rd. 6) and Rebels (Rd. 14) away.
---
Key recruit Seta Tamanivalu in trial against Highlanders
Prediction
The Crusaders played just two trial matches, either side of finishing runners-up to the Chiefs at the Brisbane Global Tens. They lifted the Farmlands Cup 50-33 against the Highlanders and lost 27-33 to the Hurricanes. Fortunately there were no serious injuries in the trials.
Playing two of the three best Australian sides away counters much of the advantage of being paired with the weaker of the African conferences, as does playing the defending Champions twice and having just seven home games. The travel-heavy period immediately after the bye will be pivotal in what isn't a particularly favourable draw.
Given their draw and the likely selection restrictions Robertson will face, and assuming some casualties either along the way or resulting from the Lions series, it's difficult to see the Crusaders winning the New Zealand Conference but, as always, they won't be too far away.
New Zealand Conference – 3rd – quarter-finalists
.