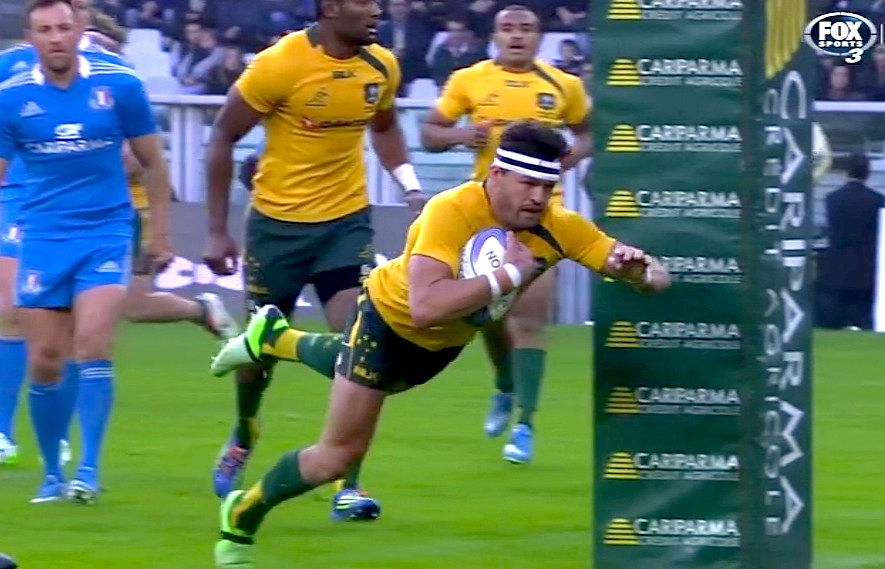 On the positive side we're scoring tries – 18 tries in the Wallabies' last four matches. You have to rate that as a big improvement as it's a fundamental aim of the game.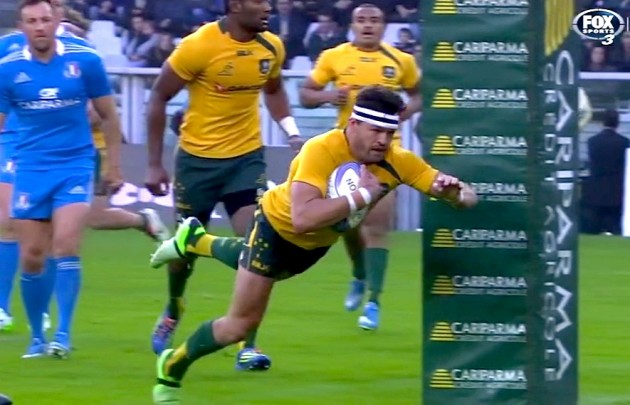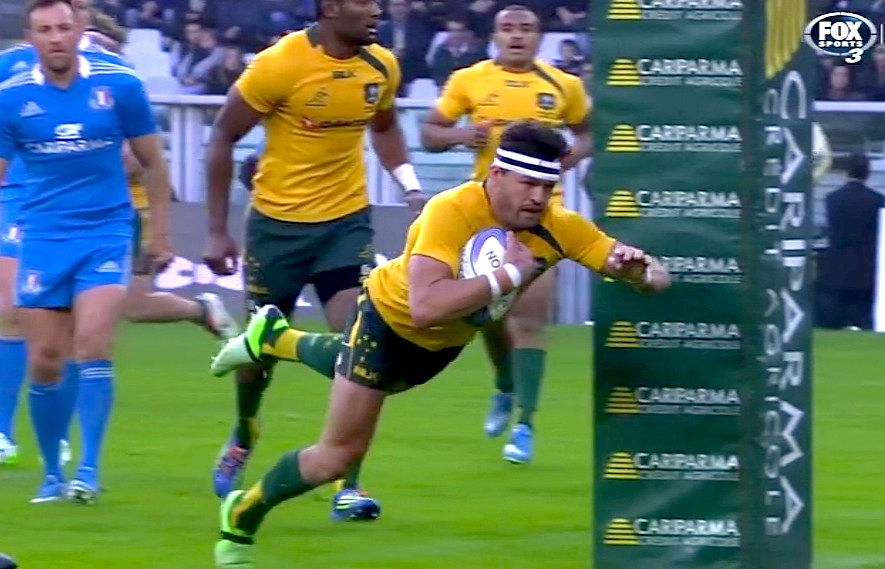 The Wallabies were also a lot more competitive at the tackle – in recent years Italy has been able to tie teams up there, keep the score down and give themselves a chance. It was just his year after all that Italy defeated France and Ireland.
Having said that, I didn't think it was a great game. It was fourth in the world versus twelfth. If we can stay ranked fourth by the end of the year with what's coming in the next few weeks, we should be happy.
Italy's scrum has deteriorated, their loosehead didn't seem to be able to scrummage at all – he didn't even want to pack down.
I looked at our defence against the last try of the game and it was pretty ordinary and fundamental. Would New Zealand, South Africa, Wales or England have conceded that try? Certainly the first two wouldn't, but we did.
On the plus side again, I thought that everyone did play OK. Was anyone outstandingly good? I didn't think so. There were pretty good performances by our back three and back five in the scrum. I thought our centres were adequate. Our props, half and five-eighth struggled. That means the scrum and the control from the half and five-eighth isn't solid.
I believe we looked a lot more fluent when Christian Leali'ifano and Nic White came on. I'd like to think that against Scotland we'd make some changes – to see if we have a better front row and better halves. Will G still isn't playing well and despite Quade Cooper throwing a great pass to Ben Mowen for his try, the attack looks more fluent when others are on.
It's no good saying we're trying to cement things because other teams – like New Zealand for example – would definitely make changes. We've seen that all year.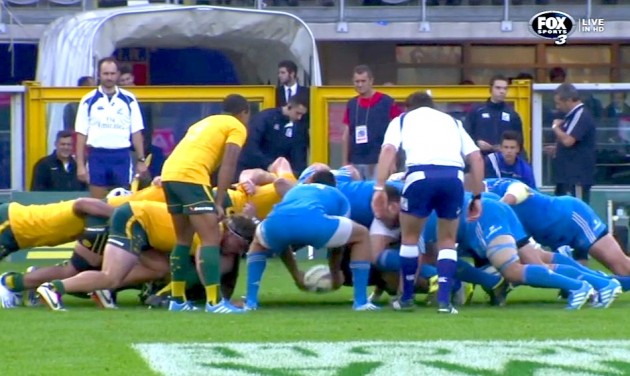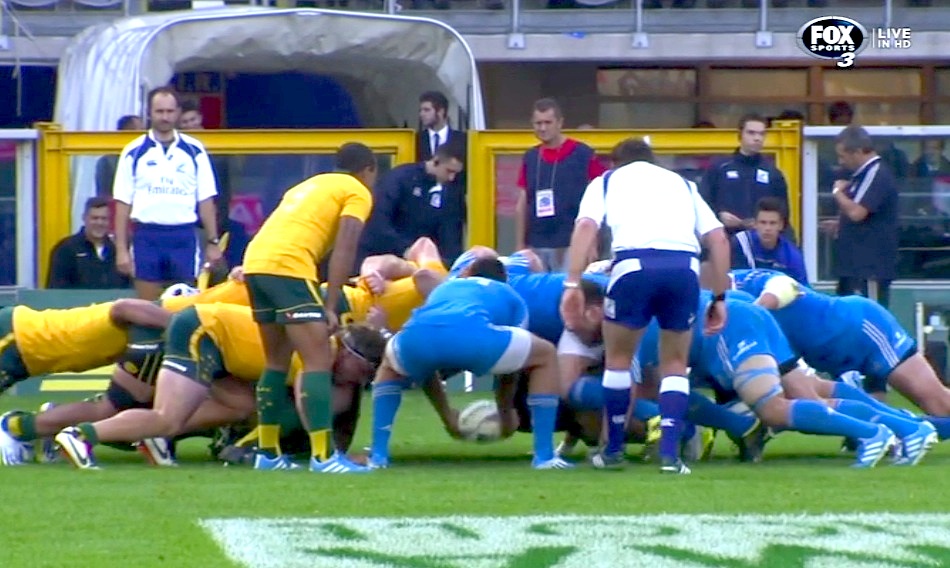 It's nearly time Stephen Moore had a rest, but I'd only do that if Tatafu Polota-Nau was ready to start (although you can always bring your hooker back on). In every game we see that Benn Robinson is an infinitely better loosehead scrummager than James Slipper. One thing that Slipper can give you is the wide tackle, although Robinson can give you the tackles and carries in close – surely the job of a prop.
I don't know what to do about tighthead. Ben Alexander isn't up to it and Sekope Kepu isn't making the impact. I'd probably start with Kepu.
I thought Rob Simmons played well all game. Admittedly it wasn't against a top tier nation, but you can only play against those in front of you. He made impact with his ball carrying, but will he do it against the best? The role he played is one Scott Fardy can play and Andres Venter used to.
Sitaleki Timani made the impact we wanted him to make and if we had better control at Nos.9 and 10 where he can come onto the ball rather than have a standing start, it would have been greater. It seems to me it's hard to play outside of Genia and or Cooper because you never know when you're getting the ball. Often players are already on their way when the ball arrives behind them.
I thought Nick Cummins played well, although against some strange defence; who leaves a winger unmarked on the blind side? I thought Liam Gill played pretty well too, it'd be nice to be able to bring him on – he looked up to standard and has urgency about everything he does. He makes quick decisions and moves quickly to follow them up
It occurred to me after watching the match that we've do have talent in the team. Ability to score tries, pretty good pace, hard-working players. So against average teams, we can prevail. But because pretty much across the board the technique in everything we do is below top tier, under maximum pressure from the good sides our less than perfect technique breaks down.


And so our catch and pass skills, our alignment of maintaining our space from the ball carrier go missing. People say 'don't you advocate a flat attack?' Yes, the ball is flat, not the player. That space in depth – about two metres or so back from the ball carrier to the receiver is reserved for the receiver, not the carrier. This allows the receiver to choose a line of run; Like Israel Folau did against England, changing from and unders to an overs line and getting outside his man.
Looking at a good side you say every ball they're always running onto it. Several times at important points in a match the receiver had to stop to catch balls. That is the difference between scoring a try and not.
I guess we can't ignore the fact we're scoring lots of tries and haven't done so for quite a while, so there's evidence we're arresting what has been sliding for a long time. Just as when you take on a good team that's been performing over a long period, they'll continue to play well even with poor direction; so too with a team on the slide – you've got to put the brakes on, or it'll keep happening.
The try count says that we're starting to arrest the slide, but we need to head forward. Now is the time to make changes in order to do that.
An aside
By the way, I believe South Africa played at least seven players from overseas on the weekend – Habana, Fourie, Petersen, the halves. That's five of the seven backs! If it's good enough for a rugby nation like South Africa, why isn't it good enough for us? It seems to me to be silly not to do it. If it went wrong we could always change it.
Matt Giteau is playing pretty well and this would have given us a chance to pick Brock James and in the future Timani. If we wanted to we could even pick Dan Palmer. I don't see why we think it's a step down. Brazil's (or any) football team wouldn't be able to put a team on the pitch if they didn't pick players overseas. There are only so many players Australian players that European teams would want to pick up.
After all it kept Campo in a Wallabies jersey for 10 years longer than he might have. There used to be a rule that you had to play two matches in Australia before you could be picked for the Wallabies. Once at Randwick we played Campo twice in one day to get around this – in the fifths and then the firsts!