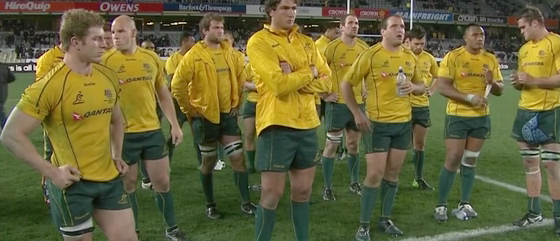 Message to Wallabies: 'Enthusiasm, commitment and urgency are essential ingredients for quality performance and success, and the time to exhibit them is right from the kick-off!' This may sound obvious but, not for the first time with this group, we saw none of these qualities until the dying minutes of the game at Eden Park.
Not so for the All Blacks, who started as if their lives depended on it. The Aussie commentary team commented frequently on the speed and enthusiasm of the All Blacks, as if these were some extraordinary, rarely seen qualities. These are vital, essential, necessary components of performance and must be seen as such by our Wallabies, if their undoubted individual talent is to have any chance to shine.
I said above 'not for the first time' and I can clearly remember other performances from this Wallabies team that have left me completely at a loss to explain. One against South Africa in Perth a couple of seasons back comes immediately to mind. It is clearly not a question of physical condition. In both these games, the Wallabies finished full of commitment, almost desperation, with genuine pace to their game – but about 70 minutes too late.
Rod Kafer remarked afterwards that in their warm-up, the Wallabies had 'looked nervous'. Of course they would be nervous: this is the big stage; something really important is about to happen; there can be success or failure! How then to approach such an occasion? First of all must come 'quality preparation', and no matter how much we were assured that the preparation had been great, it was not. We were not 'out of the starting blocks' at all. We were not poised, not focussed. Perhaps we were hoping for a victory, but the outcome of the game should not have been any part of our thoughts.
Quality performance and its essential ingredients should have been our clear focus. I take you back to last season when, after yet another last-quarter victory by the All Blacks, Brad Thorn explained that 'we knew that if we all did our own little jobs really well, the result would come'. They know that. We don't! In fact, we clearly don't even know what 'our own little jobs' actually are!
The Wallabies have a large number of individual quality players who can win a game for you. I'm certain of that. But collectively, as a team or even as a sub-group, we are poor. Yes, poor! Quality performance can only be based on quality technique, executed under the pressure of game situations, and a clear understanding of the application of that technique.
A few years back, Jim McKay, the Reds' attack coach, was coaching in Cornwall. On his return to the UK, after a couple of heart-to-hearts with me on the essential simplicity of quality technique, he wrote to me that after his first training session, a few of his players approached him with the comment that they had been playing rugby for many years and that 'this was the first time we had known exactly what we were supposed to do'. That team went on to win 14 from 14, with 13 bonus points! Jim then went quickly to Leicester Tigers and then Queensland Reds.
What we want are courage and determination: the courage to have a go and the determination to keep on having a go. We will take these qualities into every match if the fundamentals of our game are sound and if our preparation insists on this. Last week, I listed the essential fundamentals of rugby that are present in the All Blacks' game – lines of running, catch-and-pass skills, soft hands, excellent support, realignment, leg drive and impact in the collisions – and they were again the foundation stones for this decisive victory.
We, on the other hand, looked for the flukey, flashy, hit-or-miss play. Such plays are beneath the dignity of our great game – occasionally, as an add-on to quality fundamentals, OK, but with nothing else they are a sad reflection on our long-term development (or lack of same).
I'll list just a few of these disappointing plays, right from the start.
2nd minute. Cut-out pass Cooper to Ioane. Ball into touch.
4th minute. Wide, over-the-top pass by Cooper. Intercept by Smith. Result was penalty & 3 points to NZ.
17th minute. Cross-field running & Cooper cuts out two.
21st

 

minute. 5-metre scrum. Cross-field speculator by Cooper. Result 22-metre restart, won by All Blacks.
Our cross-field running was dreadful, even worse than usual, and we played right into the hands of the All Blacks' rush/umbrella defence. We were so bad that they were able to change rush defence into drift and then, with the long pass in the air for a considerable time, our attack had no chance.
The pièce de résistance came in the 49th minute – I actually wrote 'Joke!' in my notes. We had an attacking opportunity going right, with loads of field width available. Our line was Genia, Beale, Cooper, McCabe, Ioane, AAC, O'Connor, in that order. They had Franks, McCaw, Nonu and Smith outside of Weepu. Cooper's wild, missile cut-out pass missed McCabe, Ioane and AAC ,and O'Connor regathered.
This pretty much describes the quality of our attack; indeed, Cooper was their best defender on this occasion – and many others. The Aussie commentary team were in raptures over the All Blacks defence, but I could make no such assessment, given the utterly miserable standard of the Wallaby attack. More often than not, there were four All Black defenders to take the last Wallaby attacker. Cross-field running will do that to you – and then we have the gall to question that 'they were able to slow down our ball'. Really, do you know why?
As with the Springboks last week, we were generally ponderous and they were eager and sharp. They had power and impact in the contacts; we were upright, with no shoulder, and sometimes no arms. I often talk about 'no hesitation' at the tackle contest; Jake Howard used to insist on 'no daylight' between the initial tackle and the first arriving drive player. We had plenty of hesitation and tons of daylight! We were never in the hunt and the final score flattered us, even allowing for O'Connor's poor goal-kicking.
All of the All Blacks team contributed in an excellent team display, but, with increasing quality displays from both Carter and McCaw, the best is yet to come. Smith also was excellent, after a long injury lay-off.
For the Wallabies, it is difficult to find much of quality. Moore was our only forward with consistent legs, until Higginbotham came on. Perhaps Genia and Ioane gave us some hope and Horwill and Kepu had a few moments. I've tried hard but that's all I can come up with. Our scrum was reasonable, but we were beaten in all other facets of the game.
Stephen Moore responded to an after match question with 'We were not good enough on the day'. This was obvious, but I fear that no one within the team knows how to fix it!
So as not to disappoint, a word on the ref! We were told, before the match, that Craig Joubert was regarded by many as the best around. 20-20 vision is therefore clearly not a fundamental requirement for the role. I lost track of how many knock-ons he missed and a couple of glaring Wallaby forward passes went totally unnoticed.
Ali Williams was obviously given an exemption from most of the laws of the game for the entire match, but his illegal tackle/obstruction on Quade Cooper in the 7th minute while 4–5 metres offside, was outrageous and led to the All Blacks' first try (see the video below). The ref at least agreed with my claims, over the last several weeks, that Wyatt Crockett – an otherwise excellent forward – finds it impossible to comply with the game's scrummaging laws. He may not get another starting chance!
I have one last question. Can someone please explain to me, why Quade Cooper needs to stand 7–8 metres back from the scrum on our feed? Are we to assume that a minimum of 10 metres between the attack and the defence is not enough? Perhaps we could make it 20 metres, or even 30! God help us!
[youtube]http://www.youtube.com/watch?v=HI_moLM6oSg[/youtube]