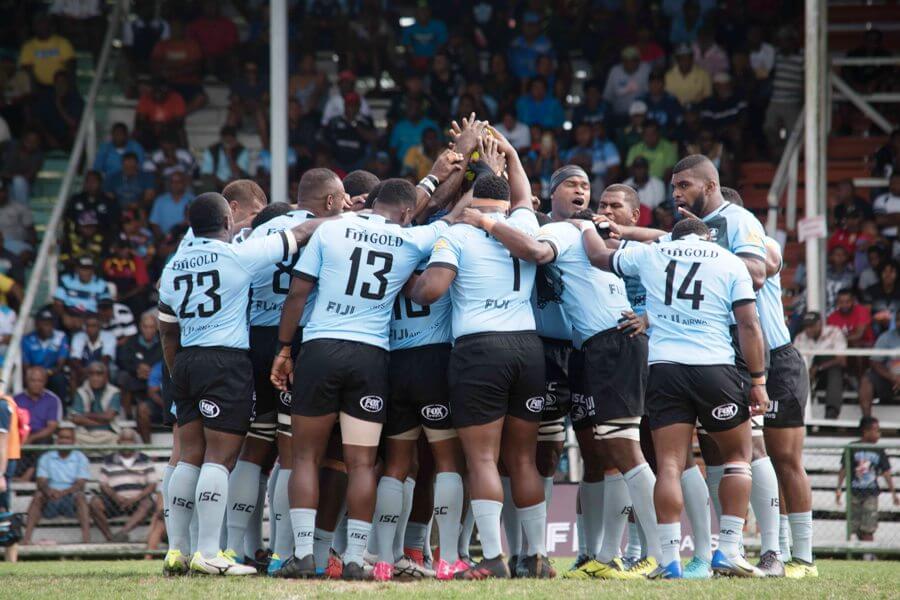 After a first up loss to the Western Force last week, how would Brisbane City react against the Drua, in what is arguably the hardest road trip in the NRC. With only minimal changes to the squad, there was opportunity to build combinations, but ultimately what would the scoreboard say?
The Match:
The first ten minutes were relatively quiet as both sides tried to work their way into the game, a bit of back and forth. There were some warning signs there for City as the Drua threatened. At this point you also sensed that it didn't matter if they were in their own 22, the Drua would still chance their arm.
It was this point that the floodgates opened and there they would remain for the rest of the game. Eremasi Radrodro was the first to get his name on the scoresheet, easy conversion to Waqatubu and it's 7-0.
Just two minutes later the Drua travel two thirds the length of the field and Levani Kurumundu dots down, another easy conversion and all of a sudden it is 14-0 after just 14 minutes.
City already looked shellshocked at this point with little imagination. I know it is a stereotype to the Fijian flair but that is really how the Drua looked to play and it soon paid dividends through livewire half Frank Lomani. Waqatubu must be thanking his tryscorers today with another easy kick, 21-0 after 22.
Once again the Drua go back to back with tries, this time Waqatubu gets the try after a great run from Alivereti Veitokani. 28-0 after 25 minutes after the successful conversion.
If it was anywhere that you thought that City might have an edge it was at the set piece, with the all-Reds front row, and while JP Smith didn't give up all day, the Drua fought them to a draw which really did help set the tone and give the backline the freedom to run it from absolutely everywhere.
City did manage to hold the Drua out until just about halftime, when Kurumundu scored again just to the left of the uprights. Waqatubu could have thrown all these conversions and it is 35-0 at halftime.
You had to wonder what sort of speech Mick Heenan would have given the team at half time, given the game was really as good as over by this point. It was probably about effort, consistency and structure. Sadly for most of the team it was in one ear and out the other as the tries kept raining down.
Lomani got in for his second at 50 minutes and then Cyril Reece capped off another long-range effort on 52 minutes. Waqatubu converted both and it is 49-0. The foot hadn't come off City's throat and it didn't look like it was going to.
When Kurumundu scored his third, capping off a 70m try, I really did start to feel sorry for City. Finally Jayden Ngamanu broke the drought with a try on 66 minutes, it was 56-5 by this point.
Two more long range tries by the Drua were really just to please the crowd, with hard working flanker Moses Voka and also Tevita Naqali getting over.
At this point, referee Jordan Way had seen enough and called time on what was an absolutely convincing 66-5 win.
Brisbane City were outplayed in almost every facet of the game today, in metres gained, offloads and tackle busts, and were pretty much matched at the set piece. Quade Cooper could not get any real momentum and once the game looked over you sensed that he mentally clocked off and couldn't or wouldn't drag the team with him.
Karmichael Hunt looked good with a dozen or so runs and JP Smith would also have come close to leading the team in run metres.
---
THE GAME CHANGER
It really was the case that once the first try was scored, it seemed to be all over. The Drua oozed class and confidence, and the running game they love to play really came up trumps today. This did nothing to change my mind that they will be in the semis.
THE GAGR MOTM
This game threw up a number of Drua players that this could have gone to. Frank Lomani and Alivereti Veitokani could have easily both picked up the gong after monster games. Lomani surely won't be without a contact somewhere other than Fiji at this rate. However, Levani Kurumundu gets it today, 124 run metres, three tries, four tackle busts and three offloads.
RISING STAR WATCH
To fit in with the new award being awarded by the NRC for those with limited Super Rugby (or test in the Drua's case) experience, the brains at GAGR will also be picking their Rising Star in each game. Today in the Drua fullback Apisolome Waqatubu we have a standout contender. A try, 8 from 10 with the boot, and a couple of line breaks and broken tackles showed the potential he has to take the next step.
---
The Details
Fiji Drua: 66
Tries: Levani Kurumudu 3, Frank Lomani 2, Eremasi Radrodro, Apisalome Waqatubu, Cyril Reece, Mosese Voka, Tevita Naqali
Conversions: Apisalome Waqatubu 8/10
Brisbane City: 5
Tries: Jayden Ngamanu
Conversions: Quade Cooper 0/1
Highlights courtesy of Rugby.com.au