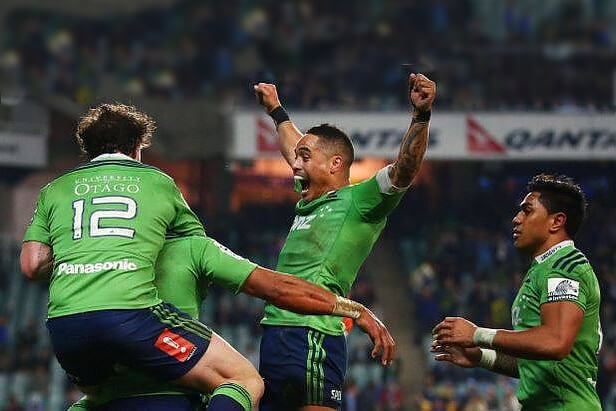 The Highlanders were eliminated in the semi finals last year, but can the 2015 champions return to the winners circle in 2017?
2016 – Pipped at the post
Needing a last-round bonus point win to secure top spot in the New Zealand Conference and overall Super Rugby standings, the Highlanders fell just short, scoring only two of the required three tries more than the Chiefs that day, in winning 25-15.
That resulted in an away quarter-final in Canberra (despite finishing with 52 table points to their hosts 43) which they duly won—and an away semi-final in Johannesburg, which proved a bridge too far and ended their title defence.
---
New Head Coach Tony Brown talking with Waratahs' coach Daryl Gibson last year.
Comings and goings
Otago and Highlanders legend Tony Brown takes over as Head Coach after four seasons assisting Jamie Joseph. Former Hurricanes and Sunwolves coach Mark Hammett is a new assistant coach and there are rumours that he'll be offered the top job, especially as he's now stood down from his Tasman Makos role.
Brown has a remarkably stable squad with 32 of his 38 backing up from last year. However he has lost reserve five-eighth Hayden Parker who tore an ACL in training just weeks after returning from a similar injury he suffered midway through 2016. He's "replaced" by Marty Banks who was supposed to have joined Italian club side Treviso after the Mitre 10 Cup but instead stayed in New Zealand for personal reasons, apparently with Treviso's understanding if not, blessing.
Crowd favourite Richard Buckman, who missed all of 2016 through injury, is back and there are four new signings: prop Siate Tokolahi and halfback Kayne Hammington from the Chiefs, wing Tevita Li from the Blues, and former Australian Schoolboys prop Guy Millar from the Force. Lock/ loose forward Josh Dickson earns a Super Rugby call-up after 22 matches for Otago since 2014.
Ben Smith retains the co-captaincy alongside Maori All Blacks' captain Ash Dixon who takes over from Shane Christie.
The only notable loss is cult-hero Japanese halfback Fumiaki Tanaka who has returned to Japan and linked up with the Sunwolves.
Richard Buckman – returns after missing 2016 Super Rugby with a shoulder injury
---
Highlanders squad
Props: Greg Pleasants-Tate, Daniel Lienert-Brown, Siosuia Halanukonuka, Guy Millar*, Siate Tokolahi*, Aki Seiuli, Craig Millar.
Hookers: Ash Dixon, Liam Coltman.
Locks: Tom Franklin, Joe Wheeler, Alex Ainley, Josh Dickson*, Jackson Hemopo.
Loose forwards: Luke Whitelock, Liam Squire, James Lentjes, Gareth Evans, Dan Pryor, Shane Christie, Elliot Dixon.
Halfbacks: Aaron Smith, Kayne Hammington*, Josh Renton.
First-fives: Lima Sopoaga, Marty Banks, Fletcher Smith.
Midfield backs: Rob Thompson, Patelesio Tomkinson*, Teihorangi Wakden, Richard Buckman**, Matt Faddes, Malakai Fekitoa, Jason Emery.
Outside backs: Tevita Li*, Waisake Naholo, Patrick Osborne, Ben Smith.
*denotes new (**returning) Highlander.
---
Recruit Tevita Li at Brisbane Global Tens
Key players
Aaron Smith had some well-publicised off-field dramas toward the end of last year but remains one of the best halfbacks in the game. His partnership with Lima Sopoaga, widely considered the steadiest five-eighths in New Zealand, was key to the title-winning 2015 side and Tony Brown will be wanting his halves to again unleash the firepower outside them.
The addition of Blues speedster Tevita Li means that either he, Waisake Naholo, or the long-serving Patrick Osborne could be seeing plenty of bench time. Likewise in the midfield where Malakai Fekitoa, Rob Thompson and Matt Faddes will be fighting it out for the two available positions, with Richard Buckman nipping at their heels.
The Highlanders pack will again be one of the smaller eights in the competition but as they've shown in recent seasons, lack of size can be overcome by good technique, high work-rate, and a big heart. Elliott Dixon and Liam Squire earned All Black debuts based on those attributes and locks Alex Ainley and Tom Franklin are the embodiment of "honest toiler".
Best XV: Lienert-Brown, A Dixon, Halanukonuka, Franklin, Ainley, E Dixon, Lentjes, Squire, A Smith, Sopoaga, Li, Fekitoa, Faddes, Naholo, B Smith.
Highlanders forwards – not huge but effective
---
The draw
The Highlanders season breaks down into two neat blocks of seven matches either side of their bye, then one match after the Lions tour. In all they have eight home and seven away matches.
They play the Crusaders (Rd. 2 at home, Rd. 15 away) and Blues (Rd. 3 away, Rd. 7 at home) twice – Chiefs at home in Rd. 1, and Hurricanes away in Rd. 4.
Australian fixtures are the Brumbies away in Rd. 5, Rebels at home in Rd. 6, Force away in Rd. 13 returning from South Africa, Waratahs at home in Rd. 14, and Reds at home in Rd. 17.
All four matches against African Group opposition – Sunwolves and Stormers at home, Bulls and Cheetahs away – are on consecutive weekends immediately after the bye.
---
Ash Dixon after 2015 semi-final in Sydney – will miss start of the season
Pre-season
The Highlanders played two trial matches, losing 33-50 to the Crusaders and beating the Waratahs 50-47 either side of bowing out in the quarter-finals of the Brisbane Global Tens.
Luke Whitelock left the field with an AC joint shoulder injury in the final trial in Sydney. The severity of it has yet to be announced but he will miss the start of the season, as will hooker and co-captain Ash Dixon who injured his back at training.
Joe Wheeler and Richard Buckman, who both played in Japan recently, will also miss the first game at least to get them into Super Rugby shape.
---
Highlanders after winning 2015 final in Wellington – can they do it in 2017?
Prediction
The first block of seven matches is brutal, as is the three-match away trip to South Africa and Perth. Unless they can put together a string of early- and mid-season wins they could easily find themselves in a hole too deep to climb out of.
They're a quality side but I just can't see them doing enough in that first seven weeks to mount a title challenge. Their best hope of making the playoffs is a repeat of last year with no Australian side other than the Conference winner qualifying.
New Zealand Conference – 4th – wildcard quarter finalists