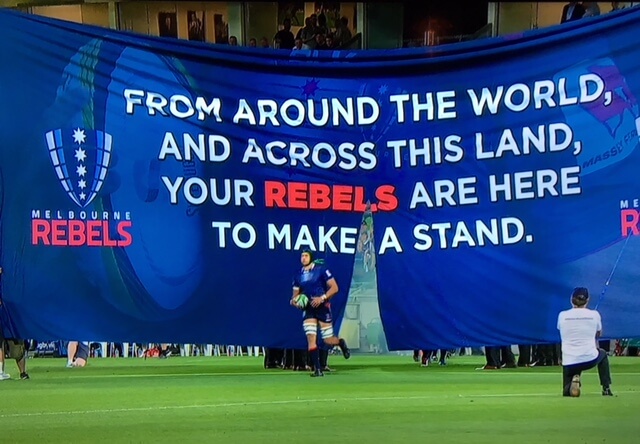 The new Super Rugby season is finally upon us and I for one am getting tingly all over. Will this be the year that the Melbourne Rebels establish themselves among the competition's top sides?
2018, in a nutshell
Just in case you missed last season…
Expectations were high at the beginning of the 2018 year and the team did not disappoint. They started the season with a bang winning four of their first five games with bonus points. The win at home against the Sharks provided a real highlight. For a short time the Rebels actually topped the competition ladder, heady days. As the season progressed however the Rebels began to stutter. A lack of game management and composure at crucial times lead to a number of winnable games slipping away. Nevertheless, a maiden finals appearance remained a possibility until their final round loss to the Highlanders.
The Rebels finished 2018 second in the Australian Conference and ninth overall with a total of seven wins and a points differential of -21. Although there were plenty of "what if?" moments, considering the large player turnover and an all new coaching team the results were reasonable. Hopefully the players and coaches will have learnt some valuable lessons from their disappointment and we will see some real improvement over the course of 2019.
Twelve Rebels will not be returning this year: Tom Moloney, Laurie Weeks (retired), Geoff Parling (retired), Lopeti Timani, Amanaki Mafi, Tayler Adams, Jack Debreczeni, Jack McGregor, David Horwitz, and Henry Hutchison, as well as fan favourites, Colby Fainga'a and Sefa Naivalu. Forwards coach Joe Barakat has opted to return to Sydney and has also left the club.
Finals dreams dashed
Onward and Upward
If anything expectations are even higher for 2019 with several commentators predicting the Rebels to win the conference. Certainly the fans are demanding to go one better than last year and see the team make the finals. The bookies are not so sure, pricing the Rebels to finish behind both the Waratahs and the Brumbies.
The Rebels' backline looks very strong on paper, probably as good as any other team's. It will be interesting to see how quickly and how well the team adjusts to being steered around by Quade Cooper. Plenty will depend on how much time Will Genia spends on the field. The Rebels are a completely different team when Willie G. is on. His combination with Cooper could well be the key to unlocking the undoubted potential among the Rebels backs.
Questions still remain regarding the quality of the front row. A fully fit and in form Jordan Uelese will make a big difference to the set piece but I don't necessarily see this as the massive issue some are making it out to be. No team wants to see their scrum being pushed backwards and giving up penalties but, the scrum doesn't often cost games. Last season the Jaguares had statistically the worst scrum in the competition but made the play offs while the two best scrummaging teams, the Chiefs and the Blues had ordinary seasons. It is more important that the forwards can give you front-foot ball and get over the gain line. The Rebels have some big, ball runners among the locks and back rowers and should be able to compensate.
Some areas where the Rebels need dramatic improvement if they are to compete with the best teams this year:
Game management: too many times last year the Rebels lost their composure and structure when under pressure. Hopefully the experience Cooper will bring to the team will help but new captain, Dane Haylett-Petty and other team leaders need to make better in-game decisions.
Discipline: Last year the Rebels were the most penalised team in the competition and had the equal most number of yellow cards. It is unacceptable for this to continue. In fairness though, Amanaki Mafi was responsible for a large number of those penalties and he is no longer with the club.
Tackle Success: In 2018 the Rebels tackle success rate was also the worst of any team, missing an appalling 18.5% of all tackles.
Attack: The side needs to find its way to the tryline more often. The three conference winners all scored well over 70 trys, the Rebels managed just 57.
Defense: Fixing the discipline issues and improving tackling will go a long way towards improving the leaky defense but the overall structure of the "up and in" defensive line hasn't worked. The Rebels downward spiral seemed to coincide with Nathan Grey's visit last year. Coincidence?
2019 Melbourne Rebels Squad
Recruits
Mees Erasmus, Robbie Abel, and Isi Naisarani (Brumbies), Hugh Roach and Brad Wilkin (Waratahs), Luke Jones (Bordeaux), Quade Cooper (Souths), Campbell Magnay (Suntory) and Matt Toomua* (Leicester Tigers). In addition, young locks Esei Ha'angana and Trevor Hosea have both been promoted to the full squad.
* Matt Toomua will not be available until the conclusion of Premiership Rugby.
Full Squad
Props: Jermaine Ainsley, Ben Daley, Mees Erasmus, Pone Fa'amausili, Tetera Faulkner, Fereti Sa'aga, Sam Talakai
Hookers: Robbie Abel, Anaru Rangi, Hugh Roach, Jordan Uelese
Locks: Adam Coleman, Esei Ha'angana, Trevor Hosea, Sam Jeffries, Luke Jones, Matt Philip
Backrow: Angus Cottrell, Richard Hardwick, Ross Haylett-Petty, Rob Leota, Isi Naisarani, Brad Wilkin
Scrum Halves: Will Genia, Harrison Goddard, Michael Ruru
Fly Halves: Quade Cooper
Centres: Tom English, Reece Hodge, Bill Meakes, Campbell Magnay, Matt Toomua, Sione Tuipulotu
Outside Backs: Dane Haylett-Petty (C), Marika Koroibete, Jack Maddocks, Semisi Tupou
Supplementary Squad: Stu Dunbar (fly half), Matt Gibbon (prop), Ikapote Tupai (loose forward), Tautalatasi Tasi (wing/centre)
Coaches: Dave Wessels, Kevin Foote (defence), Shaun Berne (backs), Geoff Parling (lineout), Nic Henderson (scrum)
My Best 23
1/ Fereti Sa'aga
2/ Jordan Uelese
3/ Sam Talakai
4/ Matt Philip
5/ Adam Coleman
6/ Luke Jones
7/ Angus Cottrell
8/ Isi Naisarani
9/ Will Genia
10/ Quade Cooper
11/ Marika Koroibete
12/ Reece Hodge
13/ Tom English
14/ Jack Maddocks
15/ Dane Haylett-Petty (c)
16/ Anaru Rangi
17/ Tetera Faulkner
18/ Jermaine Ainsley
19/ Sam Jeffries
20/ Richard Hardwick
21/ Bill Meakes
22/ Semisi Tupou
23/ Michael Ruru
I've left out Matt Toomua as he is likely to only be available for a few games at the end of the season. Campbell Magnay may well come into the side but at this point, he is an unknown quantity. I would very much like to see Sione Tuipulotu step up this season and have a good crack in the midfield.
One young player to keep an eye on this year is 21-year-old prop, Pone Fa'amausili. At 1.96m tall and 138kg, he certainly meets the minimum size requirements for a hulking tight head. Some good judges believe he will be in the 23 by season's end.
Melbourne Rebels Schedule
| Round | Date | Team | |
| --- | --- | --- | --- |
| 1 | Fri, 15 Feb, 7:45 pm | Brumbies | Away |
| 2 | BYE | | |
| 3 | Fri, 1 Mar, 7:45 pm | Highlanders | Home |
| 4 | Fri, 8 Mar, 7:45 pm | Brumbies | Home |
| 5 | Sun, 17 Mar, 12:05 am | Lions | Away |
| 6 | Sun, 24 Mar, 2:15 am | Sharks | Away |
| 7 | Sat, 30 Mar, 7:45 pm | Reds | Away |
| 8 | Sat, 6 Apr, 7:45 pm | Sunwolves | Home |
| 9 | Fri, 12 Apr, 7:45 pm | Stormers | Home |
| 10 | Sat, 20 Apr, 7:45 pm | Waratahs | Away |
| 11 | BYE | | |
| 12 | Sat, 4 May, 3:15 pm | Hurricanes | Away |
| 13 | Fri, 10 May, 7:45 pm | Reds | Home |
| 14 | Fri, 17 May, 7:45 pm | Bulls | Home |
| 15 | Sat, 25 May, 3:15 pm | Sunwolves | Away |
| 16 | Fri, 31 May, 7:45 pm | Waratahs | Home |
| 17 | Sat, 8 Jun, 5:35 pm | Crusaders | Away |
| 18 | Fri, 14 Jun, 7:45 pm | Chiefs | Home |
Prediction
Hell, if you can't be full of confidence and optimism at the start of the season then there must be something wrong. I'm tipping the Rebels to win the Australian Conference and go on to make the grand final. Why not?
Seriously though, with this squad and a year's more experience, anything less than a winning season and a finals appearance must be considered a failure. Our time is now.
Please let me know in the comments where you disagree.