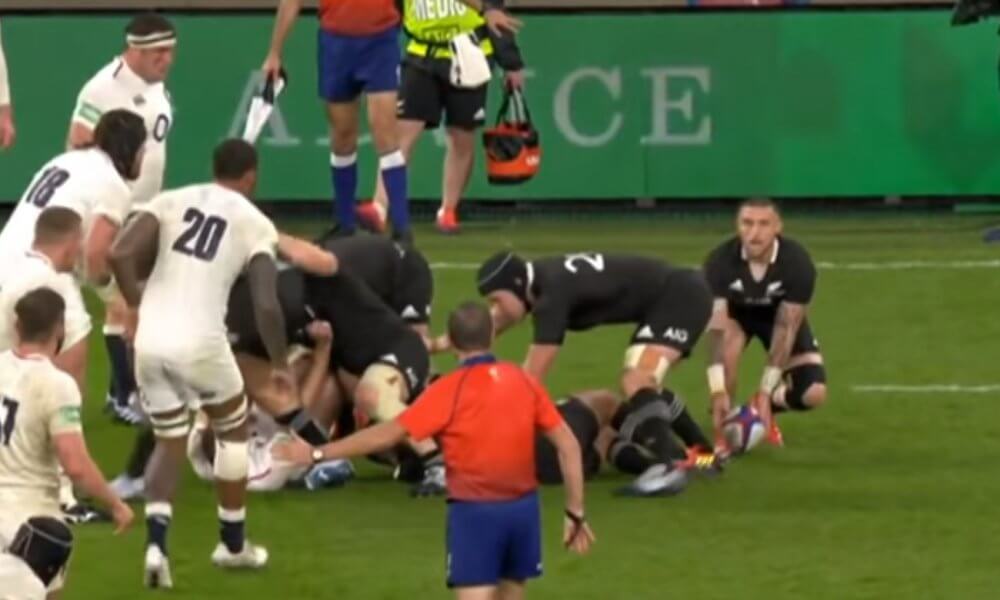 Last weekend's round of November internationals was an amazing showcase of rugby and the Wales-Wallabies game. If you knew anyone doubting the spectacle of test match rugby, you'd sit them down, give them a beer, and instruct them to watch all the games except one.
Let's have a quick recap of the best moments of last weekend (minus the Wallabies, covered here (match report)  here (tuesday top 5) and here (Cheika & Postecoglou)) and then look forward to this weekend's action.
What Happened Last Week
Lawes of the Game – England 15 New Zealand 16
As you can see by the score, England almost beat New Zealand on the weekend. The world has thankfully avoided a thick cloud of smug as a result – just imagine Eddie Jones and the English press if they won!
The game itself was amazing, England managed to make New Zealand look like they couldn't cope in the wet weather (who would have thought the Kiwis would be dry weather bullies?) but in hindsight England's ability to not score for 60 odd minutes – they scored all 15 points in the first 20 minutes – should really compared to the Wallabies' hot starts against the All Blacks in Dunedin.
Watching the game myself, I couldn't help but notice that the All Blacks seem to suffer from having Beauden Barrett and Damian McKenzie starting together as they both want to do their own thing constantly. Also, Ryan Crotty coming on for SBW at about the 20 or 30 minute mark absolutely changed the direction of the game.
A highlight of the game was the 13-man maul:
Anyway, let's get to it – the Courtney Lawes offside.
I can actually feel really aggrieved with the English fans over the controversial offside call. What happens in this is Lawes charges down a clearance kick from an All Blacks ruck on the ABs' 22. There's a bit of funny buggers, and the ball ends up in the hands of flanker Sam Underhill, who races the last 10 metres to score the try that would put the English 4 or 6 points ahead with 5 minutes to go.
However, refereee Jerome Garces pulls it back to look at where Lawes' feet where when he made the chargedown; the try is pulled back as Lawes was offside.
The call is absolutely correct – Lawes is about 30cm in front of the last feet – but it feels as if the call is nitpicky because it's so inconsistently applied.
Credit to Garces, you could tell as soon as the chargedown happened he thought Lawes was offside but let play continue, to then pull it back and check. I'm actually not trying to blame Garces at all – in fact I probably should use this time to praise his strong refereeing here.
The offside line seems so hard to police, and this rushing up business in defence to my eyes works so well because teams have realised it's easy to game the system here. So I'm torn. Absolutely correct call, but hardly ever correctly called.
Here are the match highlights. The Lawes Incident is below
Italy Wins – Italy 28 Georgia 17
Egg is on my face as Italy comfortably saw out Georgia by 11 points. It appears you can;'t achieve world rugby domination with just props.
About 18,000 people turned up to watch the game in Florence, with a sizeable amount of Georgian supporters watching both in Italy and at home – 10,000 rocked up to watch the game on a big screen in Tbilisi.
Watching the game, Georgia really just resembled a crappier Australia in attack. If they could hold on to the ball and make good decisions they could have easily scored 1 or 3 tries in the 10 minutes Italy was down to 14 men.
Hats off to Italy though, they'll be happy with a comfortable win and a temporary end to all this 6 Nations talk.
In addition to the estimated 10000 Georgian fans who were at the match in Florence, a good number turned out for a public watch party in Tbilisi. pic.twitter.com/VV7FuTIZG7

— Tier 2 Rugby (@T2Rugby) November 11, 2018
The Best of the Rest

Ireland saw off Argentina 28-17. in a cagey match for the green team that was only won with 10 points in the last 15 minutes. Argentina's scrum was hampered by the unavailability of their usual props. and it was there that Ireland appeared to do most of their damage. On a plus for Australia, the match referee was our own Nic Berry.
A beautiful sight for scrum enthusiasts everywhere, except Argentina. pic.twitter.com/NWajg0v8Rq — Murray Kinsella (@Murray_Kinsella) November 11, 2018
South Africa pipped France right at the end, 26-29. The match was only won in the 84th minute after Theo Mbonambi barrelled over after a rolling maul. Of particular note is France's new jersey; the white collar is a bit gross but I think the flag on the left shoulder is pretty flash.
Finally, Scotland smashed Fiji 54-17 but only after a very shaky start. Fiji only ended the second half 4 points behind, 21-17, but they soon tired as both of their locks were yellow carded with 5 minutes of each other.
The Rest of the Rest
World Cup Qualifying
Germany and Canada have one hand on the final World Cup spot, with both teams recording wins over Hong Kong (26-9) and Kenya (65-19) respectively. Canada's huge win has given them a try bonus point, so they're leading the round robin table by 1 point.
Other Games
At the same time as the Wallabies game, Samoa and USA played a see-sawing game, the lead changing every 5 minutes, ending in a 30-29 win for the USA. It's the first win for the Americans over an Islander team in 13 games. Tonga beat the French Barbarians 49-38, despite conceding 5 tries in the second half. Brazil lost 35-3 to the Maori All Blacks, but they did win a moral victory with this scrum:
What a HUGE moment this was from the Brazilian scrum. pic.twitter.com/NWzuzqESfY — Tier 2 Rugby (@T2Rugby) November 12, 2018
The Games This Weekend
Wallabies
The Wallabies are down in Italy to uh, play Italy. Really Australia should win this comfortably – nothing else really matters except to get one over England. I think it's easy to say that Australia is this year's Crab Juice team. Remember to check out GAGR for the preview!
Ireland vs New Zealand – Game of the Week
THIS is the big game this weekend. Time for the big boys, best team in the world vs 2nd best team in the world.
Ireland so far haven't played too convincingly, but neither have the All Blacks.
Two big names will be out of action – SBW has succumbed to injury, which means that Ryan Crotty is back in the 12 jersey.  For Ireland, there's a good chance that scrumhalf Conor Murray won't be playing.
Other Big Games
The only other Tier 1 games are Scotland vs South Africa and France vs Argentina.
Meanwhile, England is meeting Eddie Jones' old team Japan at Twickenham, while Wales are playing Tonga. Should expect easy wins for both Tier 1 teams there.
World Cup Qualifying
Germany and Canada are facing off this weekend, with the winner pretty much on their way to Japan to face New Zealand, South Africa, Italy and Namibia. Hong Kong are playing Kenya; whoever loses two in a row will have no chance to get to Japan.
Other Small Games
Georgia is going back home to face Samoa, in what should be a great match.
Uruguay is playing Fiji, Romania is facing the USA, Spain and Namibia is going at it, while the Maori All Blacks continue their holiday in Chile.
Main Fixtures
NSW/Vic/ACT/Tas
SA
Qld
NT
WA
Uruguay
Fiji
12am
1130pm
11pm
1030pm
10pm
Italy
Australia
1am
1230am
12am
1130pm
11pm
Georgia
Samoa
1am
1230am
12am
1130pm
11pm
Wales
Tonga
130am
1am
1230am
12am
1130pm
England
Japan
2am
130am
1am
1230am
12am
Scotland
South Africa
420am
350am
320am
250am
220am
Ireland
New Zealand
6am
530am
5am
430am
4am
France
Argentina
7am
630am
6am
530am
5am