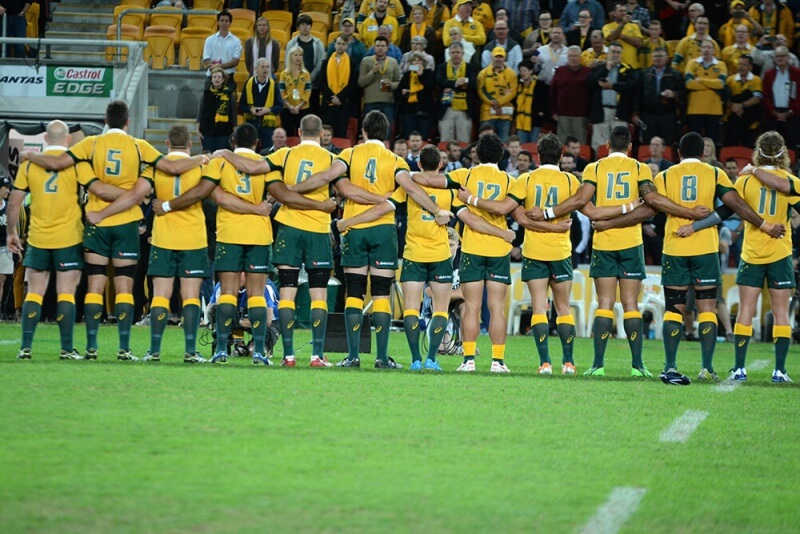 Dear Aussie Rugby "Supporters", Administrators and Media,
I write you this open letter with desperation, but also hope.
Supporters – I don't, as a supporter, we don't, as professional players – understand. We don't know what you want you want.
Last week, the Wallabies turned it on; 7 tries, speed, power and precision. It was an impressive display of the national team wearing gold, yet where were you? Little more than the 30,000 turned out to watch the game in a 50,000 seat stadium. Perhaps you're all frustrated by years past without meaningful trophies, but that should more reason to be turn up, not less.
Supporters, last week the scrum won, the backline won, The Wallabies won and won well. What do you need? Ok, the second game versus France was played in Melbourne, hardly a traditional stronghold in Australian Rugby but 27,000 (allegedly) in a stadium that holds 53,000 is either poor foresight by the head office or poor support. I wish it was only poor foresight deciding to play in front of a half empty stadium; it would be easily fixed with a broom, but it's more than that.
Supporters, I don't, as a supporter nor as a professional player know why you want what you want? If it is only entertainment you want, go to the movies. If it is perfect choreography you want, go to the ballet. But if you want see our Australian 15, the best we have, against the 15 best other countries have then get off the couch and get to a game. Use your voices. I promise you it's a better experience than reading live tweets of the match. We are blessed with good weather in Australia, get out in it.
Australian "Supporters," we have to shoulder the blame. After 7 years in European Rugby, I have discovered what support should be of a team should be, undivided and unwavering. My team never finished higher than 8th but we filled our 33,000 seat stadium in the middle of winter. Why?  We in Sydney seem to hate to travel to Homebush, Moore Park, Rat Park or the corner park as there is too much traffic it's, too far, there's no parking, too many people, too few people; terrible coffee or it's on Foxtel.
The difference between Australia and France was never clearer to me than when watching the semi final of the Top 14. Montpellier v Castres in Lille drew 49.000 people to a Stadium that was 8 hours from Castres and almost 9 hours from Montpellier. The very next day Toulon (9 hours) and Paris Racing (2.20 hours) drew the same number. Travelling times and costs far outweigh anything we are faced with in a capital city in Australia, yet as the saying goes, "where the bloody hell are we?"
Both French semi finals put together drew just under 100,000 people yet there were a total of two tries. The word "entertainment" wouldn't dare to be mentioned, as it would render the effort of the 46 professional players meaningless and ake the losing supporter's tears only as meaningless as those that accompany the movie, The Notebook. I'd never cry (twice) over such tripe.
If a game feels flat in Australia, it's because you the supporters in your token scarves and apathy, let it become so. You stopped caring about what our team did and you started worrying more about how they did it.
Australian Rugby Union, you have your cross to bear here too. If I'm flicking through the channels, it's not the half empty big stadium that will grab my attention, but I'll stop to watch a smaller stadium full of gold. Your small minded loyalty to the big stadiums is killing our game. TV is where the money is, but the money follows the viewers. An empty stadium says to me, this isn't important, click!
Australian Rugby Union I wont' buy a $49 ticket in the worst seats in the stadium, I promise you that. I can't even buy a beer there!  Those same tickets for $12 however? I'll but those and I'll take my wife and our friends too. I promise you I'll provide much more atmosphere for our boys than those empty blue seats behind the posts. My chanting "member are wankers" while young kids try to catch the ball from a conversion will do more for our game than the $37 you didn't make from each overpriced empty seat.
Last night our country's representatives beat France in a tough, hard fought test match. What else do you need you need?  When did how we beat another nations best rugby players, determine our support? Why isn't the fact Wallabies won enough for us? I hate social media, yet I live on twitter. It angers me yet inspires me.  It pretty much was the kick starter for this letter.
What bores you, the Aussie public, about a the fact that a team put such pride in their defense that where last week we there were holes, this week, there was a wall? Such was the French pride. Do we only support a mismatch?  Why does this bore us? If it's easy tries we need and want, go watch the Friday team run, no one tackles our boys, the choreography is near perfect and it's FREE!
Aussie Rugby Media, you too owe us more. No-one is calling for blind patriotic fervor but some amongst you seem bent on bringing the game down. Some amongst you, lets just call you the Grey Goose, haven't reported on a game since about 1992 yet boy o' boy can you tell us about a boardroom scrum. If the game no longer inspires you, then it's time to get out. Is killing it all you have left?
Aussie Rugby Media, some amongst you are a breath of fresh air, let's call you George Rose and the Shamrock Cloud, you're analytical and tell the stories of players, coaches and supporters. Please don't get dragged into thinking we care more about what happens with those in suits, than those in jerseys. This game that basically employs you… it needs you.
We are better than this Australian Rugby… and we have to be.
Cheers
Cameron Treloar
---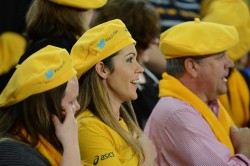 GOLD BRIGADE
If you're within 9 hours of Sydney and haven't yet got a ticket, you need to get to Allianz Stadium on Saturday arvo and support the Wallabies!
Join the Gold Brigade for a tailgating party ahead of the match and pay just $49 for a ticket (sorry Cam).
Go here:  http://bit.ly/1joSaGk
Password: GOWALLABIES
Entry into the Moore Park Tailgate party from midday, wear all the gold you've got.