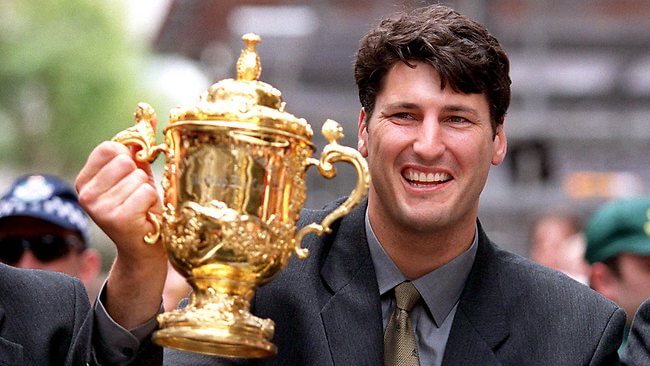 It has been a massive week for Australian Rugby and what better place to take some time out and chat about it all than in our next Green and Gold Rugby Podcast. Before we get stuck into the current news, we kick off with another Rugby World Cup 2015 Podcast with an undoubted legend of Australian Rugby, and indeed the Rugby World Cup itself. He started his career as a rookie lock forward in his first season of test rugby by being a part of the 1991 RWC winning Wallabies. Eight years later he was now the captain of the Wallabies and would lead his team to their second World Cup win. As our first guest to appear in both RWC wins and here to talk about the Wallaby lock stocks, it is the one and only John Eales.
Following on from our Rugby World Cup 2015 Podcast, we have another champion team (or perhaps a team of champions) in Steve, Dave and myself as we discuss all the latest from the last round of Super Rugby as well as Michael Cheika's first Wallaby squad. Of course we have our five burning questions this week, so have a read and let us know your thoughts in the comments section below.
1. Who will be Super Rugby Champions in 2015?
2. Should the QRU just get to the point and fire RG or wait for the review?
3. Biggest omission from the Wallaby squad so far?
4. Luckiest selection of the Wallaby squad?
5. World Rugby have announced laws they want enforced better – including mauls, scrum feeds, high tackles. Are these the biggest areas of contention for rugby at the moment?
Once again we are thrilled to be supported by the Queensland Rugby Union and their upcoming event, the Reds Long Lunch. If you've enjoyed these podcasts and love listening to legends, then this will be a fantastic event for you to get along too. Click the below panel for more details of this not to be missed event.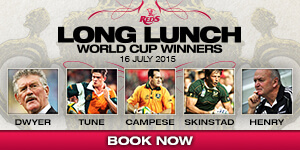 Feature Picture credit Bruce Long Source: The Courier-Mail