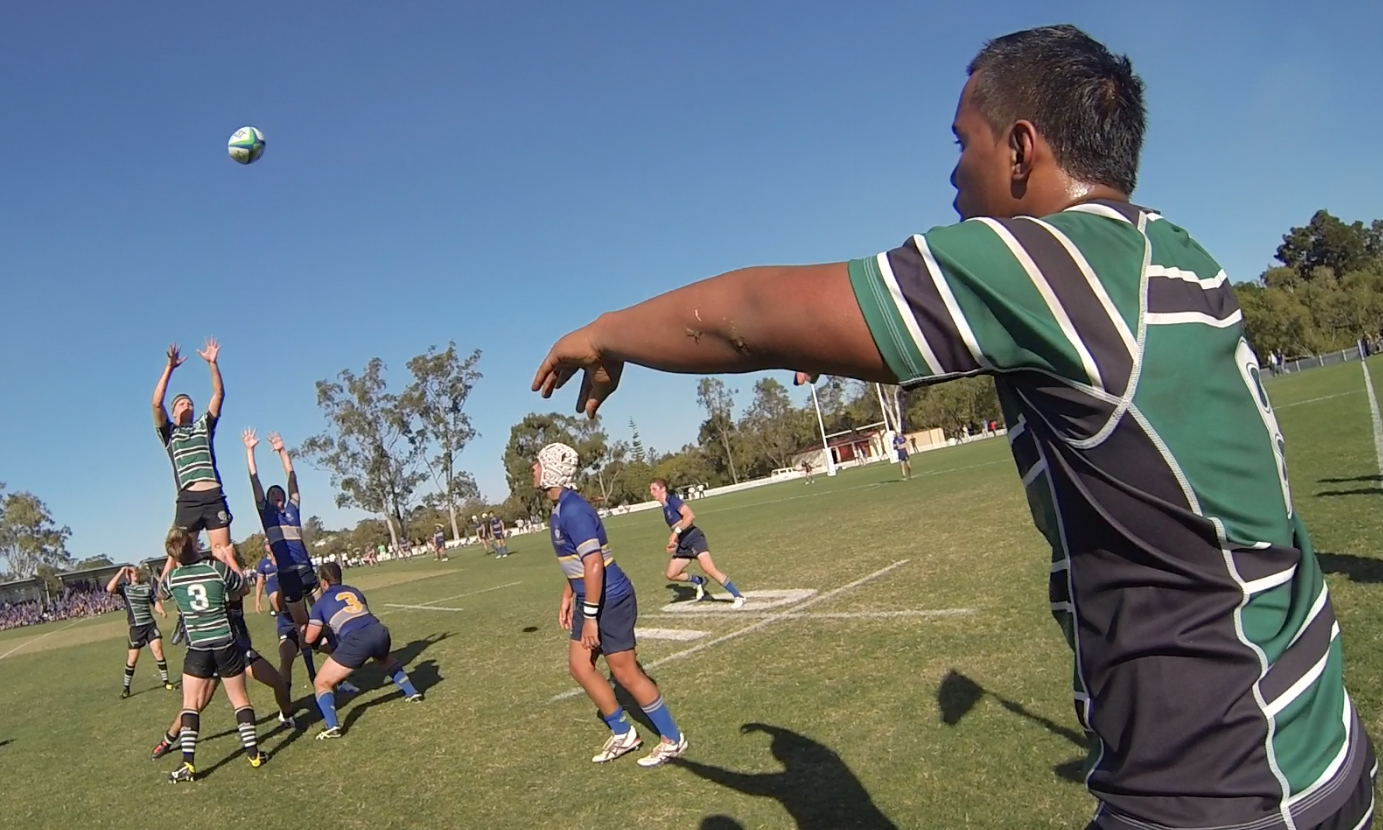 A weekend of match-ups between similar teams promised some cracking games, and delivered they were with spectators the beneficiaries. Six of the eight teams ran up at least 30 points, with TSS close behind on 26 – but that's only half the story.
A strong TSS and a wounded Nudgee College faced off with Nudgee triumphing away from home in a rollercoaster fixture, and Nic Darveniza has posted his in-depth insights here. Meanwhile, Churchie and BBC, Terrace and Toowoomba, and State High and Ippy Gramma all squared off.
After it all settled, BBC found themselves atop the table alongside Nudgee College (dare the men in Toowong begin to dream?), TSS and TGS were withdrawing for some soul-searching – each for different reasons – as the others looked ahead to next week where yet more questions will be asked.
This is surely the best comp in years.
BBC 33 d. Churchie 31
Both sides went into this fixture with two wins and one loss to their names, some good form, and both with high ambition. The game did not disappoint this billing, with a BBC try seconds from full-time sealing an away-from-home victory.
Seven tries in the first half made for a compelling spectacle.
BBC opened their account in the fourth minute, with 12. Nathan Russell ghosting through some soft Churchie defence.
Having been scored against early, it soon appeared though that Churchie may repeat their heroics of the previous week as they hit back with two quick tries in the next seven minutes. In the eighth, 10. Mack Mason put a short ball onto 12. Nigel Tanuvasa's chest, leaving Tanuvasa little more to do than fall over the line. Soon thereafter, Mason put a grubber through out wide and the chance was duly converted.
9. Harry Nucifora opened what was to be a perfect day with the boot, slotting both conversions to take Churchie to 14-7 up with eleven minutes gone.
The crowd were given a dose of déjà vu soon after, with Tanuvasa responding to a BBC try with one of his own, again tearing onto a Mason short ball under the posts. BBC were then however able to lay on two further quick tries, capitalising on some slack Churchie defence on the fringes of the ruck to lead 26-21 at half-time.
Obviously high-scoring, the half had been more about great attack than poor defence. BBC virtually never committed men to Churchie's breakdowns, allowing them great defence around the ruck. This only played to Churchie's strengths though, feeding the ball through the 10/12/13 channel so well manned by Mason, Tanuvasa and 13. Izaia Perese – men who were making great metres with almost every sublime touch.
Though perhaps less pretty, BBC were getting through their work perhaps even more effectively. Churchie too committed few men to BBC's breakdowns, though they did usually have one or two jacklers on the ball, who often proved strong enough to at least slow BBC's ball down (though I didn't notice any out-and-out pilfers or penalties won). Despite this attention to the breakdown, BBC were able to make metres around the ruck, before spinning it wide, where 13. Conrad Quick was proving effective.
With the generally fast service they were given, both sides' flyhalves were playing flat and hard on the line, ripping hard and flat balls to outside and inside runners (there were always players in motion for both sides). Both defences were thus challenged.
The second half was a substantially tighter affair, but without much change to its nature. Both teams maintained their breakdown strategies. Defences merely tightened somewhat, and Churchie began a more territory-orientated gameplan, with Mason unleashing some monster clearances to keep BBC out of attacking range.
After fifteen minutes, Churchie 13. Perese wrestled over his opposite man to score out wide, and ten minutes later Churchie opted for a simple penalty from nearly right in front to push BBC out of penalty range on the scoreboard. Scores thus read 31-26 to Churchie with ten minutes remaining.
Still, neither the tempo nor the gameplans changed, and the clock wound down. BBC asked some questions of Churchie's defence, to generally capable response, and Churchie kept hoofing it downfield. It wasn't until the final minutes that BBC had a chance to build phases.
Working it through the forwards, then spinning it, then keeping it tight again, BBC worked from the halfway to the Churchie tryline in ten or so phases – and then struck. The ever-effective 8. Bronson Talikupa picked and placed – untouched – from a metre out, five metres from the posts. The kick was good.
BBC 33 (tries: Russell, Peterson, Leyland, Palmer, Talikupa, cons: Bowyer 5) def. Churchie 31 (tries: Tanuvasa 2, Mason, Perese, cons: Nucifora 4, pens: Nucifora)
DVDs from this, and all 'A' team matches between Churchie and BBC (plus the 2nd XV), are available for sale here, with all proceeds going to Eightytwenty Vision.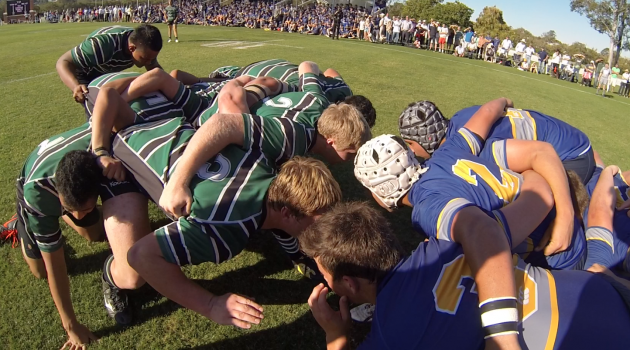 Gregory Terrace 46 d. TGS 15
by Sam Phillips
Gregory Terrace have sent a strong message to the rest of the GPS with a comfortable 46-15 win over Toowoomba Grammar at Tennyson.
A large crowd was present in what was built-up to be a hotly contested battle but the game resulted in anything but.
Terrace came flying out of the gates as they consistently crossed the advantage line with some powerful forward running, creating space for a slick backline. The first points of the match came shortly thereafter from the boot of flyhalf Alex Horan and from the ensuing kick-off Nikau Te Rupe set off on a dazzling run, beating five defenders to score the first try.
Toowoomba were stunned and despite getting a penalty on the board only minutes later, Terrace were dominating them at the breakdown and out wide.
The floodgates opened for the remainder of the second half as both Horan and halfback Angus Fowler created holes in Toowoomba's defense at will. The game was all but over as the teams went into the sheds with Terrace leading 32-3 at half-time.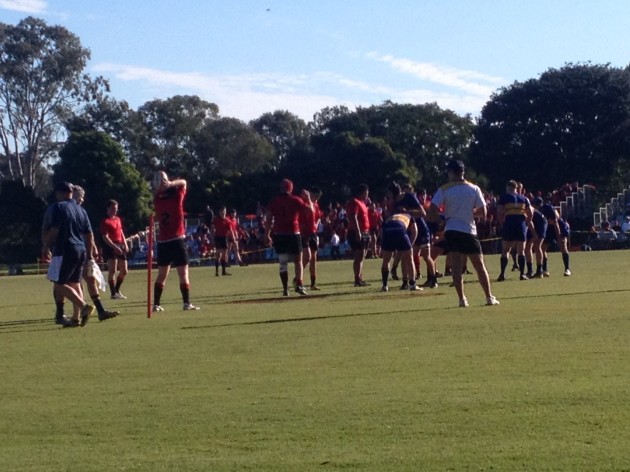 The second half started in similar fashion to the first, this time inside centre Kris Larosa getting on the end of a spectacular try as the ball went through multiple sets of hands. This was then punctuated by a superb cut-out pass from Horan soon after, which put Te Rupe in for his second.
Toowoomba finally seemed to switch on from this point on as the remainder of the match was played in the middle third of the field, neither side threatening the other.
The men from up the range picked up two consolation tries in a solid second half effort but Terrace had switched off when they reached a 40 point buffer.
The final score sat at 46-15 in favour of the home side, a result which the Terrace faithful will be ecstatic to see.
For Toowoomba, a performance which they would like to forget. They were outmuscled up front and outclassed in the backs.
State High 36 d. IGS 31
by Jordan Ayton
Brisbane State High managed to withstand a resurgent Ipswich Grammar late in the second half to walk away victors by a five point margin.
Ipswich scored two converted tries in the last 10 minutes to close the gap to two points, but conceded a penalty, allowing State High fly-half Jake Strachan to slot a 35 metre penalty on the siren to deny the visitors.
Both teams signalled their attacking intent early on, straddling each others tryline in the first five minutes but only Ipswich could convert through front rower Shambeckler Vui who barged over from close range.
Ipswich then received a yellow card and State High capitalised on their numbers when winger Tyrone Southorn streaked down the wing to open their scoring. Ipswich answered back shortly after though, with a damaging run through some weak tackling by centre Ethan Page who offloaded for a supporting Daniel Jennings (lock) to dive over.
They were however then dealt a major blow when captain and Australia A Rep, Landon Hayes (centre) came of injured midway through the first spell.
State High then exposed the make-shift changes in the Ipswich backline forced by the injury when captain Antoine Iosefa split through the 12-13 channel and beat the last defender on the outside to level the scores.
However in a tit-for-tat affair Ipswich took the lead after muscling their way onto the State High Tryline and big number 8 Jamason Fa'anana-Schultz charged over from metres out.
Despite their immense firepower, the Ipswich backs couldn't click in attack and a dropped ball of an attempted set play found its way to Southorn who outpaced the two front rowers infront of him and scored his second under the posts to take back the lead and the scores at State High 19 Ipswich 17 into halftime.
State High managed to weather the attacking onslaught from Ipswich early in the second half thanks to some effective counter rucking and after finding themselves in Ipswich's half, a piece of individual brilliance from winger Serge Panochini, regathering his chip, pushed their lead out to 9 points.
Prop Enoka Kalapu soon barged over for another to State high extending their lead to 16 points.
Ipswich were able to pull one back after Page intercepted a pass and ran 60 metres to give the boys from the West some hope. They built on their momentum when lock Izack Rodda made a galloping run into State High's 22 and a few phases later they were held up over the tryline. Off the ensuing scrum five metre scrum Fa'anana-Schultz barged over to wither State High's lead down to two points at 31-33. 
It was all for nought though, as Ipswich couldn't secure the ball off the kick-off and conceded a penalty 35 metres out, which Strachan slotted, to hand State High the game.
BSHS 36 (tries: Southorn 2, Iosefa, Panochini, Kalapu, cons: Strachan 4, pens: Strachan) IGS 31 (tries: Vui, Jennings, Jamason Fa'anana-Schultz 2, Page, cons: Anderson 3)