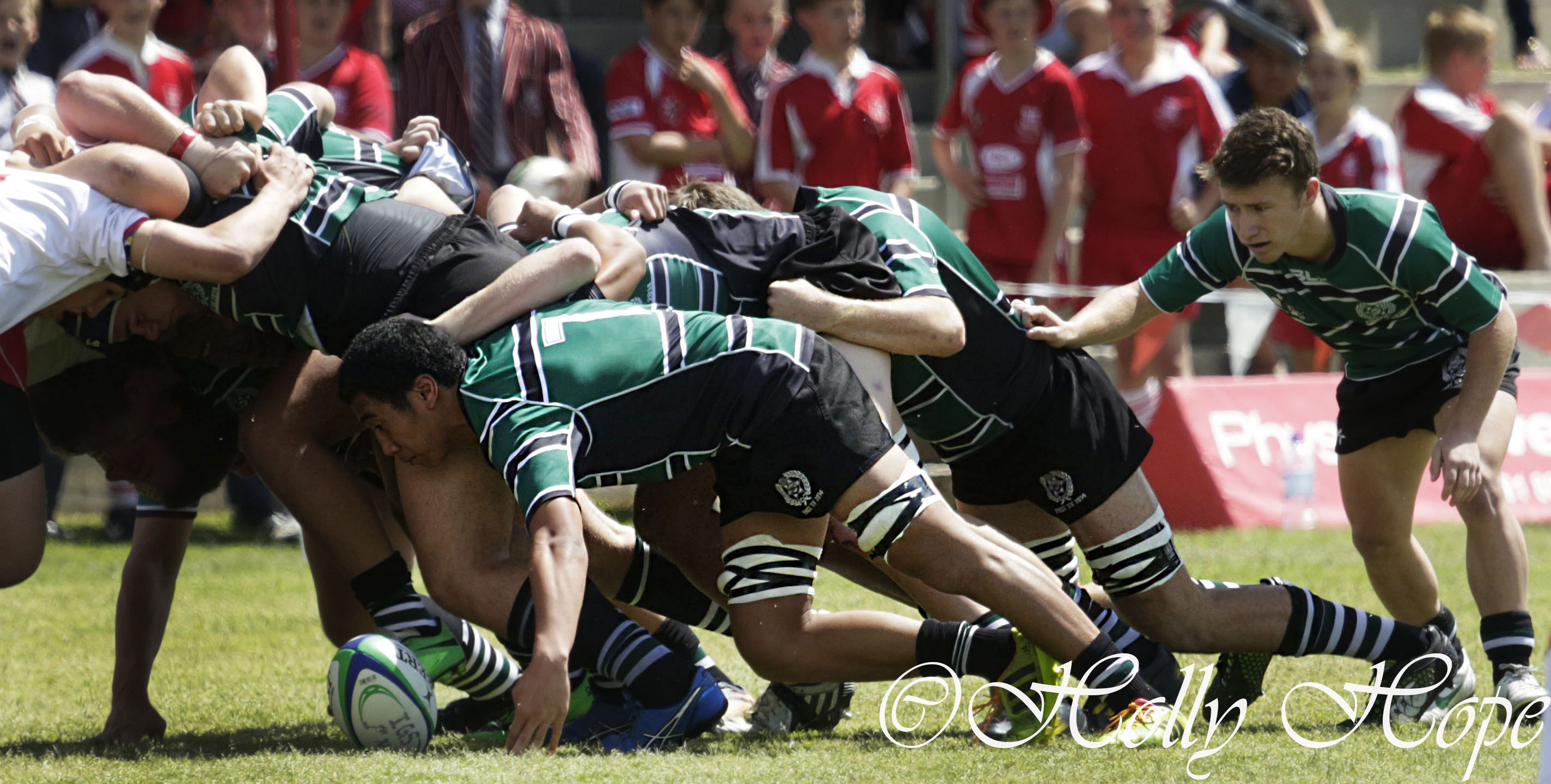 Brisbane Boys College at Ipswich Grammar (64-8)
Nic Darveniza (TheKing)
Before I begin I'd love to take a moment to thank Holly Hope for allowing GAGR use of her photography for this match report. More of her stellar work can be found on her Facebook page at https://www.facebook.com/Hopephotographyandart. 
Receiving the kickoff, BBC went quickly about deconstructing Ipswich's defence. Halfback Max Dempsey quickly identified a mismatch on the right wing, sending his fullback Jayden Ngamu through the line at pace. A deft no look pass to the outside on halfway was good for another dozen metres as BBC's blindside winger Kris Verevis sidestepped the tackle of Ipswich fullback Geoffrey Robertson. With runners racing up in support, a pushed pass went to ground and the opportunity was wasted.
Five minutes in the two sides had faced off in scrummaging several times, with BBC's tight five asserting some dominance over a bigger pack. Though BBC had the upper hand in scrum time, Ipswich were tossing bodies around like rag dolls in defence. Australian Schoolboy lock Izack Rodda was making himself a nightmare for crash ball runners all over the pitch, and Ipswich's League representatives centres weren't to be outdone so easily.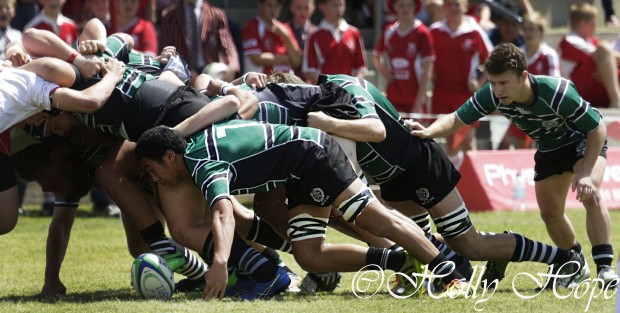 BBC began to run smarter in response to the aggressive defence, with their livewire fullback running elusively amidst diving tackles, and Queensland I Representative Sam Edwards following suit.
BBC's scrummaging earned them the first shot for points through the boot of Max Dempsey, 5 metres out and dead in front, but a comical miss saw the ball shave the outside of the uprights. BBC struck back just a few minutes later through Sam Edwards, breaking a wide tackle and showcasing some fantastic pace to break the line. Stepping inside Robertson at the back, Edwards was wrapped up by chasing inside centre AJ Raeli but found his open winger Len Ikitau on the left touchline with a smooth offload. Dempsey was unable to convert the try from a tight angle.
Ipswich marched their way downfield, stringing together multiple attacking phases inside the 22. Though the runners made a significant impact, the defence was able to bend but not break. Some wild offloading threatened to crack the line, but Ipswich were called back for a penalty. Kicking for the line, Ipswich formed a rolling maul from close range which proved unstoppable, with loose head prop Braeden Schiller earning the pat on the back of his teammates. Raeli was unable to convert, leaving the scores levelled at 5 apiece fifteen minutes in.
With the referee's whistle carrying the Ipswich players up the field it was BBC now firmly under the pump. Ipswich ball carriers were lining up to have their crack at the defensive line, but another penalty from in front of the posts called for the kicking tee. AJ Raeli made up for his previous miss by kicking Ipswich to a 3 point lead with twelve remaining in the half.
The game was scrappy from this point on, with neither side able to build any real pressure. BBC were on top in territory stakes, but little else. BBC blindside flanker Kareem Tuuga was able to pick and drive his way over the line but was unable to place the ball down. The resulting scrum saw the ball played from the base of the scrum to Jayden Ngamanu attacking the left sideline. By accelerating in to the gap between defenders space was created on the outside for wing Len Ikitau to score a simple try, but a not so simple conversion. Max Dempsey's luck with the kicking tee did not improve.
Ipswich won back their kick off, and worked their inside BBC's 22 as halftime approached. Winning a penalty and packing a scrum, a poor hook saw the ball pop out the side for BBC's Captain Christian Malaulau. Scooping the ball up Malaulau went on a long run, finding the sideline and showing some real pace to get to halfway. Brought down in a tackle, the ball was quickly transferred to the opposite wing, going through a half dozen pairs of hands before finding Jayden Ngamanu in a position to run. Throwing a dummy, Ngamanu burst through the line and passed left for Sam Edwards in space. With a straight run to the line Edwards scored BBC's third try of the day, and Dempsey was able to thread the needle from straight in front.
HT score: BBC 17 IGS 8
Ipswich opened the second half with a series of kicks behind the line, relying on their kick chase to put pressure on BBC in the territory stakes. Five minutes in BBC went to clear the ball, Jayden Ngamanu booting a long line drive down past halfway but failing to find touch. Robertson took the ball on the full, jogged forward and performed a lazy switch with wing Jackson Weir. The two clearly weren't on the same page as the ball went to ground. Just one phase later another offload was offered up on the right wing which again went to ground, but this time Ipswich wouldn't get it back. Collegian winger Len Ikitau took it the rest of the distance, breaking a tackle on the way, touching down between the posts to extend the lead to 16 points.
Ipswich were penalised shortly after, and BBC opted to take a quick tap. The ball went right, finding it's way to Queensland lock Dylan Leyland. Bursting through a tackle, Leyland found himself in acres of space forty metres out from the line. With Robertson closing fast, Leyland stepped inside then outside searching for support before finding Kris Verevis on the left, and Ipswich couldn't recover. A big step off his right had the chasers beat,  the change of direction enough for a try between the post, BBC's fifth of the day.
BBC were flexing their running rugby muscles in the second half, seemingly breaking the line at will. Jayden Ngamanu set off an a long run on the right wing, but couldn't beat the defence through footwork. Verevis was racing up in support, but an ambitious offload was knocked on.
With possession returned IGS decided to keep the ball in to stall BBC's momentum. Halfback Harry Parcell threw some beautiful long balls to his hard running team mates and for a period Ipswich's ground and pound physicality made some great inroads to the Collegian defence. However, any loss of possession was punished ruthlessly by their Brisbane guests, booting the ball downfield and plying pressure on the Ipswich back three. One such kick was turned over at close range by flanker duo Kareem Tuuga and Christian Malaulau, setting the scene for lock Dylan Leyland to barge over for another converted try.
Leyland carried the kickoff back to halfway in a huge carry, setting up front foot ball for BBC's backline. A smooth shortball sent Kareem Tuuga charging through the line, supported by Number 8 Tom Davidson. With the terrifying loosie rocketing towards the try line, poor Geoff Robertson was left with nothing to do but watch as Tuuga drew and passed for a try under the posts.
BBC were able to counter ruck Ipswich ball inside their half not long afterwards, and another wide raid yielded points as Sam Edwards broke the line on halfway, setting up Jayden Ngamu for a selfless try.
Another long range strike from BBC yielded even more points as Ngamu threaded Kris Verevis through a hole on the right edge. Brought down in a good tackle (Gee, haven't written that in a while), Verevis popped the ball to Ngamu running a great support line for that man's second try in as many minutes.
Dylan Leyland was yellow carded for a lifting tackle on Ipswich's lock Emanuel Faaleveleve with ten remaining in the half, granting Ipswich an opportunity to sweeten the scoreboard for their Rugby dinner afterwards. The referee's warning had obviously not sunk in, because phases later BBC's lightweight flyhalf Tiaontin Raoren (apologies if I've butchered the name) committed another lifting tackle, flipping Ipswich centre AJ Raeli. A slight ruckus ensued as Raeli's teammates took offence to the lack of discipline in BBC's defence, causing the penalty to reverse against Ipswich. 
5 metres out from their line, BBC quickly tapped and again sent the ball right, leaving Kris Verevis in space. Cut down 30 metres out from his own line, BBC were at it again. The ball was shifted left under pressure, ending up in the hands of Jayden Ngamu. With an airborne goose step Ngamanu beat three defenders and raced away to the try line for another try in a man of the match performance.
Time ran down with no more points for the day, but BBC were unexpectedly 56 point victors, with notable performances from BBC's back three (Ikitau, Ngamanu, Verevis) and outside centre Sam Edwards. From the forwards, Dylan Leyland and Kareem Tuuga were indispensable for the away side. Ipswich's two centres AJ Raeli and Ethan Page were the best on ground for Ipswich in a horrible defensive performance. Halfback Harry Parcell was accurate and fast in his service, and flyhalf Brock Hammond played just about as well as someone could in a 64-8 drubbing.
BBC 64 (Tries: Len Ikitau (3),  Sam Edwards, Kris Verevis, Dylan Leyland, Tom Davidson, Jayden Ngamanu (3), Conversions: Max Dempsey (7/10), Penalties: Max Dempsey (0/1)
IGS 8 (Tries: Braeden Schiller, Conversions: AJ Raeli (0/1), Penalties: AJ Raeli (1/1)