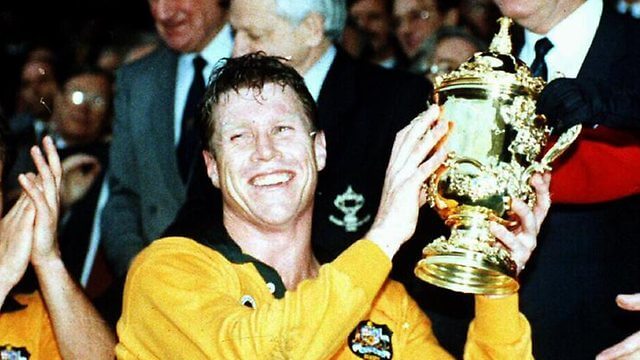 So here we arrive at another Green and Gold Rugby podcast, Episode 176 as it stands. More significantly it is the next in our series of Rugby World Cup 2015 Podcasts featuring Wallaby World Champions and tonight we have the man who you could say started it all. The image of Nick Farr-Jones holding aloft William Web-Ellis, having received it on the steps of Twickenham back in 1991, is such an iconic image in Australian Rugby. It would not be a Rugby World Cup 2015 Podcast series without a chance to chat with the man who first held aloft the World Cup as a Wallaby World Champion.
For all rugby fans, this is a must listen as Farr-Jones takes us through his memories of 1987 (not so good) and 1991 (much better). There are eye-opening discoveries and important learnings. From 1991 we travel to the current day and get Nick's opinions on our chances this year and what his biggest concern is challenging the Wallaby's likelihood of securing a record third crown. As for who he thinks should be the Wallaby scrumhalves on tour? Well that's one for you to find out yourself.
Once Nick departs, the podcast continues with Sully and Steve joining me to discuss Super Rugby and, with an entertaining cameo from Hugh Cavill, discuss the burning questions of the week. We've listed them below, you've listened to our thoughts now time to give yours in the comments below.
Does the Reds' win help or hinder Richard Graham's hopes for reappointment?
What do we make of Naiyaravoro's apparent signing for Glasgow? Is he a money-chasing mercenary or is this his best option for rugby development?
Is it time to do away with the TMO and just back the on-field referee to make the call?
I truly hope you enjoy this listen as much as I enjoyed putting it together. Next week we move into the forwards, where the World Cups are really one, and begin with the backrow. It is sure to be another Rugby World Cup 2015 Podcast not to be missed.