In a few weeks, Michael Cheika will gather a preliminary squad on the Sunshine Coast with a three-phase mission: five "warm up" games; four group matches; World Cup knock-out rounds. Fortunately, a few guys have put their hands up this year and are forcing the coach to have a good hard think about the usual suspects (whose prospects are covered in a second article).
Rumour has it that Cheika's initial squad will be only 35 deep. This is a mistake, as he has never had time to look at a bunch of guys who might make the final group. We don't need to emulate some of the other sides – South Africa has cast a net to no fewer than 85 players, or 17 per Super Rugby team(!) – but 35 is too few.
These guys all need to be in the conversation – the potential Wallabies rookies and bolters.
Paul Alo-Emile
Saturday's match said it all. The Bulls aren't just a good scrumming team; they epitomise an entire culture of it that extends right down to worshipping promising schoolboy props. And yet the Rebels – a team with effectively five backrowers and completely unheralded for their scrum prowess – were unmovable at scrum time, and scored two tries directly off scrum ball. This tells you two things: first, the Rebels organisation has a boatload of confidence in Alo-Emile's ability to lock down the scrum; second, that he can meet those expectations in practice. Not the finished article, but damn good.
Beyond the scrum, Alo-Emile offers a surprising amount in the loose and is deceptively mobile, particularly East-West, which helps in plugging holes in the defensive alignment. Huge potential – and at a time when Ben Alexander's abilities are in inexorable decline. Australian fans should be as worried about losing this guy to France as they are about Quade Cooper.
Adam Coleman
I'll admit it, I'm a paid up member of the fan club. In any normal year, Coleman wouldn't be in the picture. But Australian rugby has developed a real allergy towards out-and-out locks. The Rebels have played without even one for most of the season; the Waratahs aren't far behind.
Coleman is raw. But he has a very high work rate in and around the ruck, and combines that with real physicality (wouldn't know it to look at him, but he's half Tongan). Unlike, say, Will Skelton or Sam Carter, despite his height, he leads with textbook technique, getting hips and knees low to the ground and using the quads to drive the shoulder forward. Which means when he hits someone they stay hit. (Insert video from 78th minute Force v Bulls, Pretoria)
It also won't have passed Cheika by that he's a tall unit. 2.04 metres (almost 6'9" in the old language) might not sound that much bigger than usual. But this season has shown that even when opposition jumpers knows exactly where the ball is going, Coleman's height and reach means he is invariably taking the ball just a bit higher than they can get to. An ability not to be sniffed at in a squad that will likely include Will Skelton and in which other potential locks are well under the 2 metre barrier (see Timani, Lopeti).
Coleman would be the very definition of a bolter, but the reality is that the lock cupboard is bare. Whoever is picked will be a gamble in some way, shape, or form.
Greg Holmes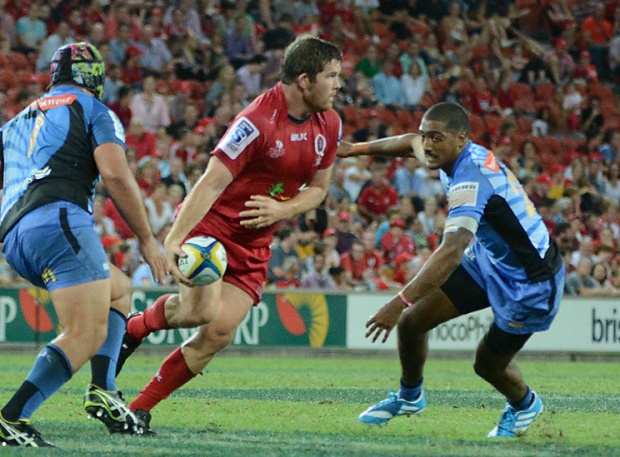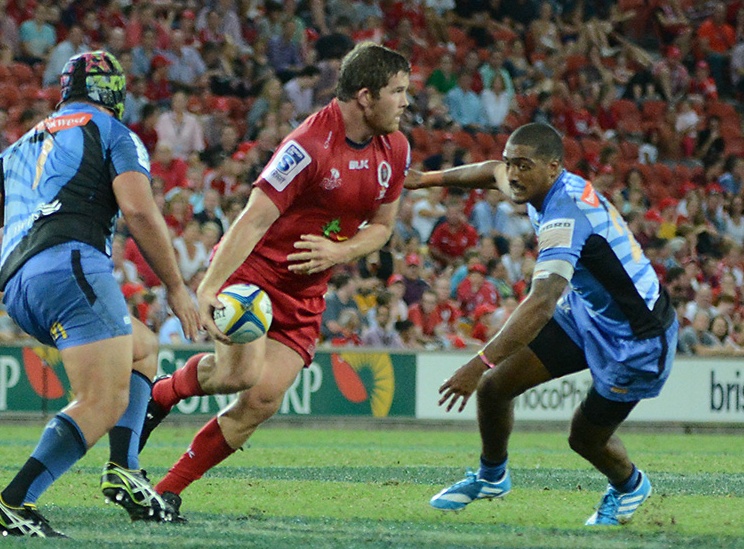 Ok, so he's not a rookie. And I'd say he's not a bolter either: he's all but a certainty for the squad.
Holmes has had a great year. He's been the rock on which the Reds scrum is built, a scrum that has exerted major pressure on most teams they've faced this year. The Wallabies need that and need it badly; this is a northern hemisphere World Cup to be played mostly in late autumn in the UK. You have to win the contact, you have to kick your goals… and you have to love the scrum.
Having last played for the Wallabies in 2010, this is the feel good story of the squad. Welcome back, Greg.
Lopeti Timani
One thing is clear: he's a much better player than his brother. More mobile, packs a bigger punch, higher work rate, and quietly goes about his business without much fuss. Just the sort of guy the Tahs would like to bring back to replace the departing Cliffy Palu.
That said, it would be a real stretch to pick him at lock. At 1.93, he'd give up a lot to opposition locks; shave that afro and he's only a touch taller than Mitch Inman. No, Timani's future is clearly as an abrasive, hardworking 6 or 8 and that's where he might fit into this squad too.
There's a spot in the final squad for a back-up to Scott Fardy and Timani might fancy his chances up against Scott McMahon, Luke Jones, Dave Dennis, and Angus Cottrell. Big future.
Ita Vaea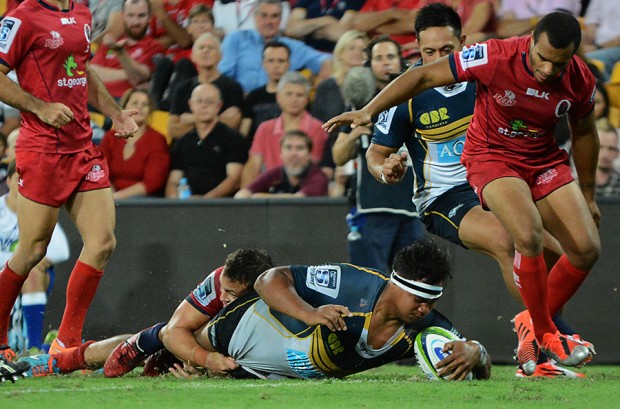 Whenever Vaea gets some press, all anyone can talk about is how on earth a guy with a hole in his heart ended up making it as a professional rugby player. Fair enough.
But Ita has put together a whole season this year and there's a lot to like. Like many an Islander 8, he hits hard in attack and defence. But he is also surprisingly mobile, uses his good hands to link with the backs, and has good fitness levels. Whenever G&GR have compiled ruck stats on Brumbies games, he's been right at the top – and often the numbers show him hitting even more rucks in the second half than the first. The problem is that his low centre of gravity make him a non-entity at lineout time, which might be a big con in a team with Will Skelton.
But the bottom line is this: except in the lineout, Ita Vaea is doing everything Wycliff Palu did on his best day four years ago – and can do it for 80 minutes (which Cliffy, if he ever could, certainly can't now).
Samu Kerevi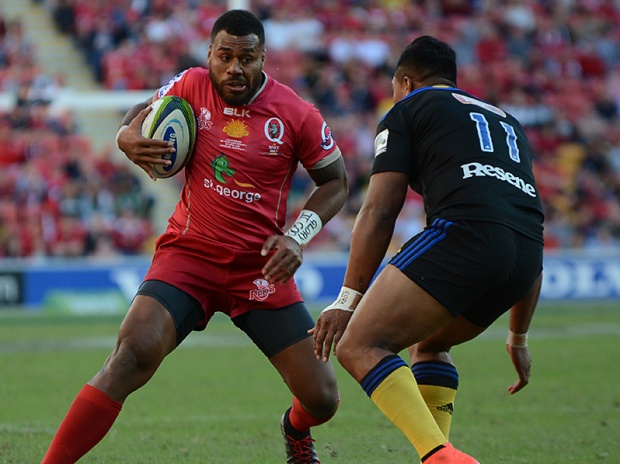 Samu Kerevi never looks like he's moving very fast. Or maybe it's just that when he has the ball you just can't look past how defenders – good ones – simply cannot tackle him. His wide hips and good balance just let him power through tacklers, especially in the red zone. No wonder Queensland fans, starved of much good news this year, have been talking him up.
The rest of his game isn't there yet, however. Plus, there's no reason to take much of a risk here: odds are that the Wallabies will rely on a host of decent options in the playmaking 12 slot (Matt Toomua, Matt Giteau, Christian Lealiifano, or the other bloke) and a straight-running 13 (Tevita Kuridrani, with Adam Ashley-Cooper as a somewhat different type of back-up). Kerevi probably can't turn fast enough – at this point in his career – to be a test level 13. That should be the end of the conversation for now, but Kerevi offers a lot beyond this World Cup.
Luke Jones
Jones was once Australian rugby's star of the future. Signed by the Force while still in high school. He's now 24 and would have been eyeing up this Cup for a while.
And if you're married to the stats, he's a lock (no pun intended). Jones is Mr Work Rate, racking up plenty of runs, rucks, and tackles for 80 minutes every week; he's a great team player. He also offers a useful lineout option (he is 1.97 metres tall, for the record). Sounds a lot like what you want from your 6 – and that's exactly what Jones is. Yet he's been put into the second row time and time again.
The other problem is aggression. Jones has never really shown an ability to physically dominate at Super Rugby level; little reason to think he will do so at test level right now.
Taqele Naiyaravoro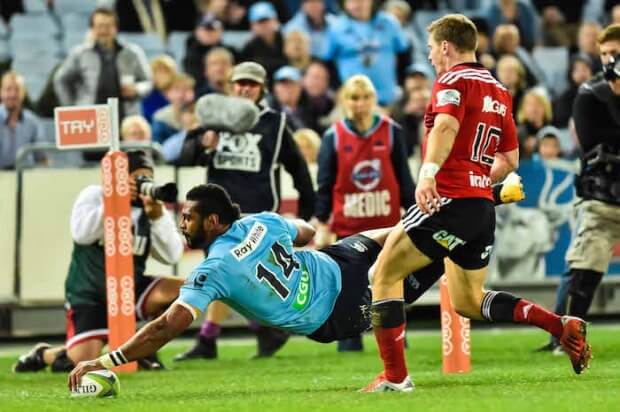 All the buzz at the moment is about Mr T.
Pros: he busts tackles for fun. Any coach would like the idea of a big winger who attracts attention and makes guys miss tackles like he does.
Cons: many. His ball security is poor. His defensive nous is very under-developed. He can't pass. And, as he showed when getting a crucial yellow card earlier in the year for batting the ball dead, he doesn't quite know all the rules.
Back from fantasy to reality: if Mr T plays at the World Cup, it's just a matter of time before opposition teams exploit one of these weaknesses. I can't see him on the plane.
Thoughts on a postcard.