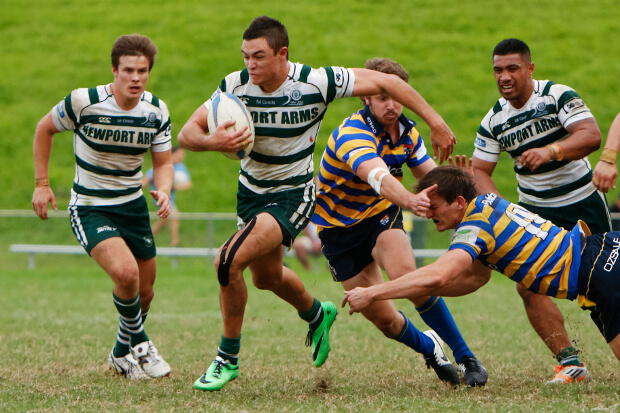 Here's all the results from the weekend's action from the Shute Shield.
Eastern Suburbs v Northern Suburbs
Woollahra Oval
Norths 31 (M McGrath, J Kay, R Woolf tries; J Kay 2 goals, J Kay 4 penalty goals) beat Easts 10 (Lance try; Lance goal, Lance penalty goal)
Eastwood v. Parramatta
T. G. Millner Field
Eastwood 41 ( J Neale, H Perrett, B Coady, B Curtis, A Delmorrow tries; B Batger 2 goals, B Batger 4 penalty goals) def Parramatta 3 (T Woods penalty goal)
Manly v. Gordon
Manly Oval
Manly 22 (D Porecki, R Hooper, BJ Hartmann tries; S Lane 2 goals, R Hodge penalty goal) def Gordon 13 (M Preston try; T Preston goal, T Preston 2 penalty goals)
Penrith v. Randwick
Nepean Rugby Park
Randwick 31 (M Baldwin 2, A Falealii, A Kellaway, O Kamp, tries; A Deegan 3 goals) Penrith 15 (M Nelson, S Fifita tries ; P Makasini goal, P Makasini penalty goal)
Southern Districts v. Sydney University
Forshaw Rugby Park
Sydney University 40 beat Southern Districts 24
Warringah v West Harbour – MATCH OF THE ROUND
Pittwater Rugby Park – 2.00pm
Warringah 31 (M Adams 2, J Holmes, T Davis tries; H Angus 2 goals, H Angus 4 penalty goals) beat West Harbour 26 (H Seavula, K Kapene-Belcher tries; K Kapene-Belcher 2 goals, K Kapene-Belcher 4 penalty goals)
Round 5 of the 2015 Intrust Super Shute Competition ended with a windy and entertaining affair that saw the Warringah Rats grab a crucial win at home against the West Harbour Pirates.
Although both teams have spent the beginning of the season at the bottom of the table, they spent Sunday afternoon putting on a show for the fans at Rat Park.
The end score of 31-26 didn't properly reflect the exciting nature of the game, with teams evenly matched throughout the contest until Warringah managed to pull away late, scoring 10 points in the final 12 minutes, despite being a man down.
It took just a minute for the scoring to begin, with Warringah getting on the scoreboard early through a penalty goal from Hamish Angus. West Harbour quickly replied with a try in the sixth minute from fullback Kiwi Kapene-Belcher who also added the extras, making the score 7-3 after eight minutes.
Warringah let a chance for points go when winger Harry Jones made a break down the sideline and linked up with hooker Luke Holmes only to see his pass get dropped before Holmes reached the goal line. Warringah's discipline let them down in the first half, while West Harbour used those penalties to get on the board, with a tap jut five metres out from Warringah's line by West Harbour inside centre Henry Seavula led to the big man scoring a much needed try for the Pirates.
Harbour went into the sheds at halftime with a 20-15 lead, however, things changed in the second half. Warringah managed to outscore West Harbour 16-6 in the pivotal second half, despite being a man down for the final 20 minutes. Harbour led 26-21 late but Warringah kicked back in the 68th minute with a converted try that put them up 28-26 with just 10 minutes left to play. Hamish Angus then knocked over another penalty goal that produced the final scoreline.
The Northern Beaches ANZAC parade was held on Sunday and ended at Rat Park at 12pm, just two hours before kickoff in what was a significant event to mark the upcoming ANZAC Day.
Guests including Prime Minister Tony Abbott, NSW Premier Mike Baird and Governor General Hon Sir Peter Cosgrove were invited the parade, and were present when an Army helicopter departed from the centre of Rat Park to mark the kick off of the game.