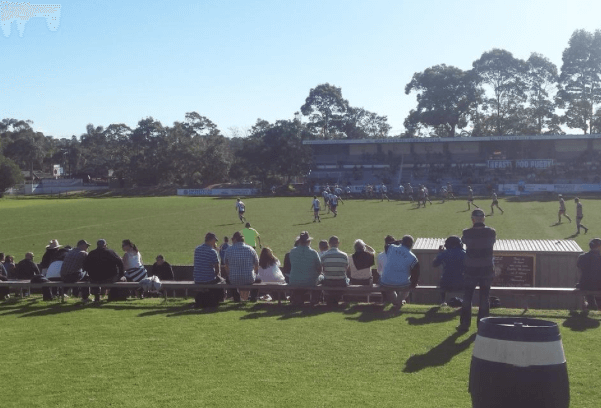 This weekend's results from the Shute Shield saw wins for Eastwood, Manly, Southern Districts, Gordon, Warringah and West Harbour.
Full results below:
Eastwood v. Sydney University – Match of the Round
T.G. Millner Field
7TWO TV Match – 3.00pm
Referee: Graham Cooper (WA)
Assistant Referees: Nick Hannon, Alex Richards
Eastwood 34 (T Pearce, M Snowden, J Grant, B Shurner, B Batger tries; 3 goals B Batger, 1 penalty B Batger) beat Sydney University 29 (D Hickey 2, T Carter, M O'Dare tries; 3 goals B Hodge, 1 penalty goal B Hodge)
Competition leaders Eastwood faced off against Sydney University in a star studded affair at T.G Millner, which finished with Eastwood getting a five-point victory over the Students winning 34-29.
The play on the field was sensational, with stand out performances from University captain David Hickey and inside centre Tom Carter and Eastwood winger John Grant was involved in everything while fullback Ben Batger was at his consistent best.
A tight but scoreless final nine minutes was highlighted by Eastwood's unbreakable defence that held off the Students last-ditch effort.
The scoring began quickly with University captain flanker David Hickey being put over the try line after a great ball from fly half Stuart Dunbar. Second rower Byron Hodge converted, giving Uni a 7-0 lead after just two minutes.
University outside centre Tom Carter showed his quick wit by catching the Eastwood defence off guard with a quick tap from the five-metre line, and went over for the try. University led 14-0 at the nine-minute mark.
Wood's finally got on the board at the 13 minute mark with a nice rolling maul dragging in the Uni defence, giving Woods' winger Ben Shorter enough space to get the ball down right on the sideline. Fullback Ben Batger missed the conversion.
Eastwood again got the scoreboard after fullback Ben Batger intercepted a Stuart Dunbar pass and ran the field to score the try. He added the extras and Uni lead 14-12 at the 20-minute mark.
The Woods continued their scoring barrage, grabbing the lead after a nice play by inside centre Michael McDougall saw winger John Grant pick up a try. The conversion was successful and Woods led 19-14.
University were robbed of a almost certain try after referee Graham Cooper ruled second rower Liam Winton had knocked it on over the line, however Uni captain David Hickey made up for it by rumbling through the Eastwood defence and going over for his second try of the day, just minutes away from half time.
Eastwood went into the half time sheds with a 22-21 lead after Ben Batger knocked over a penalty seconds before the half time whistle.
The scoring slowed down once the second half began. Uni regained the lead after David Hickey earned his side a penalty that Byron Hodge knocked over for three points and a 24-22 lead.
Uni lost the lead just five minutes later when a nice run down the sideline by winger John Grant saw halfback Mick Snowden finish the run of play by putting the ball down under the posts. Ben Batger converted and Eastwood led 29-24 heading into the final 20 minutes.
Woods extended their lead when hooker Todd Pearce went over with 14 minutes remaining, pushing their lead out to 10.
University quickly answered back with a quick try following a cross-field kick from Stuart Dunbar to winger Mark O'Dare. Byron Hodge failed to add the extras and Eastwood still have a five-point lead with nine minutes remaining.
Eastwood managed to hold on in the last few minutes and came away with the win. The Woods' now prepare for a showdown with second place Manly on the road next week while Sydney University head to Concord Oval to take on West Harbour.
Randwick v. Manly
Coogee Oval
3.00pm
Referee: Michael Hogan
Manly 34 (Porecki, Yarrington, Hartmann, Lewis tries) beat Randwick 3
Southern Districts v. Northern Suburbs
Forshaw Rugby Park
3.00pm
Referee: Dominic McCarthy
Southern Districts 32 (S Maumalanga, M Carbone, L Smart, A Latunipulu, R Williams tries; 2 goals B Volavola 1 penalty goal B Volavola) beat Northern Suburbs 31 (2 W Miller, 2 R Woolf tries; 4 goals J Kay, 1 penalty J Kay)
Parramatta v. Gordon
Merrylands RSL Rugby Park
3.00pm
Referee: Ian Smith
Gordon 28 (M Johnson 2, M Preston, M McDougall tries; 4 goals T preston) beat Parramatta 25 (L Taituave, C Nay, T Woods tries; 2 goals T Woods, 1 penalty goal T Woods, 1 drop goal T Woods)
Warringah v. Penrith
Pittwater Rugby Park
3.00pm
Referee: Richard Goswell
Warringah 86 (R Kelly, L Holmes, S Ward, J Holmes 4, J Gillard, M Adams 3, D Feltscheer, H McBride tries; 6 goals H Angus, 3 goals J Forbes, 1 penalty goal H Angus) beat Penrith 3 (1 penalty P Makasini)
Eastern Suburbs v. West Harbour
Woollahra Oval
3.00pm
Referee: Jamie McGregor
West Harbour 21 (D Lolohea, H Seavula tries; 1 goal A Le Lievre, 3 Penalty Goals A Le Lievre) beat Eastern Suburbs 15 (W Patterson, W Fay, J Maddocks)
Lead image via Twitter/Sydney Uni