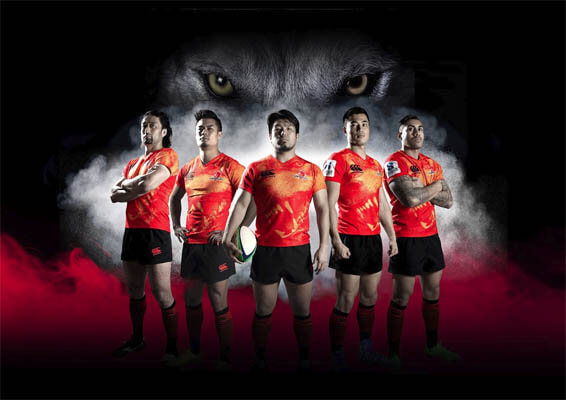 A new year, a new slogan. Last year the Sunwolves went all out to "Break the Line". This year they are encouraging fans to "Rise as One"
The Sunwolves go into the 2017 Super Rugby season looking to improve on their 1 win and 1 draw from last season. With a tougher draw than last year having to play the Kiwi teams, it will be an even bigger ask this year to improve their record.
The Squad
The Sunwolves have named a larger squad than last year, with 51 players on the roster compared to 42 last year. Of those 51 players, 30 are new to the Sunwolves, so continuity will be an issue for them this year.
But some of the new names they have recruited are fairly impressive; Willie Britz (from the Cheetahs), Fumiaki Tanaka (from the Highlanders) and Sam Wykes (from the Force) could all play a big part this season. They have the talent, that's for sure. Of the Japanese players named in the squad, 21 earned caps for the Brave Blossoms during last year's international test series.
There has been a changing of the guard at the Sunwolves this year, with a new coach and new captains. Last year's assistant coach (in charge of the forwards) and former All Black Filo Tiatia has taken the reigns. Ed Quirk and fly-half Harumichi Tatekawa (who spent a season with the Brumbies in 2014) have been named captains.
2017 Sunwolves Squad:
PROP

Takuma Asahara
Kohei Asahori
Keita Inagaki
Heiichiro Ito
Koo Ji-won
Masataka Mikami
Yasuo Yamaji
Koki Yamamoto

HOOKER

Takeshi Hino
Shota Horie
Takeshi Kizu
Yusuke Niwai

LOCK

Kyosuke Kajikawa
Naohiro Kotaki
Shinya Makabe
Liaki Moli
Hitoshi Ono
Kazuhiko Usami
Sam Wykes

FLANKER

Willie Britz
Uwe Helu
Shokei Kin
Shunsuke Nunomaki
Ed Quirk

NUMBER 8

Malgene Ilaua
Shuhei Matsuhashi
Yuhimaru Mimura
Yoshitaka Tokunaga
Rahboni Warren-Vosayaco

SCRUM HALF

Takahiro Ogawa
Kaito Shigeno
Fumiaki Tanaka
Keisuke Uchida
Yuki Yatomi

FLY HALF

Hayden Cripps
Jumpei Ogura
Hikaru Tamura
Harumichi Tatekawa

CENTRE

Michael Bond
Derek Carpenter
Timothy Lafaele
Yu Tamura
Will Tupou

WING

Shota Emi
Kenki Fukuoka
Teruya Goto
Ataata Moeakiola
Takaaki Nakazuru

FULL BACK

Kotaro Matsushima
Yasutaka Sasakura
Riaan Viljoen
**names in bold are new to the Sunwolves in 2017
The Draw
In what is an insanely tough draw for the Sunwolves, their home games are split between Singapore and Tokyo, with three games in Singapore and four in Tokyo. This means that they are effectively travelling every week which is a big ask, with no back to back home games being played in either of their two "home" countries. From the outset, this puts them at a disadvantage. Looking at the first 5 rounds, once they leave Tokyo after round 1, they will not return until the bye in round 6.
This year the Sunwolves face the daunting task of playing all of the New Zealand teams, which they avoided last year. They could not really ask for a tougher opening round, taking on last year's Champions, the Hurricanes, in Tokyo. Probably the toughest part of their season will be the block in between their bye's. After taking on the Bulls at home, they have a killer road trip to NZ where they will face the Crusaders, Highlanders and Chiefs, before a long flight to Buenos Aires to take on the Jaguares.
It was reported in October last year that the huge amount of travel that the Sunwolves have to do was a factor in making players reluctant to sign for the club, and having to play half of their home games to Singapore is a big part of this.
Some travel facts:
The Sunwolves will fly well over 100,000 km this season with matches in South Africa, Argentina, New Zealand and Singapore.
They have home games in Tokyo and Singapore, approximately 5,312 km apart.
They will travel nearly twice as many kms as any other Super Rugby Team.
The circumference of the Earth is 40,075 km which gives a good measure of the distance they will be travelling.
Sunwolves draw:
Round 1 Hurricanes (Tokyo)
Round 2 Kings (Singapore)
Round 3 Cheetahs (Bloemfontein)
Round 4 Bulls (Pretoria)
Round 5 Stormers (Singapore)
Round 6 BYE
Round 7 Bulls (Tokyo)
Round 8 Crusaders (Christchurch)
Round 9 Highlanders (Invercargill)
Round 10 Chiefs (Hamilton)
Round 11 Jaguares (Buenos Aires)
Round 12 BYE
Round 13 Sharks (Singapore)
Round 14 Cheetahs (Tokyo)
Round 15 Lions (Johannesburg)
Round 16 Stormers (Cape Town)
Round 17 Blues (Tokyo)
Preseason
The Sunwolves only have a very short amount of time pre-season to prepare for the start of the Super Rugby competition. Due to the timing of the national competition, the Japanese Top League, which only wrapped up on January 29th, the team came together for their first training just over 3 weeks before their opening game. While most clubs have been at it since before Christmas, this is another huge disadvantage for the Sunwolves. But on the positive news front, the Top League is set to change format for the 2017/18 season, starting earlier and finishing 2 weeks earlier.
The Sunwolves have only had 1 preseason hit out against the Top League All Stars on Saturday 18th February in what was promoted as the Japan Rugby Dream match. From all reports the Sunwolves, despite winning the match 24-12, looked rusty and under prepared, and far from threatening for the rest of the Super Rugby teams. Coach Filo Tiatia told the press that he had identified a number of things to work on as a result of the match. It sounds like they will have a busy week in Tokyo ahead of their season opener against the Hurricanes on Saturday.
Prediction
Sad to say I think the Wooden Spoon is theirs to lose this year. I believe that the short lead in, large player turnover, travel and tough draw will just be too much for them. They should be able to pick up a win against the Kings in Singapore and possibly the Jaguares, however that match is at the end of a really tough trip to New Zealand.
Predicted position – 18th