Thursday's Rugby News sees Cooper being content, Holland being ruled out, Hunt not being required and the Junior Wallabies getting ready to go.
---
Content Cooper
After Brad Thorn decided that Quade Cooper was no longer required by the Reds this year, he sent him down to become the expensive club player in… probably the world?
You'd think that a decision like this would have pissed off any player, but Cooper admitted that he's actually pretty chill, and is hopeful that he can earn back a starting position in the Reds squad.
"I'm very happy where I am," Cooper said yesterday. 
"I signed a three year contract.
"When you sign a three year contract, that's showing your cards as it is.
"I want to be here for three years, I want to enjoy my time here and I get the opportunity to play for my club.
"The rest will look after itself.
"If the opportunity arises where I get the chance to represent the Reds and the Wallabies again, then so be it.
"But at this point in time, I've got a great opportunity to represent this great club, to go out there and hopefully win a title for Souths."
Frankly, if you were getting paid as much as Cooper was to play club rugby, you'd be pretty bloody happy too.
Cooper however is keeping a constructive mindset, and is hoping to have a good season at Souths to get back into the squad.
"I'm happy for them [the Reds]," he said.
"I'm still part of the team and played 120 odd games for the club.
"The better they go, the (better) flow on effect into Premier Rugby.
"The better each Australian franchise is doing, the better for Australian rugby on the whole.
"Whenever I go to a school or go and watch a game, parents always come up to me and ask me about the pathway for their kids to reach the top – to play for the Reds or to play for the Wallabies – and club rugby is that pathway.
"So for me to be able to use that pathway that's there in place for us – it's a great opportunity.
"If there wasn't a pathway why would you have all these kids lining up to play Colts, Premier Rugby and aspiring to play for their country at some stage?"
Meanwhile, over at Norths…
While Cooper can at least get a gig to play at Souths, the same can't be said for Kamichael Hunt, who has been told he won't be required by his club side, Norths, this weekend.
Hunt has reportedly pissed off a lot of people in Brisbane, with Brad Thorn reluctant to have him back in the squad.
He met up with QRU CEO Richard Barker and general manager Sam Cordingley yesterday afternoon, and according to rugby.com.au, his "voluntary stand-down" from rugby is set to continue for a while yet.
"Discussions between QRU and Karmichael have begun and are ongoing as we work through the implications of Rugby Australia's decisions earlier this week," a spokesman for the QRU said yesterday evening.
Hunt's own manager, David Riolo is reportedly trying to find the Wallaby a new home, which most likely will be overseas at this point, considering that nearly all rugby clubs won't want to touch him with a barge pole.
However, good luck to him playing in Japan, considering their stance on drugs.
There is a distinct possibility that, should Hunt be forced to cut ties with Ballymore, he could find himself without a place to play at all.
It's a cruel world, sometimes
The Aussie Mens Sevens team have been dealt a big loss for the Commonwealth Games, with captain Lewis Holland ruled out entirely for the Games.
After suffering a hamstring injury in Vancouver, Holland was optimistic he could make a full recovery to lead the boys. However, his scans proved to be worse than first thought.
So much worse, in fact, that he will be out for the Hong Kong Sevens, Commonwealth Games and Singapore Sevens.
While personally gutted, Holland looked on the bright side of life when he spoke to rugby.com.au.
"It's obviously hugely disappointing to miss the Commonwealth Games especially one on home soil but I'm still really confident that lads can go all the way and win gold," Holland said.
"I'll do everything I can now to help the boys so I'm fine with filling up the water bottles or helping carry the bags."
This is the second time Holland will be missing a major event, after he was injured during the opening match of Rio Olympics, which ruled him out for the entire tournament as well.
He will be focusing on trying to return for the London Sevens in June, with plans to be back to full strength in time for the Sevens World Cup in July.
In the interim period, Brandon Quinn will be called into the squad to replace Holland. No replacement skipper has yet been named.
Baptism by Fire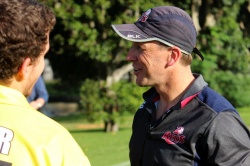 The U20s World Championships are scheduled to kick off in June of this year.
To prepare for it, Bond University will host the Oceania Rugby U20s Championship at the end of April, which will host a four way contest between the Junior Wallabies, New Zealand, Tonga and Fiji.
The tournament will aim to mimic the structure of the World Championship, with a five day gap between each game for all the teams.
Jason Gilmore will once again be coaching the Junior Wallabies, and has admitted that this will be the final chance before the World Championships to see where the team is at.
"The Oceania Rugby U20s Championship presents us with three tough games with the same turnaround time that we can expect at the World Championships in June," Gilmore said to rugby.com.au.
"I know the squad is looking forward to getting out onto the field and playing some matches, so we are looking forward to the start of the tournament."
Check out the fixtures below, and if you find the time, get along to Bond University.
Friday, April 27 – Round 1 
New Zealand v Tonga, 5.00pm AEST
Australia v Fiji, 7.00pm AEST
Tuesday, May 1 – Round 2 
New Zealand v Fiji, 3.00pm AEST
Australia v Tonga, 5.00pm AEST
Saturday, May 5 – Round 3 
Tonga v Fiji, 5.00pm AEST
Australia v New Zealand, 7.00pm AEST